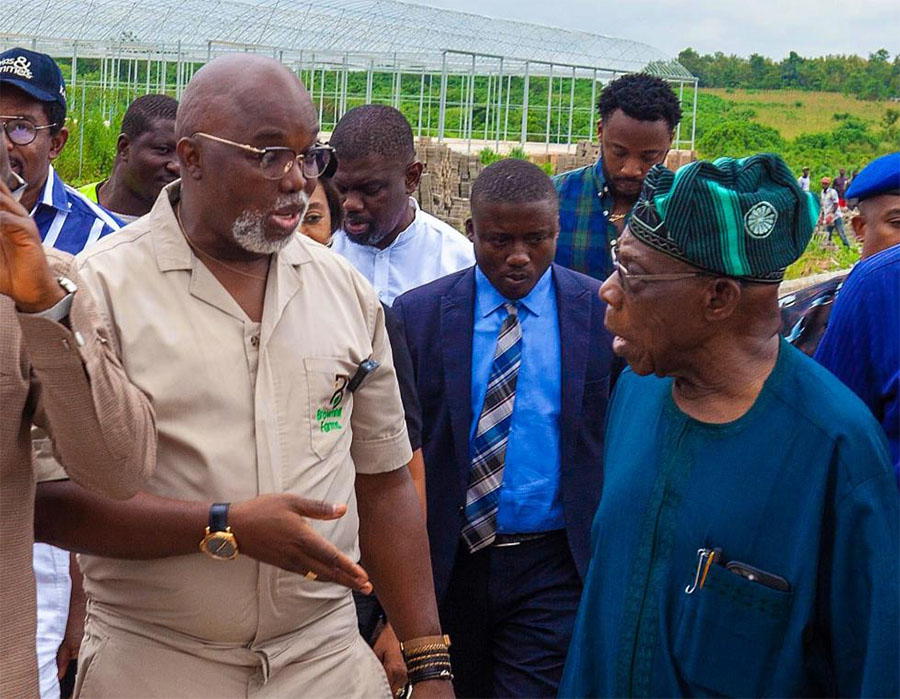 Pinnick explaining points to Chief Olusegun Obasanjo, when he visited the farm.
By Prisca Sam-Duru
My main calling till tomorrow, my businesses revolve around oil and offshore support services but farm is for today, tomorrow and the future.
FIFA Council Member, and former President of Nigeria Football Federation, NFF, Amaju Pinnick, is in the news for making a bold venture into agriculture and food production. The video of his projects in Oyo went viral during the week.
In this exclusive interview, Pinnick shares reasons for such diversification, the innovation his company, Brownhill Group is bringing and its impact on the Nigeria economy. Excerpts.
Many people know you as a sports administrator. What's this news about going into agriculture and food production?
Well, people should understand that football is a passion for me, not money earner. The only people who earn money from football are the actual footballers, agents, coaches. If you run a football association, it's more like passion-driven; you want to serve your country. It's not an executive job you get paid. What puts money on my table are my businesses.
I started business from school. Everybody that knew me in University of Benin knows that I was one of the biggest showbiz promoters. For instance, I took Shina Peters to UNIBEN twice. With my friends, we were able to bring Fela in 1993 to UNIBEN, and a couple of other major acts. I am from Ogborodo and so, after leaving school, there were lots of opportunities and a lot of oil services companies. So, in 1999 we latched into the local content possibilities by becoming a marine offshore support service. We have been doing it since then.
So why venture into Agriculture?
I know many people are surprised that I'm going into farming. In the course of providing services, we knew we needed to diversify and that's why we set up Brownhill Investment Company Limited. It's a marine and offshore support service with tentacles in dredging, offshore catering, supplies of vessels, etc. We grew to set up Brownhill Construction and Engineering Company. Our mode of business is to have technical partners with superior capabilities. For instance, our technical partner for offshore catering is the company called ENS run by Lebanese; they are very versed with offshore catering.
We registered a company, Brownhill Farms about six years ago because I've always known that food production and farming are not just the future but today because food is never enough especially for a country with about 200 million people.
Our focus is not even essentially the country. It's to export and look at how technology and science can drive our processing, including farming. That's how we developed our farms and the good news is that we got a state that is willing to provide the enabling environment in Oyo.
What informed your choice of Oyo as location?
If you know Oyo, it is synonymous with agriculture, especially with the presence of the International Institute of Tropical Agriculture, IITA. What they did is that they created a hub for agriculture. It's called the Agric Business Hub, in Fasola and we were lucky to get about 30 hectares of land there. It's like an Agric city.
The internal and external roads are good, and there's a lot of infrastructure coming up there including a golf course, residential buildings, swimming pool, nursery and secondary schools, etc. So, it's like a get-away while you do your farming.
We had to get consultants to look at what we can do; it's not just about having a GreenHouse. We researched extensively and came up with the idea of growing tomatoes. We asked ourselves, what next? We said, "Are we going to be selling tomatoes, what is the return on investment?" We decided to take it further; let us see how we can convert it to powder through processing because it's paste and puree that are everywhere.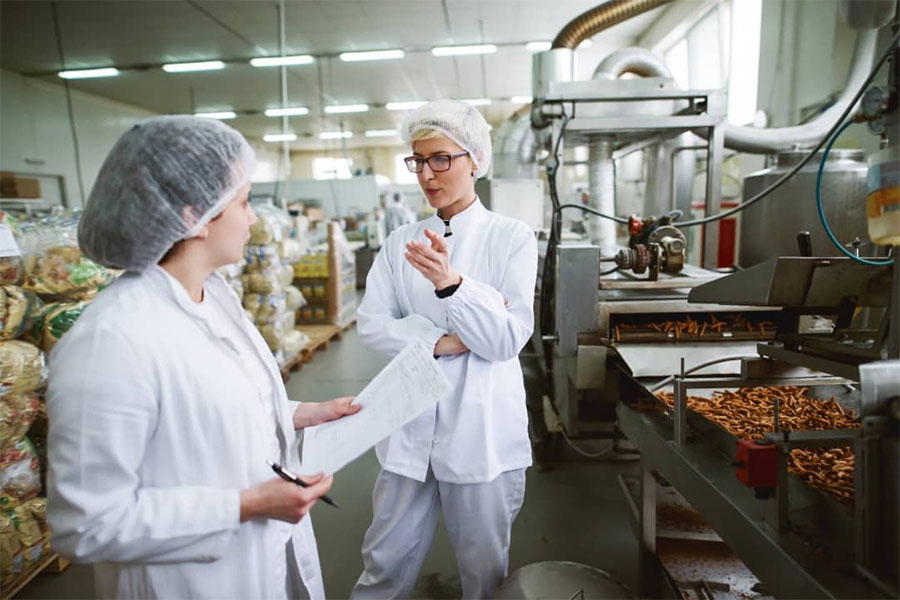 Are there added advantages of having these innovative products?
You know if you convert tomatoes to powder, you don't need refrigeration. It has a higher shelf life; it's more organic. So, in the course of it, we interfaced with a lab in Canada; a food development lab in Canada. In the course of our discussion, a professor asked me what the uuniversal delicacy in Nigeria and Africa is and I said jollof.
He said well, we can prepare jollof for you in this lab. That was about a year and six months ago. He said, 'most of the food in the Caribbean, we prepare them in this lab because nobody has time to bring the condiments, they just put everything in a sachet and that's it'. Also, the nutritional value, the calorie intake, everything will be specified. But they needed at least a year to do their research. So that's how we started bringing in what we need. Some ingredients even came in from Germany.
Are the products ready to hit the market?
They are ready but we are just finishing our proprietary copyrights, we are doing all the legislation and legal framework around it. We have the recipe and of course, it's just the professor , my partner in Canada and myself; Just about five of us have the recipe because it's our property and we paid hugely for it. With that, we start producing.
The next thing now is to move the equipment to Oyo state and start processing 'instant jollof'. You just parboil your rice and pour everything into it with your oil. Why we didn't add groundnut oil or palm oil to the ingredients is because different people use different kinds of oil to cook; so you can't add any kind of oil. Also, if you add oil, it will have a short life's span on the shelf.
For example, if we put palm oil or any other kind of oil in the mix, instead of having a year shelf life, it will be only three months because of the oil. So, these are things they took into consideration while preparing the recipe. We are happy with what we have done.
We are at the point of consumer testing and then shelf life testing before going through the protocols and process of the Canadian Food Inspection agency and NAFDAC for a start.
Before we assemble the processing plant in Fasola, Oyo State, we will be processing the instant jollof from Canada. We have been working with the lab for about 20 months now.
It is phenomenally novel targeted at all classes of the society.
Don't you think Nigerians need these products more, why make export a priority?
We will export but there will be domestic and international sales. We need them but we also need foreign exchange. Everything we are doing, like I said, the farm is driven by technology not the regular farm.
For example, the Banana plantation; for a start, its 12 thousand plants that sit on 10 hectares of land. We don't want to just sell bananas because it's seasonal. We are working towards processing banana to powder and export because the powder can be used for so many things like confectioneries.
Any plan to replicate the farm in Oyo in other states?
Right now, we are in the process of acquiring 5 thousand hectares of land in Delta state so that we can start our palm plantation. We have investors already. My main calling till tomorrow, my businesses revolve around oil and offshore support services but farm is for today, tomorrow and the future. And we have to latch into it.
People should understand the comparative advantage of locations. It's not just citing your greenhouse in Ekiti or Oyo, there's a climatic condition that favours it. If you put that same greenhouse in Delta, it might not work. What does a greenhouse do? It reduces the temperature, gives the plants some energy and reduces certain climatic conditions that would hitherto have hampered the growth of those plants.
So, I hear people say oh!When are you coming to Delta? Oyo is in Nigeria and they've given us the enabling environment, proudly. Now we've interfaced with the governor of Delta for the palm plantation. And you can't just say you want to set up a palm plantation, it is very, very expensive because you need about 5,000 hectares of land. And for the 5,000, a hectare will cost you $5,000. So, you need a minimum of $25m and know that between 3 to 5 years, you are not making any dime. But once you start making money, it's generational. You can't say you want to do fishing in Oyo but you can in Delta.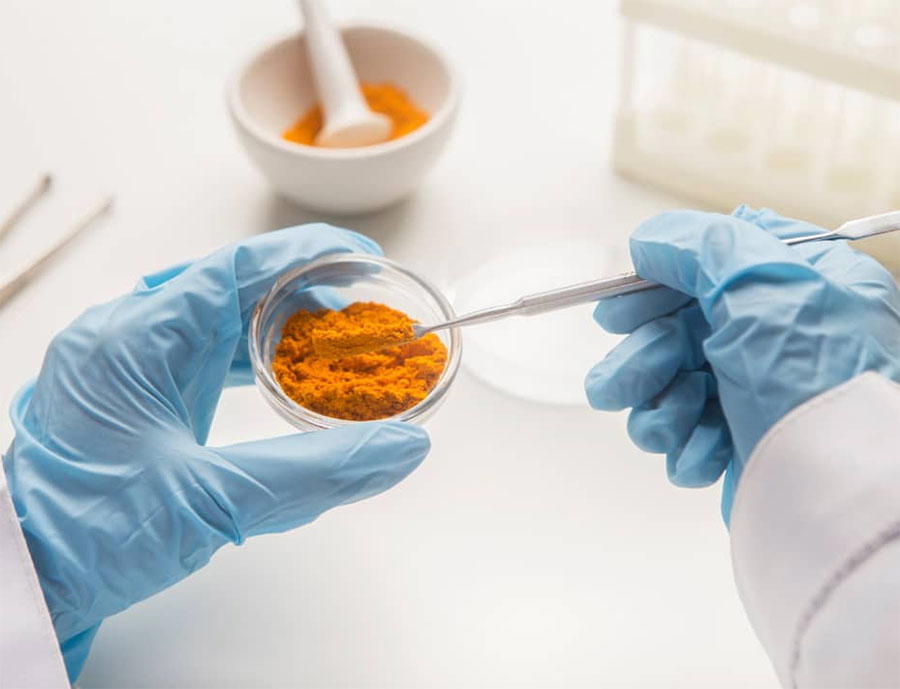 Is there an adequate measure to ensure security of the farms?
Well, the governor created, as I said earlier, an enabling environment. When we first went there, the chairman of the company and my CEO sat me down and said Chairman, we can't go there, especially because of the roads. I told them the governor told me he was going to build the roads. And in less than a year, they did the road 36 kilometres.
There is nowhere in Nigeria where you don't plan your strategy for safety, security but you don't divulge a lot of information.
It's like a gated-community , not just going into a farm. The people are very hospitable. We are excited that we are there and it's a good choice. So when people hear that you are doing farming, the next thing is herdsmen, well, I've not seen any.
When exactly should we be expecting the products in Nigeria?
We've finished the first green house. We are looking at commissioning 100% by God's grace in December. The two other green houses are coming in, the coco peat is also coming. The coco peat reduces the level of fertilizer that you use; we brought them from India. We are going to be having very big tomatoes.
You see, it's not because people are doing farming and you want to do farming also. You have to go above them in style; you have to do something different for them to know that this is it. That's what we've been doing.
Considering the innovation Brownhill Group is bringing into agriculture and food production, will the products be affordable?
It's regulated, we will look at the operational cost but it's going to be affordable; why not? It's same tomatoes. Same goes for the instant jollof. It is for everybody. For tomatoes, all the off takers from our three greenhouses are about 4,000 tones; people are lining up today to take all our tomatoes.
Wouldn't this put other farmers out of business especially with the powdery tomatoes?
Tomatoes are never enough. In every home in Nigeria, tomatoes are eaten. Think about it then as competition, its business. We are giving Nigerians a very healthy product. That's why we are working with one of the biggest food agencies in the world, very massive. They are very happy about this development.
Are there plans to partner with other states and the federal government?
If there are possibilities, why not. We just want to do something different. Everybody now should support the government to ensure that we have enough forex. Look at the dollar today. If we have enough forex… every inflow of dollars in Nigeria now counts and the government cannot do it alone.
The private sector should be sincere about it. That's why very soon, we will be starting our boutique hotel in Warri. It's a 6-storey building because we don't really have hotels in Warri. It's a one-stop experience with cinema and much more.
So, Nigeria will be better if there is sincerity of purpose. There's sincerity generally but sincerity of purpose is specific. What the Oyo government has done is both sincerity and sincerity of purpose. They don't care whether you are from Oyo state, they don't give anybody privilege, just everybody come and invest.
They built this place like the real IITA and who runs it? It is Debo Akande the director of IITA. He's the executive adviser to the governor. They don't want to get it wrong because this is like their hub, domain; you know necessity is the mother of invention. Oyo does not have oil, it's what they have that they are providing. And what do they have? Enabling environment, agriculture, teaming up with university, IITA.