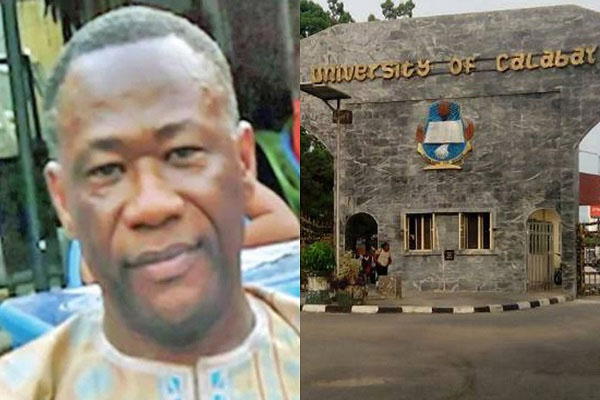 …explains why he refused to attend panel
By Ike Uchechukwu CALABAR
The suspended Dean, Faculty of Law, University of Calabar, UNICAL, Prof. Cyril Ndifon yesterday raised the alarm over alleged threat to life.
Speaking with newsmen after Church Service yesterday at the Holy Trinity Catholic Church, Akim Barracks in Calabar, Prof Ndifon said some unidentified "security personnel" came looking for him in the church in a bid to arrest him.
The embattled professor of Law accused those behind his ordeal to be responsible for sending the men who disguised as security officials who came to "arrest" him during church service in Calabar.
Ndifon who explained that he was in Church at about 8: 18 a.m. doing his duty as a church warden when some men who claimed to be security officers came to arrest him but disappeared into thin air before the Rev. Father and some parishioners could question them.
His words:" Today, I went to church by 8:15 am, where I serve as a churchwarden and while in church much later towards the end, we got wind that some individuals had come into the church and went to see the catechist and informed him that they came to arrest somebody,
"From what I understand, the catechist asked for identification, they didn't have any, he asked for arrest warrant they didn't have any then the catechist asked them to wait for him to go inform the Reverend Father but before he could get the Priest they all vanished.
"Here is my concern, if you are a legal security agent why don't you have any form of identification especially in this era where you have cases of kidnapping in calabar?
"This could be explained at this background in the fact that I know last week Thursday or thereabout somebody sent a video to me, showing my office was sealed by the management of the University of Calabar so to me there is more to this that meets the eyes.
'I think this is huge security concern and I thought it wise that this is time to shout and talk about the threat to my life because that is what it looks like.
"If they are investigating, it should be done without threatening me. I haven't threatened anybody and I don't think threat should be issued to me.
The Suspended Dean who gave reasons for his refusal to attend to panel set up by the University explained that the panel was unknown to his status as a lecturer in the University.
"That panel is unknown to my status as a lecturer in the university of calabar, I am a professor of law and I think the right thing should be done , I'm not scared of appearing in any panel
"I have gone to court, I have given my reasons, I have challenged the status of the panel, why should I appear before a panel , it is a bit laughable"
"They have already joined issues with me in court so let's go to court and address it, but they haven't invited me that is what I can say for sure," he explained.
Speaking further, he appealed to government both state abd Federal including well-meaning Nigerians to wade into the issue as it concerns threat to his life.