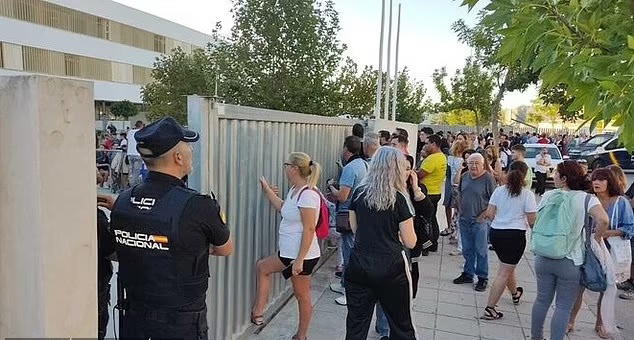 A 14-year-old stabbed three teachers and two students in a school in Spain on Thursday, sparking soul-searching in a country where violent crime is fairly rare.
The boy, who has not been named, allegedly stabbed them repeatedly shortly after classes started at the school in Jerez de la Frontera in the southern Andalusia region, police spokesman Adrian Dominguez told reporters at the scene.
"Police located the suspect on the third floor. He had in his possession the two knives used to attack three teachers and two students," Dominguez said, adding the suspect had been taken to a police station.
Four of the injured were treated in hospital, including a teacher who will need surgery to her eye after being stabbed by the pupil, the regional government's eduction minister, Patricia del Pozo, told reporters.
Several students told Spanish media the pupil first stabbed members of his class and the teacher who suffered the eye injury before he ran to another classroom and continued his attack.
One student, who was not identified, told private television La Sexta the attacker ran to the back of the class, "dropped his backpack on the floor and pulled out the knives before shouting 'I'm going to kill you!'"
"He was running, chasing people, everyone went out into the playground," he added.
Another unnamed student told Canal Sur television the pupil had "a look on his face like he wanted to stab everyone."
'Devastating and dramatic'

Parents rushed to the school, gathering outside the gates which were cordoned off by police, images broadcast on Spanish TV showed.
Students were evacuated from the school and given the rest of the day off.
"It was devastating and dramatic because all the parents were outside the school wishing they could hug their children," Jerez de la Frontera mayor Maria Jose Garcia-Pelayo told reporters, adding that the teachers managed to disarm the suspect.
"They acted very diligently to protect the children…what happened is very serious and it requires us to reflect."
The head of Andalusia's regional government, Juan Manuel Moreno, said the trigger for the attack was not clear but flayed "extreme violence" on television and elsewhere.
"We should all reflect on the role played by violence on television, in the movies, in games. The violence which we very often see on social media, gratuitous, sometimes extreme violence," he added.
The head of the Spanish bishops' conference, Archbishop Francisco Cesar Garcia Mogan, called for "urgent reflection" and a focus on mental health in education.
Spain has a low crime rate — especially of violent crime — compared to other European countries.
Excluding 2020, when incidents of crime were especially rare because of pandemic-induced lockdowns, 2021's crime rate of 41.4 incidents per 1,000 people was the lowest in recent history, according to the government.