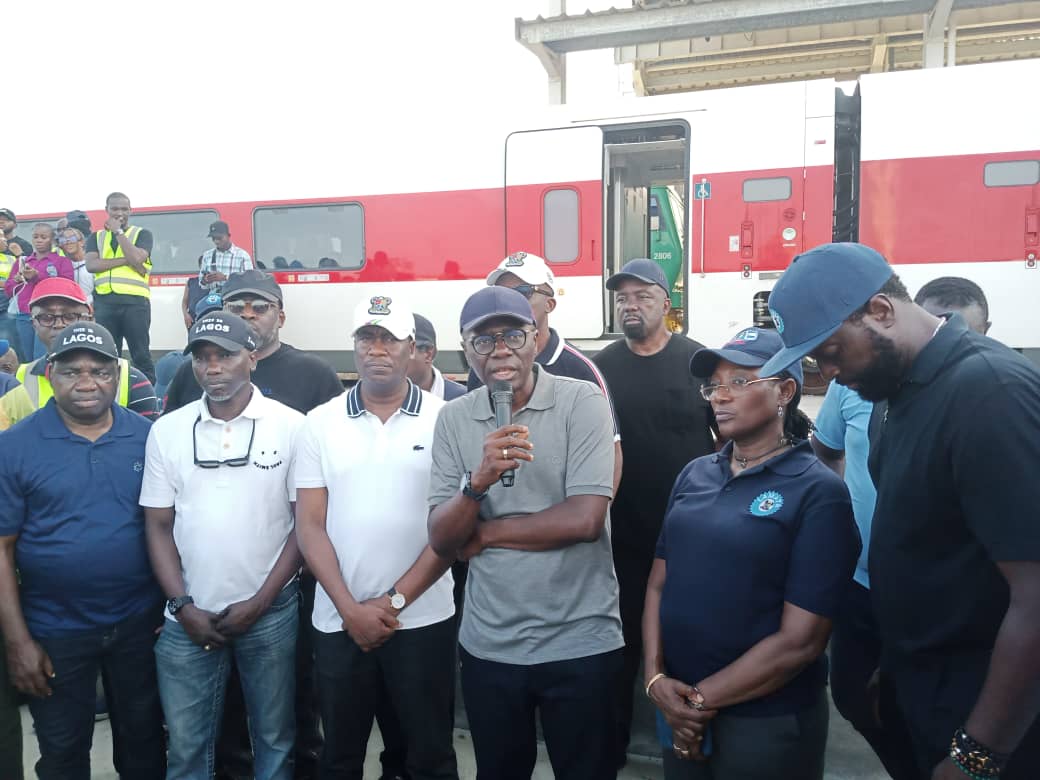 …inspects Oyingbo-Agbado rail-line project
…satisfies with level of work done
…issues 2 days ultimatum to traders along rail-line to vacate
By Olasunkanmi Akoni
Lagos State Governor, Bababjide Sanwo-Olu, on Wednesday, announced that the much expected inauguration of Yaba and Ikeja-Along Flyovers, component of the Red Rail Line project, would be opened to vehicular movement next month, October, 2023.
Meanwhile, Sanwo-Olu has issued a two-day ultimatum to traders along Agege rail line to vacate within two days or be forced to do so.
He warned that government would no longer condone lawlessness and people trading in places where they are not supposed to.
Sanwo-Olu, accompanied by his deputy, Dr. Obafemi Hamzat, made the remarks on Wednesday, when they led some members of the State Executive Council on inspection tour of infrastructure components of the ongoing construction of Red Rail Line projects across stations.
Those on the entourage were: Commissioners for Information and Strategy, Environment and Water Resources, Transportation, Economic Planning and Budget, Mr. Gbenga Omotoso, Tokunbo Wahab, Seun Osiyemi, Ope George, respectively, and Special Adviser to the Governor on Transportation, Sola Giwa, Managing Director of the Lagos Metropolitan Area Transport Authority, LAMATA, Bimbo Akinajo, among others.
While the red rail line has eight major stations – Agbado, Iju, Agege, Ikeja, Mushin, Yaba, Ebute Metta and Iddo/Oyingbo, the trains will use the tracks built by the Federal Government.
It will take a minimum of 1,000 passengers per ride when in full operation.
The first port of call of the project tour which lasted over six hours, was the Lateef Jakande Station, located at Agbado area, within Lagos-Ogun States boundary.
According to the governor, more bridges will be built in conjunction with the Nigeria Railway Corporation, NRC, he added.
Sanwo-Olu, reiterated that "government is on track to deliver the project before the end of the year," disclosing that Phase 2 of the Blue Line has been awarded, and hopefully would be completed faster than the first phase, Marina- Mile-2 route.
According to him: "We have seen the state of infrastructure on our Red Rail Line corridor, and we are impressed.
"We are also on track to deliver the project before end of the year. However, there is still work to be done, especially clearing of illegal structures around the tracks and general clean up of the axis.
"While some of the bridges are completed, some are about 98 per cent ready, and we will start opening them to vehicular movement from October before the train starts work officially.
"We will also step up security enforcement to prevent intruders from accessing the railway corridor. We have spoken to traders and other illegal occupants to vacate because we have to ensure security of passengers.
"Change is an attitude and a way of life; people cannot remain on the tracks. We might also consider erecting concrete barricades as a security measure.
"We also want passengers to have a total lifestyle experience within the train stations, that is why they are large enough to accommodate a variety of ventures.
"The Ikeja station is the largest in Africa and even Europe because we want it to be a hub of mega businesses.
"Passengers can have a total lifestyle experience connecting the train ride to the Bus Rapid Transit BRT ride as the red line is also accessible with the cowry card."
Sanwo-Olu, also urged passengers taking the Blue Line to exercise patience while boarding, appealing to them to be orderly and allow passengers to disembark before boarding as that is the normal procedure.
The governor, during the assessment tour, assured the mammoth crowd who thronged various stations, particularly at Agbado Station, of his administration's determination to make the project which is at over 95 per cent completion, a reality as scheduled.
The crowd hailed and cheered the governor and entourage, appealing for government's intervention in reconstruction of access roads as most of their roads are currently in bad state.
About the project
The Red Line rail project is a 37 Kilometer North South rail route proposed to run from Agbado to Marina with 13 stations at Agbado, Iju, Agege, Ikeja, Murtala Muhammad International Airport, MMIA, Domestic, Oshodi, Mushin, Yaba, Ebute meta, Iddo, Ebute Ero and Marina.
The project upon approval and completion will complement Traffic and Transportation pillar of the T.H.E.M.E.S agenda thereby reducing traffic gridlock and predictability of movement by ensuring productivity and efficiency.
It will also provide alternative to road and water mode of transportation within Lagos metropolis. Lagos Government signed a track sharing agreement with the Federal Ministry of Transport through LAMATA and the Nigerian Railway Corporation, NRC, in 2018 to utilize the track standard gauge railway track planned to convey commuters between Abuja and Lagos through Ibadan and Alagbado to Iddo.
The state considered this a strategic point of reference to collaborate with NRC who will only run three services into Lagos at three sets and defined service hours during each day.
The Red Line Rail Project on the other hand will run several services each hour, hence, the decision to share the track which will be out of use for most of the day by NRC was considered extremely efficient on resources of the state.
The state government through LAMATA awarded the survey, design and construction of the civil and fixed infrastructure of the first phase of the red line project to China Civil Engineering Construction Corporation, CCECC, with the intention of engaging a competent and experienced private investor through a transparent and competitive procurement bidding process to operate and maintain the red line rail mass transit project.
Messrs, First Global Commerce Solutions led other companies to form a consortium named First Metro Infrastructure Limited, FMIL, for the purpose of operating and maintaining the red line rail project and executing Agreement with Lagos State Government.