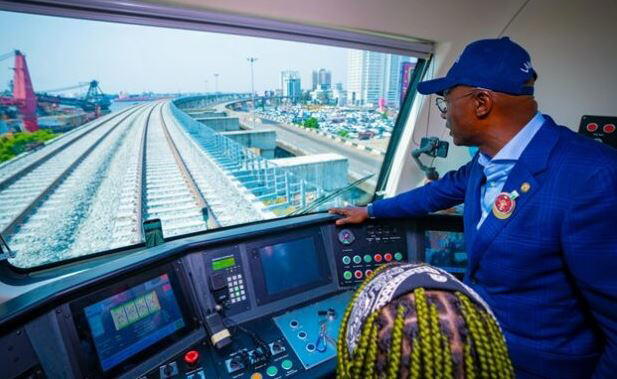 …issues 2 days ultimatum to traders along rail-line to vacate
By Olasunkanmi Akoni
Lagos State Governor, Babajide Sanwo-Olu, on Wednesday, directed the contractor handling the multi-million dollar Red Rail Line project to deliver the job by December, 2023.
This came as Sanwo-Olu announced that the much expected inauguration of Yaba and Ikeja-Along Flyovers, component of the Red Rail Line project, would be opened to vehicular movement next month, October, 2023.
Meanwhile, Sanwo-Olu has issued a two-day ultimatum to traders along Agege rail line to vacate within two days or be forced to do so.
He warned that the government would no longer condone lawlessness and people trading in places where they are not supposed to.
Sanwo-Olu, accompanied by his deputy, Dr. Obafemi Hamzat, made the remarks on Wednesday, when they led some members of the State Executive Council on an inspection tour of infrastructure components of the ongoing construction of Red Rail Line projects across stations. 
Those on the entourage were: Commissioners for Information and Strategy, Environment and Water Resources, Transportation, Economic Planning and Budget, Mr. Gbenga Omotoso, Tokunbo Wahab, Seun Osiyemi, Ope George, respectively, and Special Adviser to the Governor on Transportation, Sola Giwa, Managing Director of the Lagos Metropolitan Area Transport Authority, LAMATA, Bimbo Akinajo, among others.
While the red rail line has eight major stations – Agbado, Iju, Agege, Ikeja, Mushin, Yaba, Ebute Metta and Iddo/Oyingbo, the trains will use the tracks built by the Federal Government. 
It will take a minimum of 1,000 passengers per ride when in full operation.
The first port of call of the project tour which lasted over six hours, was the Lateef Jakande Station, located at Agbado area, within Lagos-Ogun States boundary.
According to the governor, more bridges will be built in conjunction with the Nigeria Railway Corporation, NRC, he added.
Sanwo-Olu, reiterated that "Government is on track to deliver the project before the end of the year," disclosing that Phase 2 of the Blue Line has been awarded, and hopefully would be completed faster than the first phase, Marina- Mile-2 route.
According to him: "We have seen the state of infrastructure on our Red Rail Line corridor, and we are impressed. 
"We are also on track to deliver the project before the end of the year. However, there is still work to be done, especially clearing of illegal structures around the tracks and general clean up of the axis.
"Red line is also on track and you see that a lot of citizens are excited  that they are waiting for us to be able to commission it, but we cannot take any safety measure for granted everything must be ready and ready to go and I's must be dotted and T's must be crossed and that's why I have taken time to come out today again and give all the contractors marching orders to push forward and go and start cleaning up, and doing completion."
"While some of the bridges are completed, some are about 98 per cent ready, and we will start opening them to vehicular movement from October before the train starts work officially.
"We will also step up security enforcement to prevent intruders from accessing the railway corridor. We have spoken to traders and other illegal occupants to vacate because we have to ensure security of passengers. 
"Change is an attitude and a way of life; people cannot remain on the tracks. We might also consider erecting concrete barricades as a security measure.
"We also want passengers to have a total lifestyle experience within the train stations, that is why they are large enough to accommodate a variety of ventures.
"The Ikeja station is the largest in Africa and even Europe because we want it to be a hub of mega businesses. 
"Passengers can have a total lifestyle experience connecting the train ride to the Bus Rapid Transit BRT ride as the red line is also accessible with the cowry card."
Sanwo-Olu, also urged passengers taking the Blue Line to exercise patience while boarding, appealing to them to be orderly and allow passengers to disembark before boarding as that is the normal procedure.
The governor, during the assessment tour, assured the mammoth crowd who thronged various stations, particularly at Agbado Station, of his administration's determination to make the project which is at over 95 percent completion, a reality as scheduled.
The crowd appealed for government's intervention in  reconstruction of access roads as most of their roads are currently in bad state.