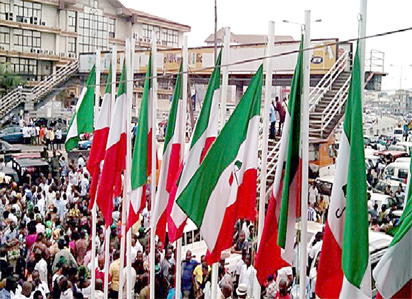 PDP and its colour flags
….APC elated urges PDP to jettison appeal
By Peter Duru, Makurdi
The Benue state Peoples Democratic Party, PDP, has rejected Saturday's ruling of the Governorship Election Petition Tribunal in Makurdi which upheld the election of Governor Hyacinth Alia.
The tribunal presided over by Justice Ibrahim Karaye dismissed the petition of the PDP and its governorship candidate, Titus Uba who challenged the validity of the nomination of Governor Alia and his Deputy, Sam Ode and also alleged the falsification of the affidavit accompanying the form EC9 of the Deputy Governor.
Ruling on the matter, Justice Karaye dismissed the petition on the grounds that the Tribunal lacked the jurisdiction to entertain the suit which he said was a pre-election matter.
Rejecting the judgement, the PDP in a statement by its Publicity Secretary, Bemgba Iortyom said, "after a review of the judgement with its team of lawyers, PDP believes that it does not meet the requirements of substantive justice and is not in alignment with extant electoral laws, guidelines and regulations.
"The party has accordingly directed its lawyers to appeal the judgement at the Court of Appeal, Abuja within the timeframe specified by law.
"Our great party urges its teeming supporters across the state to be calm and of good cheer in the faith that though the walk to justice may be long, the goal of reclaiming the Governorship mandate will surely be achieved in the end."
Also, the All Progressives Congress, in a reaction by its Publicity Secretary, Daniel Ihomun said "we are elated that the Tribunal just affirmed what happened at the polls.
"We knew we had a strong case and that the mandate given to Governor Alia is on a solid ground. And we want to call on the opposition to join hands with our administration to develop the state.
"The job of redeeming the state is enormous so we need the opposition to team up with the government to do that. So we see no need for any appeal. As brothers we should join hands together to take the state to the next level of development.
"As a party we want to see an opposition that is viable, so that it will strengthen our government. Opposition is good when criticism is constructive. So we expect PDP to play their role just like we played ours when we were in the opposition. They should put our feet on the fire so that at the end of the day the people of Benue will benefit more."