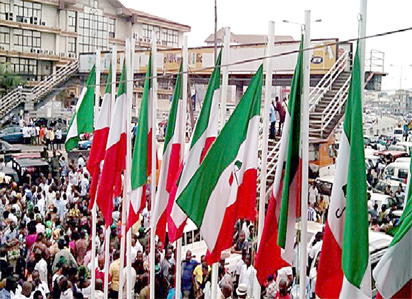 PDP and its colour flags
By Ozioruva Aliu, BENIN CITY
THE Peoples Democratic Party (PDP) in Isi North Ward in Uhunmwode local government area of Edo State has suspended the party's National Deputy Youth Leader, Hon. Timothy Osadolor, for alleged anti-party activities, disregard of the party constitution among other offences.
The suspension of Osadolor was contained in a letter to the state chairman of the party and dated September 13, 2023 and receipt was acknowledged on September 21, 2023. It was signed by thirteen members of the Ward Executive, led by the chairman, Sunday Eguabor.
Part of the letter reads: "This is to inform you that Hon. Timothy Osadolor, the national Deputy Youth Leader has been suspended from the party by the executive of Isi North, Uhunmwode Local Government Area, Edo State due to various serious actions and activities of his that are detrimental to the progress of the party.
"These include anti-party activities, embezzlement, impunity, and flagrant disregard of the party constitution. The executives in Isi North ward have taken these decisions after careful consideration and gathering substantial evidence of his wrongful actions. The suspension is a necessary measure to protect the party's integrity and ensure that all members are held accountable for their actions."
The letter continued; "Some of his infractions include: Cornering all gifts and finances meant for the smooth running of the party in our ward, the yearly Christmas and new year gifts were always taken by him to his house and shared as he wishes leaving out the Chairman and Leaders of the party.
"Embezzlement and misappropriation of the funds for the last presidential, National Assembly, House of Assembly and even the recently held local government election, creation of parallel leadership structure in the ward, flagrant disregard of the constitution of the party" among others.
The letter said "the flagrant disregard of the party's constitution by a national executive member is a serious offense. The constitution serves as the guiding document for all members, outlining their rights, responsibilities and procedures for decision making. By disregarding the constitution, the Deputy Youth leader not only undermines the democratic principles on which the party is built but also weakens the trust and cohesion among the party members."
The said the suspension will ensure a fair investigation of the allegations, "protect the party's reputation, and send a clear message that unethical behaviour will not be tolerated within the party."