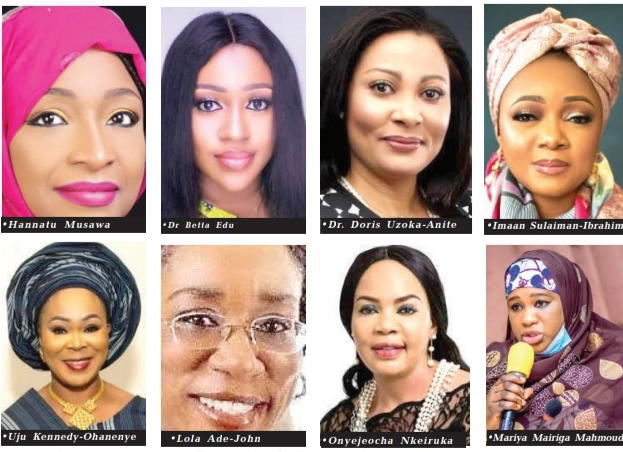 By Gabriel Ewepu
As the polity continues to savour  the appointment of young female ministers, including an NYSC member, in the Tinubu administration, the ladies of the moment unfold their various agenda. WO summarizes them.
Taking youths off the streets —Onyejeocha Nkeiruka; State,  Labour and Employment  
"We promised Nigerians that we are going to take many of our youths out of the streets and it is important that we work towards fulfilling the promises of this government to Nigerians."
Towards a safer nation—Imaan Sulaiman-Ibrahim; Police Affairs  
"Ready to continue working towards a safer and better nation. Together, we shall strive to create a brighter and more prosperous future for our beloved nation."
Lift 133 million out of poverty —Dr Betta Edu, Humanitarian Affairs and Poverty Alleviation
"We will keep our focus on lifting 133 million Nigerians out of poverty. We can do it in phases, a step at a time because with determination and strong will, nothing is impossible.
"We will play down on politics, we are here to face the real business of governance. Sources indicated that 136 million are extremely poor and that is unacceptable."
Tourism, top revenue earner —Lola Ade-John; Tourism 
"There is a major emphasis on revenue generation and the Ministry of Tourism will go on tourism revenue drive. With everyone's support, tourism is going to be the number one revenue earner in both foreign and local currencies."
We'll train the trainers—Uju Kennedy- Ohanenye; Women  Affairs
"I intend to start the train the trainers in the six geopolitical zobes and if we are able to achieve it in 100 days, we will definitely look out for people that will donate the materials for the people trained to start working on their skills, but on condition that each of them will train 10 people and we will equally empower them."
Arts'll compete with oil sector —Hannatu Musawa; Arts, Culture and Creative Economy
"The Ministry under my watch will reposition Nigeria for greatness through culture and the creative industry. I always had the passion for taking this sector to the level that is required to make it compete with the oil sector."
We'll go beyond branding —Dr. Doris Uzoka-Anite; Industry, Trade and Investment
"Our Ministry is like a middleman. We are the facilitator to ensure that the image of the country out there is as friendly as the investment opportunities we have here. We would be doing a whole lot of branding and image-making for the country.
"We have to re-introduce ourselves to the world to tell the world what we have, to tell them in a way that will make them happy."
We'll ensure sanity in Abuja—Mariya Mairiga Mahmoud, Minister for State, FCT.
"I am of the belief that, together, and with full support of the staff, we will replicate what the Minister has done in Rivers State in the nation's capital."