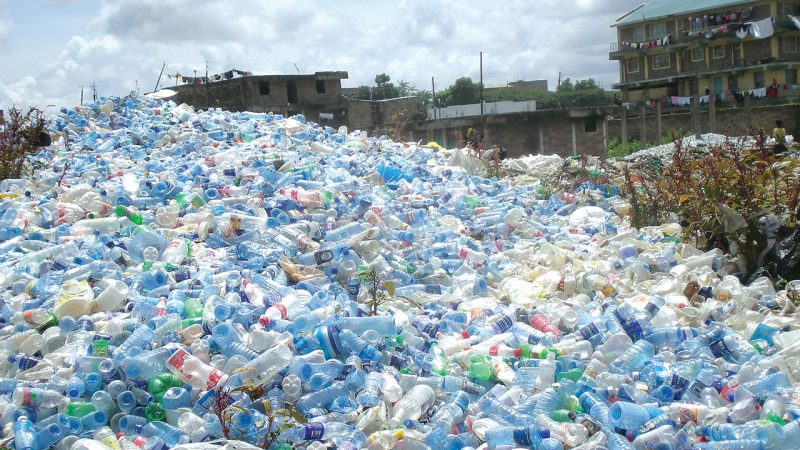 ….holds Pre NES29 Summit Webinar on 'Harnessing Nigeria's Plastics Value Chain'
….Nigeria can create about 750,000 jobs, with green economy of $250m- NBC
By Gabriel Ewepu

ABUJA – AS the multiplying number plastic waste endangers the environment and human life, the Nigerian Economic Summit Group, NESG, yesterday, expressed optimism that Nigeria's annual 2.5 million metric tonnes of plastic waste is capable of generating wealth and jobs if adequately and sustainably managed.

The assertion was made by the Chair of the Technical Sub-Committee of the 29th Nigerian Economic Summit (#NES29), Mrs Ozofu Ogiemudia, in an address of welcome, during a pre 29th Nigerian Economic Summit (Nes29) webinar with the theme 'Waste-to-Wealth: The Plastics Value Chain'.

Ogiemudia also pointed out the benefits of  Plastic and how it could generate various by-products safe and efficient for consumers including wrapping of food, disposable bottles, microbeads in body washes and a variety of other packaging or in products, because it is versatile, cheap, and convenient.

According to her, Nigeria is one of the largest consumers of plastics in Africa, stating that the country imported an estimated 20 million tonnes of primary plastics and plastic products between 1996 and 2017, and this is projected to reach 40 million tonnes by 2030.

She maintained that the high volume of plastic use in the country points to the importance of considering the effects it may have on people and the environment.

According to a report by the United Nations Environment Programme (UNEP), how plastics are produced, used, and disposed of pollutes ecosystems, creates risks to human health, and destabilises the climate. Plastic waste flows into the ocean at about 11 million metric tonnes annually, harming marine life and damaging aquatic habitats.

Nigeria generates some 2.5 million tonnes of plastic waste annually, some of which end up in the sea. Doing nothing will accelerate the annual flow of Plastic into the ocean, which is expected to nearly triple by 2040 to 29 million metric tonnes per year, equivalent to 50 kg of Plastic per metre of coastline worldwide.

Meanwhile, the Minister of Minister of State, Environment, Dr Iziaq Kunle Salako, represented by Director General, National Environmental Standards and Regulations Enforcement Agency, NESREA, Prof Aliyu Jauro, in a keynote address on harnessing human capital and creating jobs for Sustainable Economic transformation through supportive policies and regulations lamented that the accumulation of plastic objects including multilayered packaging, electronics, healthcare, clinical and pharmaceutical sectors dumped after use has a severe impact on the environment, biodiversity and human health.

Salako pointed out that for sustainable development and management of waste to wealth, innovative solutions need to be explored that will help recycle and transform plastics for good use.

He further stated  that improperly disposed plastics clog drainages, leading to floods, contaminating water bodies, and causing threats to wildlife, indicating the importance of recycling.

He said the major solution to plastic waste is recycling, and added that the gaps in plastic waste control, such as lack of identifiable information on the cost incurred by the government on the collection, sorting, in-house gas emission, waste collection across geo-political zones and cost involved in setting up collection points are hindering Nigeria from fully harnessing the potentials of the plastics value chain.
Meanwhile, during the panel session, the Director of Corporate Affairs and Sustainability, Nigeria Bottling Company Ltd, Mrs Oluwasoromidayo George, said that waste disposal has a severe environmental impact and that Nigeria can create about 750,000 jobs within a short time frame to improve the lives of millions of workers in the informal sector by fully harnessing the potentials in the plastics value chain.

George also revealed that the green economy holds about 250 million dollars and plastic recycling investment potential of about 40 million dollars in Africa.

However, she George also noted that UNEP lays out a roadmap to dramatically reduce the risks associated with the plastic value chain by "adopting a circular approach that keeps plastics out of ecosystems and our water bodies in a way that delivers significant economic, social, and environmental wins."

The Executive Director of Circular Economy Innovation Partnership, Dr Natalie Beinisch, stated that proper waste disposal was essential in ensuring the transformation of plastic waste to wealth, noting that Innovative grassroots programs can help low and middle-income earners to increase their income through the collection of plastics and transporting to waste centres that provide money or incentives for waste exchange.

On her part, the Executive Director of Food and Beverage Recycling Alliance (FBRA), Arese Agharese, said that the organisation helped create awareness, invest in research and development and community engagement programs, and has engaged over 100 communities since its creation.

Agharese said they collaborate with the government to have implementable policies that will encourage recycled plastics to get back into use in the industries, noting that they also create awareness in schools and use social media to engage people to drive the message of waste-to-wealth all across the nation.
The 29th Nigerian Economic Summit with the theme 'Pathways for Sustainable Economic Transformation and Inclusion', is scheduled to hold on the 23rd and 24th of October, 2023 at the Transcorp Hilton Hotel Abuja.

In light of the urgency of translating economic growth into improved and sustainable living standards for all citizens, this year's summit theme hints at Nigeria's potential for sustainable development, leveraging innovative policies, robust institutions, strategic infrastructural investments, and human capital development.