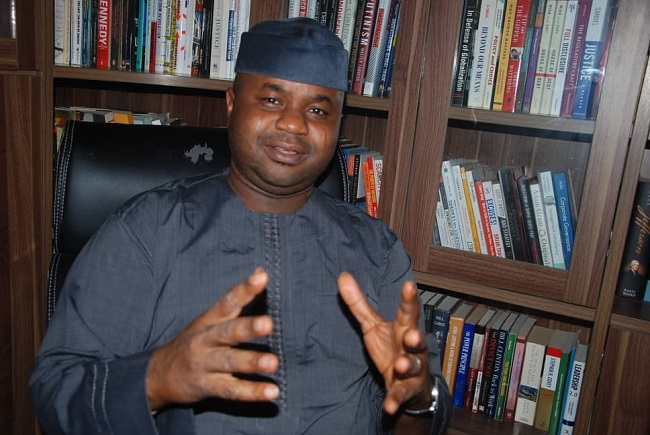 …Says FG's spending of 96% of revenue on debt servicing unsustainable
…N8.5 trn collected by mid-Sept, says immediate past FIRS chair, Nami
By Emma Ujah, Abuja Bureau Chief
ABUJA — The new chairman of the Federal Inland Revenue Service, FIRS, Dr Zacch Adedeji, said yesterday the nation is in a revenue crisis and requires urgent steps to change the narrative.
Adedeji, who stated this while taking over the mantle of leadership of the agency from his predecessor, Muhammad Nami, noted that about 96 per cent of Federal Government revenue was spent on debt servicing last year, stressing that the situation is not sustainable.
This is even as the former chairman of the revenue agency, Nami, said the FIRS generated N8.5 trillion in revenue into the federation account as of mid-September.
Recall that one of the main reasons the government removed subsidy from petrol is inadequate revenue to run the affairs of the country.
Adedeji said: "We are in a revenue crisis, government revenue is low amid a huge public debt.
Last year, 96 per cent of government revenue went into debt servicing.
"Where debt has grown bigger than the Gross Domestic Product, GDP, and debt servicing faster than revenue, immediate actions have to be taken to remedy the situation."
On his agenda to optimise revenue generation, he said: "In this direction, therefore, we will key into the reforms being made by President Bola Tinubu who has since inaugurated a Presidential Fiscal Policy and Tax Reforms Committee.
"The mandate of the committee is to, among other things, evolve an effective design and implementation of fiscal policy and tax reforms for economic prosperity.
'Need for tidy fiscal landscape'
"At FIRS, we will embrace efforts being made to design a tidy fiscal landscape for the country and in the process, address some of the obstacles impeding effective operations of the service as the primary agency of government responsible for administration, assessment, collection, accounting as well as enforcement of taxes and levies.
"We need to innovate and build our operations on foolproof technology, while also evolving a hub of fresh ideas and creativity. "
The new tax-master pledged to eliminate leakages in the system, with a view to raking in all tax revenues into government coffers.
"We must definitely plug leakages. We need to strengthen our internal processes and control mechanisms. We must put a high premium on effective coordination of assigned tasks and delegated responsibilities,'' he added.
Adedeji said he will stimulate voluntary compliance among taxpayers to fulfil their obligations as, according to him, his team will engage stakeholders and sensitise them on the need for voluntary compliance.
'No forcing things down the throats of stakeholders'
His words: "Under me, we will not force things down the throats of our stakeholders. I will always be ready to engage with them, work with and through them, to jointly build a tax administration that we will all be proud of and one that enjoys the trust and confidence of all.
"Broadly, we intend to come up with a menu of strategies that will stimulate voluntary payment of taxes and levies.
"Yes, this is achievable because Nigerians acknowledge the need for the government to increase its revenue to be able to meet its obligations to them.
"In doing this, we will build a tax system that is smart and modern, one with unquestionable integrity and will earn the trust as well as admiration of stakeholders."
Dr. Adedeji charged management and staff to "work with uncompromising integrity, uphold taxpayers' confidentiality, and demonstrate a high level of professionalism, fairness and show exemplary public service."
N8.5 trn already collected this year — Nami
In his remarks, the outgone chairman of FIRS, Muhammad Nami, disclosed, however, that the agency was on its way to setting a new revenue record in 2023, having collected N8.5 as at September 14.
He added that within the period under review, his administration assessed, and recovered another N4 trillion from the Nigeriian National Petroleum Company Limited, NNPCL.
Nami said he had surpassed his 10 per cent Tax-to-GDP target of four years, having achieved 10.86 per cent in two years.
He said the 18 per cent target in four years, set by the current administration was not only achievable but could be surpassed.
In 2022, the FIRS set a revenue target of N10 trillion and collected N10.1 trillion within the period. Similarly, in 2023, it set a target of N12 trillion in revenue and has collected N8.5 trillion, with about four months to the end of the year.