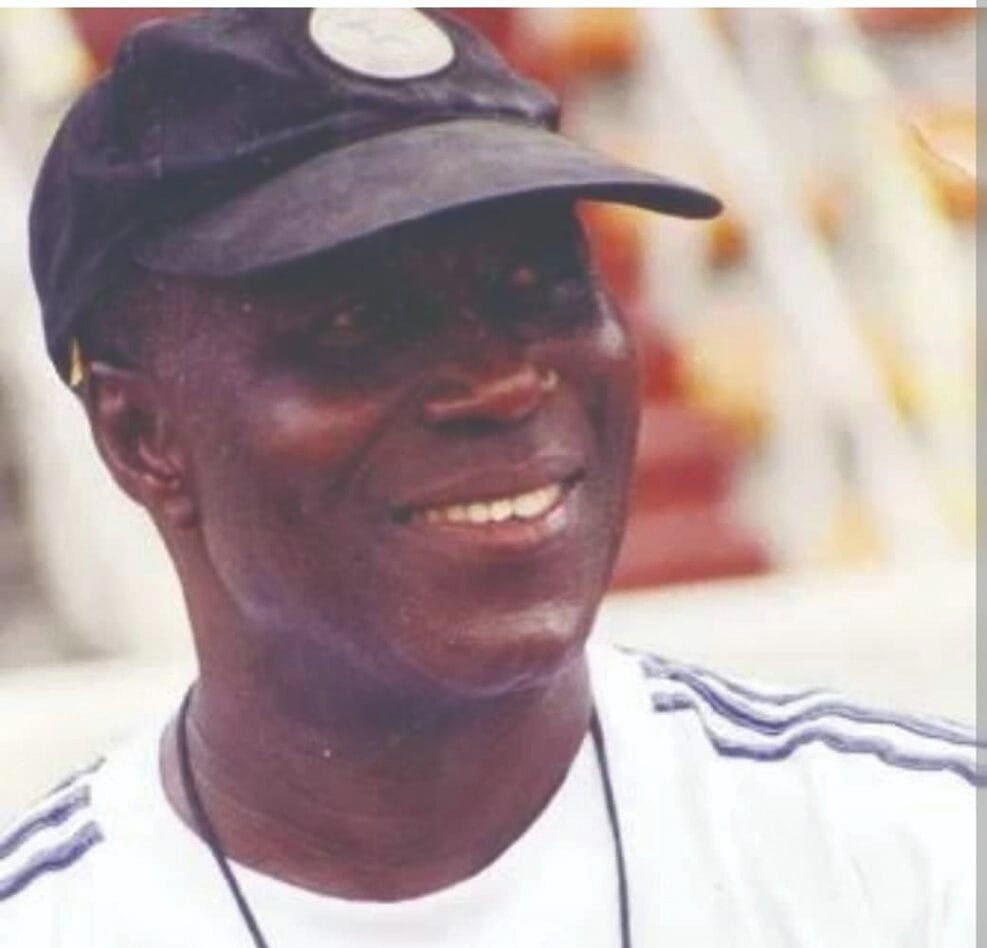 Broderick
Sebastian Imasuen Broderick, born 9 of July 1938 is former coach of the Golden Eaglets who, together with Christian Chukwu, took a group of young Nigerians to win the first FIFA U16 World Cup.
He attended St John's Primary School, Onitsha and gained admission into Bishop Shenahan College Orlu in 1955, where he obtained his West African Schools Certificate(WASC) in 1960.
On leaving school, Sebastian joined the Electricity Corporation of Nigeria Football Club of Lagos,(ECN FC) where he was a regular player from 1962 to 1970. In 1965 he won the national Challenge Cup with the ECN team. He was also a member of the Nigeria Olympic team in 1968. The famous team that drew 3-3 with Brazil in Mexico.
He retired from active football and went into coaching. Broderick attended several coaching courses both within and outside Nigeria. By 1985, he had become a full fledged coach.
In 1973, he handled the Mid-Western U-13 team that won the Gold medal in the first National Sports Festival in Lagos. In 1985 he was appointed the chief coach of the national U16 team that participated in the maiden edition of the Kodak-FIFA U16 World Youth Championship in China where they won the trophy for Nigeria and Africa after beating West Germany 2-0 in the final. Today, Broderick is on a sick bed and needs help to battle diabetes and other ailments, so severe that he rarely talks.
Here is an interview he granted Mani Unumonu on his programme, The Chat on Channels television long before he took ill: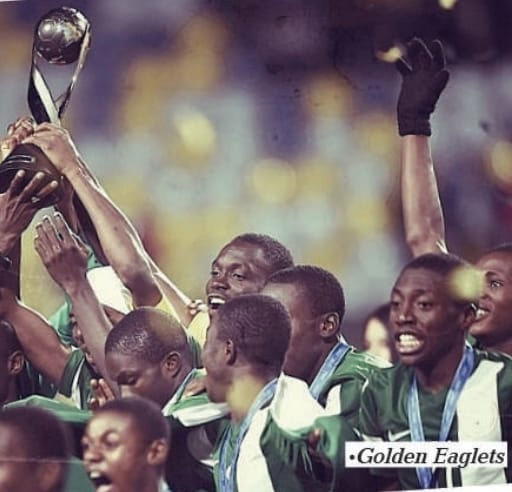 When you were playing football, some of us were climbing the trees around Onikan stadium to watch you. You were very good with free kicks. Your role was that of an attacking midfielder. You played for ECN?
I played for ECN first and then, Bendel Insurance FC of Benin.
Refresh our minds about that glorious free kick you took against Mighty Jets of Jos
That was with Bendel Insurance.
Let us go back to your early days in the game. Did you start your football here in Edo State or elsewhere?
I started in Onitsha, present day Anambra state.
Really? When you were playing, did you know the rules of the game or you people were just knocking the ball around.
Whatever the coach told us was the rule. We followed the coach's instructions. When I retired from active football and went into coaching, I made sure I studied the rules so that I could pass them on to the players.
Haven't the rules changed over time?
I think, to a great extent, the rules have changed. For instance, when you are taking the kick off at the start of the game, the centre forward passed the ball forward. But now, you find them kicking the ball backwards.
You were among the first set of Nigerians that ever played against a Brazilian side. Can you recall the game?
We played against Santos of Brazil and Santos was Pele's club or better put, the club he played for then.
So you played against the best player that ever played the game? How was that game and what did you think about him?
It was a great game because we played at Onikan stadium. Before we started the game we were instructed not to allow Pele score. So when the game began, he was roving round the pitch, playing round but when the time came for him to shoot, nobody saw when he was given the ball and he shot into the net.
And I thought, look at the person they said everybody should stop from scoring, yet he scored a beautiful goal. So that was the magic of football. That was the magic.
Your career veered into coaching and it is said you were the first to be in four world finals. Can You explain?
In 1985, we went to China, played against all our opponents, played against even African opponents, including Mali. We played about 7 games before we got to the final.
Most Nigerians, including myself did not know that competition was going on until you got to the semi finals. Some of us even questioned how could these be Nigerians. And some never believed their coach was a Nigerian, especially given your surname.
Yea, because there was no Benin or Ibo name, they concluded Sebastian Broderick must be a foreigner.
How did you manage to put together such a formidable team, because their performance was unbelievable?
Early in my career, I was taking on youth footballers in Edo state, then Bendel. I took Edokpolor Grammar School, Benin in 1983 to win All Schools Sports, played at the Liberty Stadium, Ibadan. We beat King's College Lagos 2-1 in the final. Earlier on, I took the U13 to win the first All Schools Sports at the National Stadium, Surulere in Lagos.
Then, late Air Commodore Anthony Ikhazobor was the Minister of Sports. He invited me to Lagos. Then the Youth Sports Federation of Nigeria had a standing team. Late Chief M. K. O. Abiola was their patron. YSFON team formed the nucleus of the U16 team I started with.
When you started taking on these youth teams, were you already trained as a coach?
Yes, I was trained in 1975 by the late Dr Samuel Ogbemudia. He sent me abroad. For those who know England very well, I went to Durham, North East of England, for the course.
After the course, I was on attachment to Manchester United, then managed by Tommy Docherty, then to Manchester City, then a second division club and Queens Park Rangers in London.
For how long did you stay with each of the clubs?
One month each. It was after I returned that I was asked to take on the U16 team in 1985.
Brilliant. So you didn't have to wear the FIFA Coach's badge?
The course was sanctioned by the English FA.
Let's go further on the U16 because that was massive. It was the first time ever that Nigeria could assemble a team that won a FIFA-organised championship. But in one of the championships you handled a team, FIFA banned one of the players for age cheating. Were you not banned?
It's on record that no U16 team under me was banned. There was a threat, though, about Philip Osondu but after a meeting by FIFA officials, he was cleared eventually to continue in the tournament.
But Osondu completely disappeared from the scene soon after that?
Osondu is an Aba boy, meant to be a trader, not a footballer. While we were playing in Italy, he was busy buying things he would go and sell in Aba on his return….(laughter).
So, as soon as we finished, he went to play for the junior team of Anderlecht in Belgium. That was where his football ended. Nobody heard about him again. I think he went into business.
Who were your contemporaries in football then. I know one of them was Paul Hamilton?
Late Rigogo, the goalkeeper. I am a sad man now because all my colleagues are dead. But I thank God for keeping me alive.
What keeps you going?
It is God's will and believing in God. We try to do things we believe are right. Above all it is the will of God. I always think good of my fellow man. At a time in my profession I always prayed for those ahead of me to keep moving ahead so that there would be space for me to move in and take their places.
Not that they should die so that they would promote me. No, it's not the best prayer and one cannot live long with that.
Now that you are retired, there is football all over the place. What are your thoughts about present day football?
There are a lot of changes in the rules and regulations of modern football. It is natural that as the game progresses, a lot of these rules would be changed. For instance, they now use television (Video Assistant Referee) to see whether the ball crossed the line or not. Now it is better.
But is it not slowing down the game?
We know that football is something that comes in the spur-of-the-moment and may cause delay if you play it back. But it is natural that you should find out what happened.
Let's look at our football again. Is there what they call continuity? Like having players from the U17 to U20 and to the senior national team?
Nationally, we don't have a programme for that. The coach cannot do that himself. When we won the U16 World Cup, there were suggestions that we should keep the boys together.
Some said the boys should go to school together. But some didn't want to go to school but wanted money. So all these problems of varying interests are there.
How can we ensure there is continuity in our football?
It is important to have academies. From these academies some of the players can be sent abroad to some youth clubs. That was how some of our players, like Iwobi, started from the Arsenal academy. He is now doing very well for club and country.
But we have a few academies now all over the country? Are they sufficient?
No. They are not sufficient. But you have to start from one to two; two to three. One at a time.
Do you support the notion that government should hands off football in the country?
I think so because you need somebody who is knowledgeable or a professional to interfere in business. Like you are here now, working with your group.
You can interfere because you know about it. Somebody who learned architecture in the university cannot or should not be sent to go and manage football because he has the money.
What was the lowest point in your football career?
That was a long way back. It was in 1963. I was with the ECN. We were supposed to win the national Challenge Cup in Lagos but we lost. We were the Lagos champions and tipped for the national title but we lost it.
(Unfortunately, Coach Broderick could not recall the team they lost to in that final. Records, however, show that the 1963 Challenge Cup final was between Port Harcourt FC and Jos Plateau Highlanders. Port Harcourt FC won by a lone goal.)
The highest point of your career?
Obviously, when we won the World Cup in China in 1985. It was so special to me because while I was working here in Benin, my colleagues who, like me, were doing their jobs as state coaches had other private jobs with schools or companies as well. They were people who grew up in the old Bendel and were known. Conversely, I did not grow up here in Benin and was better known, maybe as a national player. My colleagues got contract jobs like the annual Central Bank Games.
They would do their normal jobs and later go to those private ones and they would pay them allowances. Another one is in Union Bank and still maintained his normal coaching job. Even though I believed I was doing well and deserved such opportunities too, I never had one.
When I went to Onitsha one day and told my mother that I believed I was doing well but was not getting side jobs like my colleagues were, she called me Sabara, your evening will be better than your morning.
So when we went to China and we won the World Cup; the highest trophy one can win, with me as the head coach, when I entered my hotel, I went to my bed and started shedding tears because I recalled what my mother told me. I said, my evening has started now. That was my highest point in my football career.
What do you find most satisfying about your life that if you had another chance, you will live the same way again?
God, in a way, gives every person one thing; a special gift. But sometimes, people miss it and go for the wrong thing; not the one God gave them. I believe that football is what God gave me. And I stuck to it.
I had the opportunity to take on other things as I was very good in Lawn Tennis, I was also very good in Table Tennis that I believed could have still taken me far, but football gave me the greatest satisfaction. I will never regret sticking to football and taking it up as a profession.
When you retired from football was it due to injury or lack of fitness?
I retired voluntarily because I was beginning to have a lot of problems.
If you were taken to an island, where you were allowed to take only five items that will keep you company while you are there – these five things do not include your wife – what sort of things will you take?
This is a big one. The first one is football. The second one is my wife. ..
Mani cuts in and reminds him … you are not allowed to take your wife. You will have to take drugs for your medication. You are not even remembering this but only thinking of your wife?
Laughter … Yes, drugs. I remember my wife because at this age, she means everything to me. She does everything and she is my medication … laughter.
You are just two in this house. Where are the children?
They are on their own. I cannot ask them to leave their places to come and live with me. If they are in England, you don't expect me to say they should come and live with me. It's not possible.
So, where are they? And how many children do you have?
I have four children.
You have grandchildren as well?
Yes. They are still young and they stay with their parents. I can't keep them here.
Let's go back to the cast away question. You have mentioned two items. Football and drugs. What else?
Yes. Football, my Bible and medication. Remaining two. The next thing is water because water is life.
I am sure if you are permitted, you want to take your wife along. What is so special about her that you always want her around you?
We have been so long together that she knows more than what I think I know about myself.
You have been together for over thirty years, what do you like so much about her?
Because she knows me too well. She knows what I can do and what I cannot do. You can be together with a partner for that long and she may still not know much about you. My wife knows so much about me.