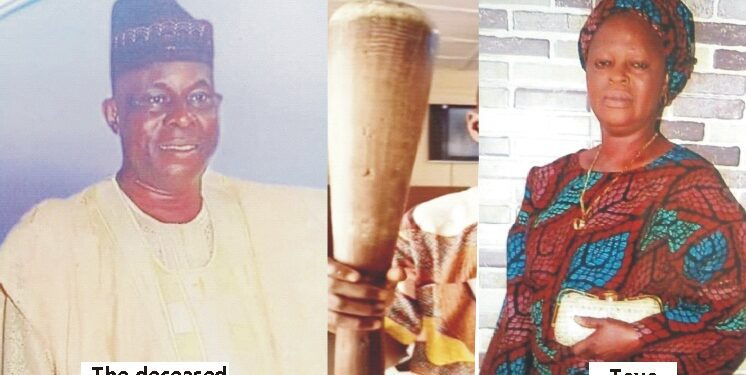 By Dayo Johnson, Akure
A 12-year-old boy, Ibukun Solomon, has narrated how his mother, Tayelolu, killed his father, Felix, with a pestle while he ewas sleeping, after a minor argument in Ondo town, Ondo State.
Vanguard gathered that the mother of three, reportedly killed her 65-year-old husband, a farmer, by hitting him thrice with a pestle while sleeping in their house, located at the Government Reservation Area, GRA, in Ondo town.
Reports had it that the couple, in recent times, have been having a crisis and the wife always threatens to kill the husband and elope.
It was gathered that after another argument last weekend, the deceased went to sleep on the chair and the wife reportedly hit him several times with a pestle.
How she did it — Son
Narrating how his father was killed, lbukun, told newsmen that "my mother killed my father with a pestle in my presence and took to her heels. She used the pestle to hit his head when he was asleep.
"Earlier on the fateful day, a minor argument had ensued between them that resulted in a fight. After the fight, my father went to lie on the chair and my mother hit his head with the pestle.
"He became unconscious and fell down from where he was sleeping. My mother used the pestle to hit my father's head three times. He later died.
"When my mother saw that my father was already unconscious, she hid the pestle at the back of our house and ran away.
"I alerted some of the residents, who rushed my father to the hospital. But he later died. His corpse has been deposited at the morgue.
"My mother had three children for my father and I'm the last child."
Brother-in-law
Speaking on the ugly incident, a brother of the deceased said that the family members have mediated several times to settle the incessant fight between his brother the his wife.
He lamented that all their efforts proved abortive.
According to him, "The woman had been threatening to kill her husband whenever they were fighting. And the deceased informed us about the threats. But we never knew she would carry out the devilish act.
"But this time, she took laws into her hands and killed our brother for nothing. She must be arrested and prosecuted accordingly."
Efforts to reach the state police spokesperson, Funmi Odunlami, proved abortive.
But a top police officer confirmed to Vanguard that the fleeing suspect would soon be arrested and charged to court for murder.