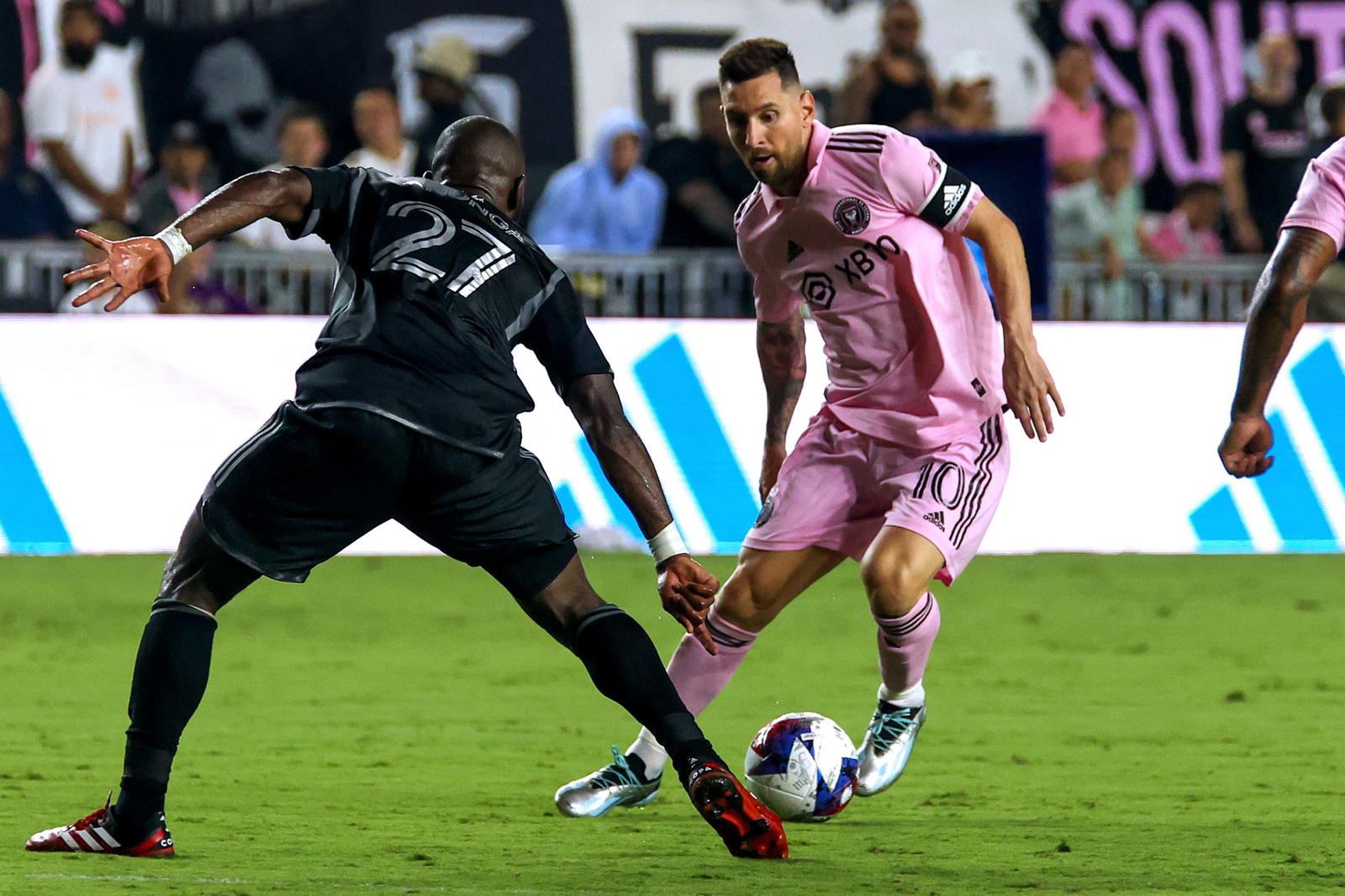 Inter Miami's Argentine forward #10 Lionel Messi (R) fights for the ball with Nashville's Cameroonian midfielder #27 Brian Anunga during the Major League Soccer (MLS) football match between Inter Miami CF and Nashville SC at DRV PNK Stadium in Fort Lauderdale, Florida, on August 30, 2023. (Photo by Chris Arjoon / AFP)
Lionel Messi and Inter Miami face the MLS champions as their bid to make the playoffs takes them to Los Angeles on Sunday.
Los Angeles FC are second in the Western Conference and represent one of the toughest tests for a Miami team that are 10 points outside of the playoff places with 10 games remaining.
Miami's attempt to surge into the post-season, after a winless run of 11 games in MLS before Messi's arrival left them rock bottom of the league, suffered a blow on Wednesday when they were held to a goalless draw at home to Nashville.
That disappointing result came after a 2-0 win at New York Red Bulls last Saturday in Messi's first outing in the regular season.
"We have tunnel vision on our goal, which is making the playoffs, so this feels like a loss, but we're just going to keep moving forward," said Canadian defender Kamal Miller after Wednesday's draw.
Messi had led Miami to victory in the mid-season Leagues Cup tournament and into the final of the US Open Cup, and has already scored 11 goals in all competitions.
But he was well below his best against Nashville, raising concerns about whether the intense schedule since his debut has taken a toll.
"We got a little too accustomed to titles, finals, winning in New York, but we have to keep going because a lot can still happen," said Argentine coach Gerardo "Tata" Martino.
LAFC are seven points behind Western Conference leaders St.Louis City but are expected to be among the favorites for MLS Cup again.
– More than Messi –
Head coach Steve Cherundolo insists his team cannot fall into the trap of focusing purely on the threat from Messi.
"There is a lot of buzz around Messi and the newfound Miami strength and results that they're stringing together. But for us, it's another home game that we want to win and I think it's a mistake to focus on one player," he told reporters.
The former USA international said even if such a plan could be constructed it would be a pointless exercise given the talent of the seven-times Ballon d'Or winner.
"I think because of obviously his ability and the way he plays, it's an illusion to try to think you're going to stop him for 90 minutes. He's going to have a chance or two.
"That's just the way this game works and the way he's been able to do throughout his career against every team," he said.
"If you try and focus on that, then you're going to miss out on opportunities to actually beat Miami. And that's where our focus is in making sure that they as a collective have to defend, they as a collective have to work hard and put a very intense and tough shift to beat us," he said.
The other stand-out game of the weekend is Saturday's derby clash in the Pacific North West between the Seattle Sounders and the Portland Timbers.
While third placed Seattle should be comfortably on their way to the post-season, Portland have work to do sitting in 12th but only four points adrift of the last playoff spot.
The derby has a long history going back to when the two clubs met in the old NASL in the 1970s and continued in various leagues before the teams moved into MLS.
Saturday's match-ups also see Dallas, seeking to secure their place inside the West's playoff spots, at home to a newly strengthened Atlanta side who are sixth in the East.