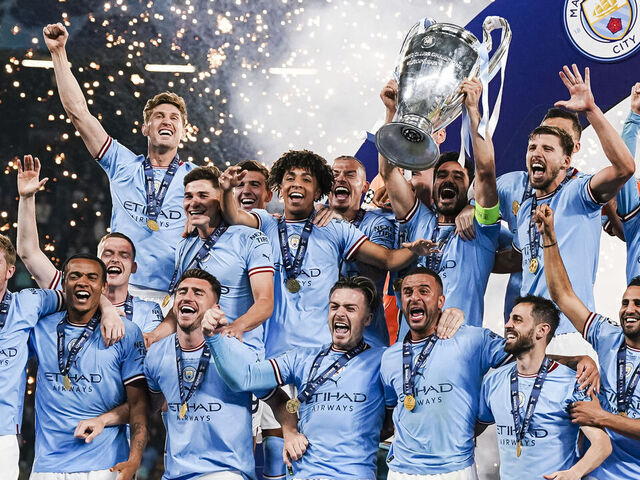 Manchester City are the second-most supported European club among followers in the United States.
Data has Pep Guardiola and treble-winning Manchester City ranked above European giants such as Barcelona, Liverpool and Real Madrid.
That's according to data thrown up by a survey, carried out by Statista Consumer Insights, and relayed by Casinos En Ligne via social media.
The study looked at football fans Stateside and based results on a percentage.
Pep Guardiola and his treble-winners are thought to be the joint second-most followed European club over in the United States, right now, with an 8 per cent share.
Chelsea are the other team in second place.
Man Utd
However, their neighbours Manchester United are well out in front on 18 per cent as fellow Premier League sides – Arsenal and Liverpool (both 7 per cent) – also find themselves in the top-seven in this particular league table.
Data from the same source confirms Spanish rivals Barcelona (7 per cent) and Real Madrid (5 per cent) are well followed across the Atlantic. But no teams from Germany, France or Italy make the cut.
The seven teams mentioned – including Manchester City – account for 60 per cent in total. That means other (unnamed) clubs make up the remaining 40 per cent. But no exact numbers are given for the sample size.
Manchester City have dominated the Premier League in recent seasons. Indeed, since Guardiola took over as manager in 2016, they have won the top-flight five times from a possible seven.
During his tenure, the Blues won four straight Carabao Cup medals between 2018 and 2021. The FA Cup also returned to the Etihad Stadium in 2019 and 2023.
They were part of a historic treble alongside the Premier League and Champions League. City overcame Inter Milan to finally get their hands on European honours. Manchester Evening News