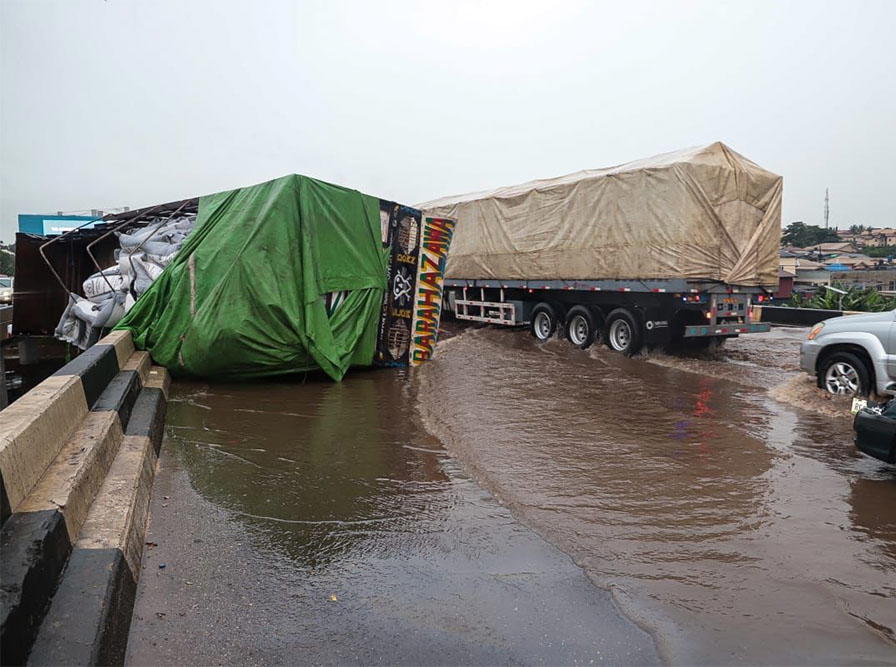 The scene.
By Olasunkanmi Akoni
One person, a yet to be identified male, died in a lone accident involving a truck at Otedola Bridge, along Lagos-Ibadan Expressway, after falling off the bridge on Tuesday.
As a result, motorists have been urged to ply alternative routes to avoid been caught in traffic.
According to the Permanent Secretary, Lagos State Emergency Management Agency, LASEMA, Dr. Olufemi Oke-Osanyintolu, the accident occurred in the early hours of the day.
Oke-Osanyintolu said the truck driver was descending the hill from Mobil Filling Station inward Otedola, while trying to avoid collusion with another vehicle.
Oke-Osanyitolu added that in the process the driver lost control and crashed into the side of the bridge.
The driver's compartment was found hanging down the bridge with some of the product (wheat) all over the road, blocking the entire route under the bridge inward Otedola Estate.
"A young adult male, one of the occupants of the truck fell off the bridge and lost his life.
"The Agency's crane has been dispatched for swift recovery of the impediment," Oke-Osanyitolu stated.