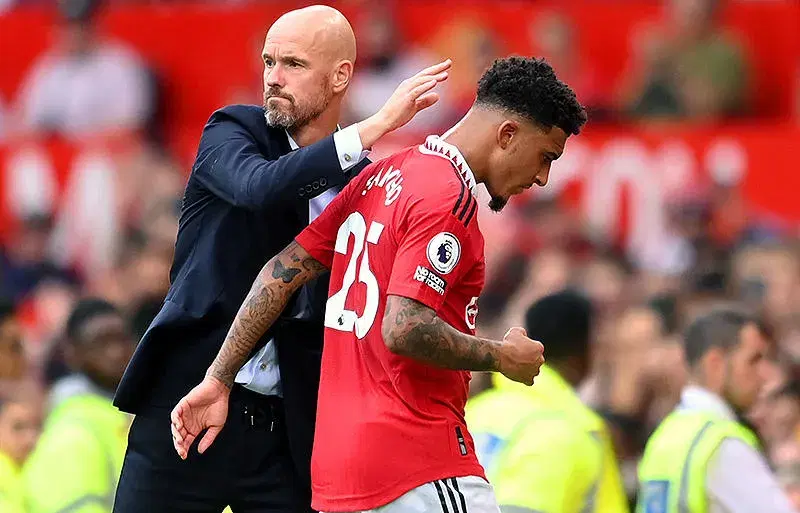 By Enitan Abdultawab
England forward Jadon Sancho has hit back at Manchester United manager Ten Hag after he was not included in the matchday squad in the 3-1 loss against Arsenal.
The 23-year-old has played just 76 minutes out of a possible 270 in United's first three games of the season, coming on as a substitute in all.
After the loss, Ten Hag was questioned about why he didn't include the 23-year-old in the squad.
"Jadon, on his performances in training we did not select him," the United boss said after the defeat.
"You have to reach a level every day at Manchester United, and we can make choices in the front line. So for this game he was not selected."
Meanwhile, Sancho was quick to hit back at the former Ajax manager. In a post via his X account, formerly Twitter, he wrote,
"Please don't believe everything you read! I will not allow people saying things that is completely untrue, I have conducted myself in training very well this week.
"I believe there are other reasons for this matter that I won't go into, l've been a scapegoat for a long time which isn't fair! "All I want to do is play football with a smile on my face and contribute to my team.
"I respect all decisions that are made by the coaching staff, I play with fantastic players and (am) grateful to do so which I know every week is a challenge.
"I will continue to fight for this badge no matter what!"
Reacting to the development, club legend Rio Ferdinand, while speaking on Vibe with Five, told Sancho to either sit on the bench or go to the Saudi League.
"There's no way Jadon is putting out a statement like that if he hasn't in his own eyes performed well.
"That's the difference as well. On his chart, Jadon [might think] – 'I've trained alright', but the manager might have a different standard. There's two ways this ends.
"There's only one window open now and that's Saudi. Or you're on the bench or not getting in the squad for the rest of the season."
It remains to be seen what steps the club will take in the confrontation. However, it should also be noted that Sancho is the second player after club legend Cristiano Ronaldo to be involved in a rift with Ten Hag.