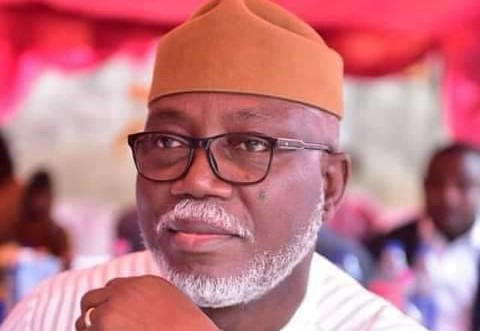 Deputy governor, Aiyedatiwa
By Dayo Johnson, Akure
Youths from the three senatorial districts of the Ondo state, have faulted the deputy governor, Hon Lucky Aiyedatiwa, for allegedly intimidating the state House of Assembly over the ongoing impeachment proceedings against him.
The protesting youths under the aegis of Concerned Youths and Citizens (CYC), said that no one should turn the state into a theatre of war.
They therefore urged the deputy governor to respond to the allegations against him instead of raising unnecessary issues.
Speaking during their protest to the state assembly, their spokesperson, Bright Eniafe, said that that if the deputy governor " is found wanting by the allegations levelled against him, the deputy governor should be impeached.
They displayed placards with various inscription such as "We want peace in Ondo State", "We no go gree" and "We say no to corruption.
According to them, the Assembly should be allowed to carry out its constitutional duties unhindered and unmaligned by any set of people, stressing that the parliament has the backing of the people to carry out its constitutional functions.
Eniafe said: "We are upset because the Deputy Governor, who is being accused of several allegations that he's supposed to clear, has decided to put the state in jeopardy.
"The House of Assembly must carry out its constitutional duties, and if Ayedatiwa is found wanting, he must be impeached. It is disturbing that Ayedatiwa got about 350 million naira to help the good people of Ilaje, and he didn't do anything other than share just bed and bread.
"That's not what the people want; what we want is an alternative to the current issue affecting the coast. Ilaje local government is one of the local governments that provides the state with enormous resources, and they deserve to be well treated.
"If resources are now given to an indigene of that local government who is the deputy governor, expected to do the right thing, and fails to do it, such person must be held accountable; all he has to do now is defend the allegations against him or bow out honorably.
"We can no longer continue with lackadaisical governance; we want a democratic system that will work for the people, a democratic system whose dividends are what everyone will be yearning for.
According to him " One of our demands is that Ayedatiwa stop the media trial; he should also stop an attempt to blackmail the legislative arm of government through a caricature injury."