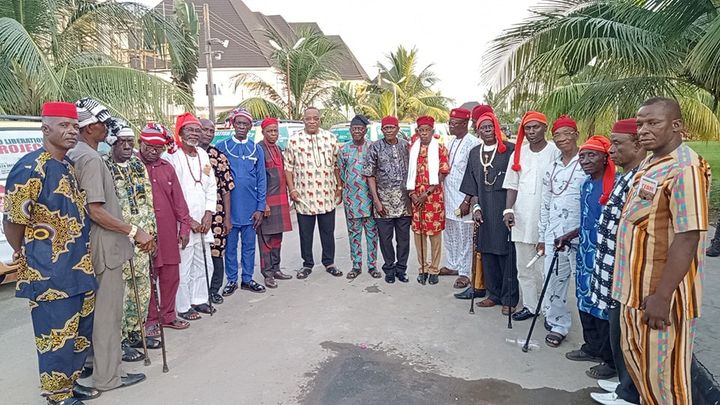 By Chinonso Alozie
The Igbo traditional title holders known as Nze na Ozo, in Imo state, led by Nze Kelvin Nwosu, have endorsed the 2023 Imo governorship candidate, of the Young Progressives Party, YPP, kemdi Chino Opara.
This was disclosed to newsmen in Owerri, on Thursday by the Deputy Director of Media and Communications, of Opara's governorship campaign, Michael Anyanwu.
He described Nze na Ozo, as spiritual heads of various communities, custodians of truth in Igbo society, and that what attracted them to YPP governorship candidate was his (Opara) capacity to alleviate poverty, reduce hardship, address the issue of insecurity in Imo state.
On how the endorsement happened, he said: "The Gubernatorial ambition of the Young Progressives Party (YPP) flagbearer, High Chief Dr kemdi Chino Opara has received the blessing of the Igbo ancestors through the ndi Nze na Ozo, the sacred representation of the ancestors in human form. They gave the Mbieri-born philanthropist their full backing in the governorship race thereby adopting him as their preferred candidate. This endorsement has given his support base the desired robust boost ahead of the November 11, 2023 polls in Imo State.
"During the adoption ceremony which took place at the country home of Dr. Kemdi Opara in Obazu Mbieri in Mbaitoli local government area of the State, the Nzes known to be the spiritual heads of their various communities and operating under the aegis of the Imo State Council of Ndi Nze na Ozo expressed their eagerness to form a strategic synergy with the YPP flagbearer and his team so as to help him win the forthcoming governorship election in the State, and also support him to actualize his election promises in his manifesto when he is sworn-in as governor."
He continued: "The ndi Nze na Ozo who came from the three Senatorial zones of Imo State and are legitimately in possession of the Ofo and Ogu that symbolize authority and Justice which bestows them with the right to talk to the ancestors of Imo State, unanimously, exercising their prerogative endorsed Chief Opara for the Governorship position; Noting that their decision to give him their strong backing emanated from the fact that he is eminently qualified and his vision-driven manifesto is endearing."