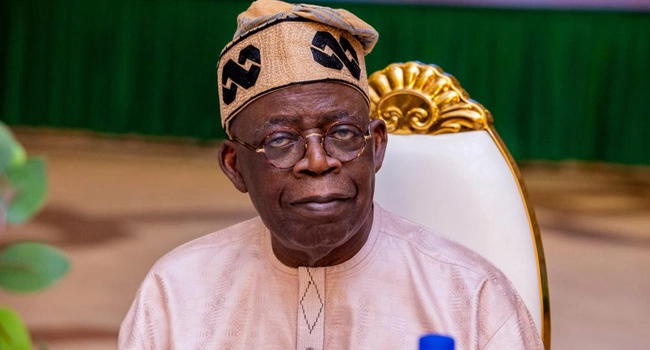 President Bola Tinubu
By Daniel Abia
British Nigeria Business Network (BNBN), an independent economic think tank has commended President Bola Ahmed Tinubu for implementing a unification policy of exchange rates aimed at boosting the country's economy.
The organization which comprised of eminent economic diplomats and financial experts, commended President Tinubu's administration for its forward-thinking approach to economic development, emphasizing that the measures taken thus far are essential for steering the nation towards sustained growth and stability.
According to the Executive Director of BNBN, Dr. Ifeanyi Ubani, said one of the President's primary initiatives was the unification of exchange rate. "Tinubu has indicated his seriousness to do good things for Nigeria. His steps show that he is willing to bring in foreign investors and indicates his desire to open up the economy", he said.
Ubani expressed optimism that the President's action is a significant move to address economic disparities and enhance financial stability in the country.
He said the policy also aimed to streamline Nigeria's multiple exchange rates, a long-standing problem which he said, has negatively impacted businesses and investments in Nigeria.
"The President has opened the Naira flow in such a way that you no longer have parallel Naira flow. It's no longer a situation where the CBN have different rates and the black market have different rates.
"He has rectified the Naira rates which makes it easier for people who want to invest in Nigeria to say "this is the amount and rate with which to do your proposal and feasibility, which can stand between one to five years", he said, adding that the development was a sharp departure from the past where "You are, for instance, doing the Nigeria rate of say N450 to a Dollar and the parallel market is N750".
Amb. Ubani, Country Representative of the British African Business Alliance (BABA) who described the exchange rate unification as simply "wonderful", also lauded the policy as a crucial step toward economic cohesion.
According to him, unifying exchange rates can foster investor confidence, attract foreign investments, and bolster economic growth. "Another thing is that he has opened what we call the capital and current repatriation flow.
"In the past, before you move in money, or capital in and out of Nigeria, it must go through CBN and there was so much delay, thereby hindering investment. That was why Nigeria had problems. President Tinubu's administration has shown determination to tackle economic challenges head-on, with this latest policy as a testament to their commitment.
"By establishing a unified exchange rate system, the government aims at creating a level playing field for businesses, reduce market distortions, and attract foreign direct investments". He described BNBN as a proactive organization, adding, "We check your steps, check the facts. We've been fact checking on all the meetings President Tinubu has been having with nations. It shows a burning desire to open up Nigeria's foreign business market.
"Truly he has opened that part of the economy where you can bring in your money and take it. Those are two good moves", he said.
He further said that President Tinubu has also gone out to invite all the "sensitive countries", telling them that Nigeria is willing to welcome them, stressing that these steps make him a proactive President.