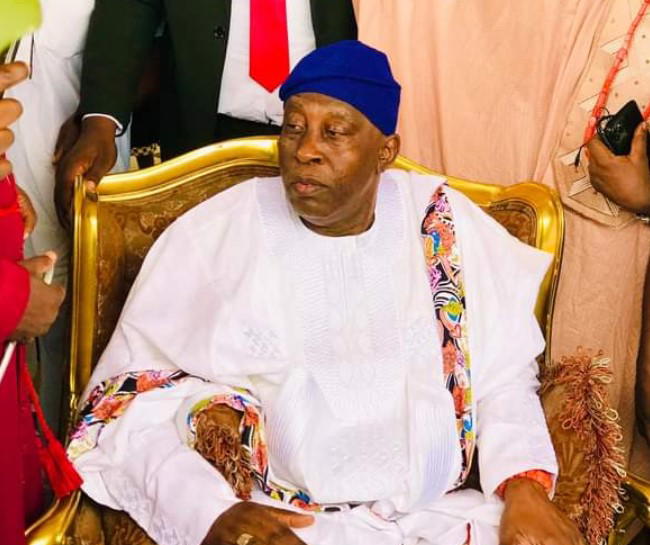 •The new Soun will allow other religions — Araba Oluawo
By Adeola Badru, Ibadan
The historical city of Ogbomoso was on Thursday, September 14, 2023, agog as the newly installed Soun of Ogbomosoland, Oba Afolabi Ghandi Laoye Orumogege III, moved to the main palace to receive members of the community and dignitaries who converged to rejoice with him on his coronation. His coronation as the 28th Soun of Ogbomosoland, followed the approval of Governor Seyi Makinde of Oyo State.
On the day of his installation, prayers were said by the Bishop of Ogbomoso Diocese of Methodist Church Nigeria, Right Rev'd Ademola Moradeyo; the Chief Imam of Ogbomoso, Sheikh Talihat Oluwashina Ayilara; and the Araba Oluawo of Ogbomosoland, Chief Opeyemi Ifamakinde.
Before his installation, a serious controversy had trailed his selection from his own Laoye Royal Family.
In a short interview, the new monarch of Ogbomoso spoke on why he chose to become Soun after being a pastor in the Redeemed Christian Church of God (RCCG) for 30 years in Washington, United States of America. He spoke to his congregation in March 2022 in Washington revealing that he received a divine call to become the Soun of Ogbomoso Kingdom which was why he left the pulpit for the palace
Oba Laoye said: "I was born into the royal family. But one way or the other, the Lord took me on a completely different path. He made me a pastor. In December 2021, I was on vacation in Nigeria, like I normally do every August and December. If I was not in Nigeria, I would be in other parts of the world.
"So, I was in Nigeria when the king of our town joined his ancestors. We have five royal families in Ogbomoso. After the Ajagungbades, we know that it is my royal family – Olaoye, that is the next to produce the king. Everybody in Ogbomoso who knows about the tradition knows that. Of course, I knew about it but I was not interested in it at all because I believe that I have gone on a completely different path. My father never sat me down to say, Ghandi, if you want to become Soun of Ogbomoso, you can be. He never told me and I never bothered. My dad tried to be Soun of Ogbomoso in 1940 but it was not what God wanted for him as the people rejected him.
"But in December 2021, people started calling me, saying: 'Ghandi, why can't you do this? -especially people who were close to me and knew that the Laoye Royal Family would produce the Soun after the Ajagungbades. I insisted I did not have interest because I believed I had a different path. Sometime in 2021, I said in the church that I was going to retire. I said that at the age of 60, I was going to retire. People asked me what I would retire into and I said I have done 30 years as a pastor, I felt there are other expressions of ministry.
"I planned that I was still going to do other things in the ministry. It was that time that I appointed Pastor Chinyere as the Executive Pastor and Pastor Olumide as the Lead Pastor of the Church. When I was doing all that, I did not have a plan of what I was going to do. All I knew was that I have had 30 years of pastoring, and Pastor Olumide has been my assistant pastor for 21 years; that is a long time to be somebody's assistant. Twenty one years! That is nearly a generation, since a generation is about 25 years.
"When I was being told to come and be Soun of Ogbomoso, I told them the life I wanted to live after 60 years is very simple. I wanted to travel the world because I like travelling. I tell people that I was born in a car, and maybe that is why I am just restless as a person; that is my nature. It has been a little difficult to change that. Today, I am just restless, I just want things to happen, I just want to be on the move. I know that is the way God created me. So, that was my plan for 60.
"Then, people started calling me a lot. I insisted I was not interested. Of course, as a pastor in the Redeemed Christian Church of God, I didn't want Daddy G.O (Pastor Enoch Adeboye, the General Overseer of the church) to hear. Of course, he is my spiritual father. So, I called him and told him what was going on. I said: 'I don't want you to hear. My people wanted me to come and become Soun of Ogbomoso. But I just want you to hear what people are saying. It is not because I am interested, but I don't want you to hear it from other people.
"Then, he stopped me, saying: 'Don't say you are not interested.' I asked why and he continued: 'No, this kind of thing, you brought it from heaven.' I asked what he meant by that and he said 'You were born into a royal family, you brought it from heaven. Don't ever say you are not interested'. He told me to go and pray and fast about it. But I didn't pray and I didn't fast because it's not what I was interested in.
"The next I asked him was if he knew of any pastor, who left pastoring and went to become an oba. He said of course, he could tell me four. He told me two among them. He then said: 'You can go ahead, that is all I have to say.' He also told me that he never wanted to become General Overseer and I can see what General Overseer is today. He told me: 'Go ahead and do whatever you have to do.'
"To cut the long story short, I had planned that on January 2nd, 2022, which was first Sunday of 2022, I would tell the people calling me to become Soun of my final stance. I was going to tell them to stop bothering me.
"So, I woke up around 6:30am to pee. When I finished peeing, I laid down on the bed, thinking about how the service was going to be. Then, I prayed: 'Lord, I am at a crossroads of life. These people are saying I should come and become Soun of Ogbomoso. Today is the day I am going to give them the final answer that I am not interested. To me, how would Jesus say leave Washington and go and live in Ogbomoso? The next thing I heard was: 'You are born for this. This is the reason for your birth'.
"Of course, that was not what I was expecting. But let me tell you this; when I hear, it is 10/10. So, I got ready for church. I came to the church, I called Pastor Olumide, Pastor Chinyere, and Pastor Tunde. I called the three of them to my office on January 2nd, 2022, and I said to them what the Lord told me, and I told them I am 10/10. I never miss it.
"There is time when I don't know, I'll say let's go ahead and do it. When I say God told me, it has never changed in 30 years of ministry. People that are close to me know exactly what I am saying. When God spoke to me, what I said was very simple: 'If it is not you, stop it.' The next thing I did was, I got into the process because I am following God.
"There is nothing in this world that anybody has to offer me than what I have committed half of my adult life to do; absolutely nothing. If you know me very well, I am not doing this because I have nothing else to do."
My name as 'Ghandi'
"Itumo oruko mi re…Genesis 30:11 'Lea si wipe, Ire de, O si so oruko rè ni Gadi. That means "This is the meaning of my name. Genesis 30:11, which says: 'Leah said, I have been lucky' and she named him Gad."
At his coronation, the monarch urged the aggrieved people to unite with him for the development of the town adding that it was God that sent him to rebuild the city and to work for its progress.
His words: "Ogbomoso will be different. In terms of development, Ogbomoso will be different. In terms of peace, Ogbomoso will be different. I want you to know it is a new thing in Ogbomosoland. Imole tuntun lo de yi ( A new light has come). Ire tuntun lo de yi (A new goodness has come). Many knew what has been happening, what we have passed through but we will leave that behind us. Those who are aggrieved, let us unite for the development of Ogbomosoland. Let us unite so we can move Ogbomoso forward. Let us eschew violence, if we love this city we will rebuild this city together. It is God that sent me to rebuild this city, to work for the progress of this city.
"We have not come to the throne to make wealth, God has given us wealth; we have not come to make a name, God has given us that. To put Ogbomoso in its rightful place is our goal. I assure you we will make Ogbomoso greater. What we have come to do in Ogbomoso has started today, the development of Ogbomoso has started today, new glory has started. Things will change. Good things such as industries will spring up, not one but many. God will give us many. I don't talk much, it is action you will see, that is what you will see in the name of the Lord."
His choice as new Soun by Araba Oluawo of Ogbomosoland
The Araba Oluawo of Ogbomosoland, Chief Opeyemi Ifamakinde, stated that whenever a king joined his ancestors, another person would succeed him from the next royal family. The next royal family, he said, would present a candidate or candidates.
"The candidate can be one or 20, 30 to 200 candidates. Then, the family will invite the kingmakers and present their candidate or candidates to them. If you are a pastor or a preacher, and you become Soun, we are not against you. But you must not be against other religions. There has never been any Soun that did not allow Isese to practise in Ogbomoso. The immediate past Soun was a Muslim. When he became the Soun, he allowed Muslims, Christians as well as traditional worshippers to practise. This is how it should be. The new Soun has said he would allow other religions to be practised in the town. It is on record that the crown of Soun is not from Jerusalem and it is not from Mecca. It is a traditional crown," he said.
Recall that Oba Laoye succeeded the immediate-past Soun, late Oba Jimoh Oyewumi Ajagungbade III, barely 21 months after his demise, after spending 48 years on the throne. There are five royal families in Ogbomoso that have been producing monarchs for the town on rotational basis. Each of the five royal families has a Mogaji as the traditional head.
The Mogaji is always installed by the reigning Soun of Ogbomoso. In the case of Laoye Royal Family, Chief Amos Olawale Olaoye, is the current Mogaji.The new king is from Laoye Royal Family but the selection for the new king from the family was greeted with intrigues that divided the family into two, with each member of the family queuing behind different princes.