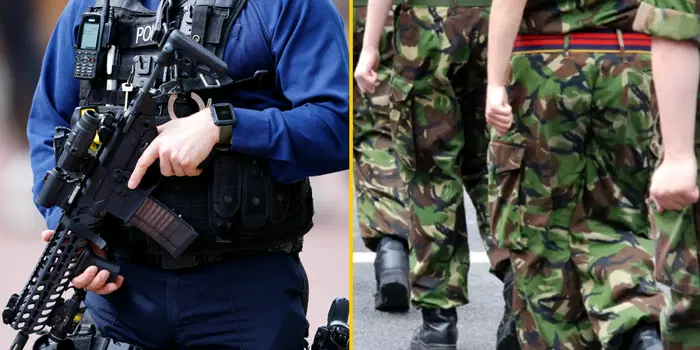 The British army has been ordered to stand down following the resumption of hundreds of Metropolitan Police officers to firearms duties.
Soldiers were initially put on standby after some armed officers spent the weekend considering their position.
Their decision followed the murder charge against an officer over the killing of 24-year-old Chris Kaba, who was shot last September.
Officers from other forces were drafted in to help, but the Met said on Monday that enough have returned to duty, BBC said.
The earlier report revealed that up to 300 armed officers had turned in permits allowing them to carry weapons over the weekend. There are more than 2,500 armed officers in the force.
Reacting on social media, the Met said, "As of lunchtime on Monday, the number of officers who had returned to armed duties was sufficient for us to no longer require external assistance to meet our counterterrorism responsibilities."
It added that a "limited number" of armed officers from other forces continued to support its non-counterterrorism armed policing.
The Ministry of Defence said it received a request – known as Military Aid to the Civil Authorities – from the Home Office on Sunday to "provide routine counterterrorism contingency support to the Metropolitan Police, should it be needed".
A number of officers took a step back from their armed duties following their concerns over the Crown Prosecution Service's decision to charge Officer NX121 with Kaba's murder.
Earlier on Monday, the Met said senior officers were having "ongoing discussions" to support staff to fully understand those concerns.
"Many are worried about how the decision impacts on them, on their colleagues and on their families," a spokesperson said.
Prime Minister Rishi Sunak has backed a review ordered by the home secretary over the weekend to look into armed policing guidelines, which Downing Street said was expected to conclude by the end of the year.
"Our firearms officers do an incredibly difficult job," Sunak said.
"They are making life or death decisions in a split-second to keep us safe and they deserve our gratitude for their bravery.
"It is important when they are using these legal powers that they do so with clarity and they have certainty about what they are doing, especially given the lethality they are using."
Commenting on the review, Met Police commissioner Sir Mark Rowley suggested firearms officers were concerned that they would face years of legal proceedings, "even if they stick to the tactics and training they have been given".
"Officers need sufficient legal protection to enable them to do their job and keep the public safe, and the confidence that it will be applied consistently and without fear or favour," Sir Mark wrote in a letter to the home secretary.