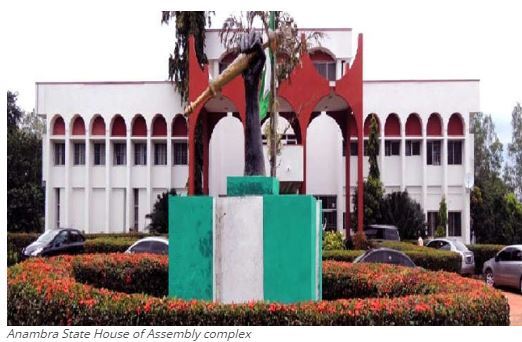 By Vincent Ujumadu
Awka-THE Anambra State House of Assembly has passed a total of thirty-three motions during its first 100 days of sitting.
The Speaker of the House, Mr. Somtochukwu Udeze, who spoke at a ceremony to mark the occasion, also said a number of bills would soon be passed by the house.
Udeze listed the bills to include Anambra State Oil Producing Area Development Commission Bill, 2023, Anambra State Peace Building and Conflict Management Agency Bill, 2023, Anambra State Safety Bills, 2023 and Trafficking in Persons (Prohibition), Enforcement, and Administration Bill, 2023.
He stated that the House has also addressed key issues through motions, such as ecological and erosion control, road construction and rehabilitation, agriculture, healthcare, and initiatives to improve the living conditions of the people.
Udeze said: "I am delighted to announce that within our first one hundred days, we have successfully drafted a comprehensive legislative agenda.
"This agenda will guide our actions and policies, serving as our roadmap for the next four years. It outlines our vision and objectives, ensuring that our legislative efforts are directed towards the betterment of Anambra State and its citizens.
" We have worked closely with our Governor, Prof. Charles Chukwuma Soludo to ensure good governance in Anambra State.
"My appreciation goes to my esteemed colleagues for their unity, peaceful disposition, and unwavering commitment to their legislative duties.
"I acknowledge and appreciate the cooperation received from the legislative staff and call on them to remain dedicated to their responsibilities.
"My administration has maintained an open-door administrative policy for both lawmakers and legislative staff, promoting productivity and collaboration."
"To ensure our commitment to transparency and accountability, we have initiated the practice of sharing legislative updates with the public through various media channels.
"This approach ensures that our constituents are well-informed about our legislative activities, promoting transparency and public engagement.
"We have undertaken significant reforms in the handling of private member bills and these reforms are aimed at streamlining the process of introducing and debating private member bills and ensuring that every member of this honourable Assembly has an equitable opportunity to contribute to the legislative agenda.
"This reform emphasizes our commitment to transparency by making the legislative process more accessible and understandable to the public."
The Speaker expressed appreciation to Governor Soludo for the ongoing rehabilitation and reconstruction work at the legislative building complex and offices, as well as his unwavering commitment to implementing the House's resolutions in line with his transformation agenda.