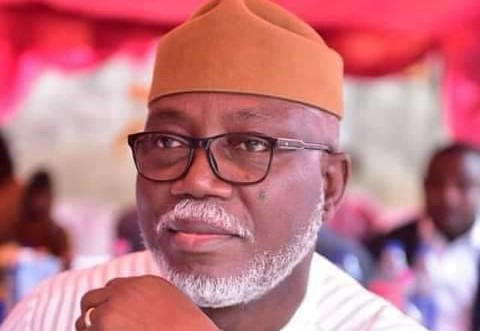 Deputy governor, Aiyedatiwa
By Dayo Johnson, Akure
Ondo state deputy governor, Hon Lucky Aiyedatiwa, has finally been served the allegation letter of alleged gross misconduct.
Aiyedatiwa was expected to respond to the letter within seven days.
Recall that the assembly directed the Clerk to write the deputy governor over the allegation of gross misconduct levelled against him while he held sway as the acting governor of the state.
Some members of the assembly have petitioned the deputy governor over the allegation of gross misconduct.
lt was alleged that Aiyedatiwa reportedly approved N300 million for the purchase of a bulletproof SUV for his personal use.
Recall that the governor travelled to Germany for medical treatment for three months.
Aiyedatiwa was alleged to have ordered the N300 million to be sourced from the Palliative fund, which was from the Federal government to the state in order to cushion the effect of the removal of fuel subsidy.
But Aiyedatiwa has since denied the allegation, describing it as a fabricated lies.
However, vanguard gathered that the letter was received in his office at exactly 316pm today( Monday) after several days of evading service.
Reports had it that members of staff of his office refused to collect the allegation letter from the Clerk of the House, Jaiyeola Benjamin saying they were acting on instructions.
Vanguard gathered that the staff said that they'd been warned not to collect any letter from the House of Assembly.
One of the staff alleged that they were threatened with being sacked if they received the letter.
However, Aiyedatiwa, had this morning in a statement, said that he was yet to receive the letter.
According to him " It is pertinent to put on record that as of today, Monday, September 25, 2023, I have not received any official communication or any "letter of allegations of gross misconduct" from the Ondo State House of Assembly.
" I find it especially worrying that the spokesman of the House of Assembly would go on national television to speak on such a matter without any evidence to show that such letter has been delivered to me. More disturbing is the fact that even when he was asked if the letter had been delivered, he gave no coherent answer.
" A sensitive constitutional matter of this nature; the impeachment process should not be conducted on the pages of newspapers and television screens.
"In effect, I reiterate that if such "letter of allegations of gross misconduct" against me exists, I have not seen it and I have not been served. I therefore urge Mr. Speaker, The Honourable Chief Judge of Ondo State and members of the public to take note.