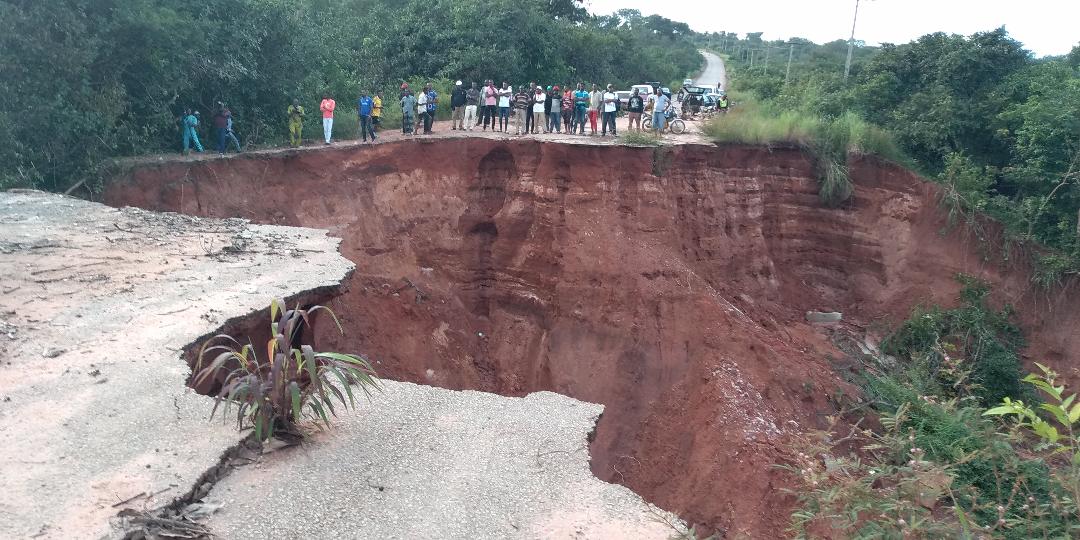 . More houses may be washed off if…
By Steve Oko
The people of Amokwe Amiyi Community, as well as Oguduasa in Isuikwuato Local Government Area of Abia State, have raised alarm over erosion threat following the sudden stoppage of work by the Chinese Company handling the reconstruction of Abia State University/ Ahaba Imenyi Road at the instance of the Federal Government.
A member of the Community and former Senator who represented Abia North including Afikpo in the second Republic, Senator Emma Nwaka, who spoke for the people, decried the deplorable state of the road.
He expressed deep worry that the current condition of the road had exposed the entire erosion-prone community to imminent threat by gully erosion.
" My community -:Amokwe Amiyi on the said Road has been exposed to erosion threats of unimaginable proportion", Senator Nwaka lamented.
The Senator in a statement Thursday, said:" It is sad that the construction firm knowing that it was going to stop work due to poor funding went ahead to remove existing asphalt on that stretch and dug up the top soil thereby exposing the sub soil to the vagaries of weather in the heart of the rainy season.
"Amokwe Amiyi, which is my community, is sandy and erosion-prone naturally, what is more; it is on the slope of a hill.
" With the sub soil now removed, flood speed whenever it rains is quite high thereby threatening people's homes.
"If this trend continues unabated, the community stands the risk of being washed away. To make matters worse, the construction company abandoned the drainage system they are building half-way."
He called on the Federal Government to quickly mobilize the contractor back to site to avoid the entire community being wiped out by erosion.
The former governorship aspirant also called on the member representing Isuikwuato/Umunneochi federal constituency in the House of Representatives, Hon. Amobi Ogah, "to put pressure on the Federal Government to release funds to the Company handling the project as quickly as possible to save Amokwe Amiyi community, Oguduasa, Isuikwuato from being washed away".
Vanguard reports that Isuikwuato is prone to gully erosion which has severally wreaked havoc on the road.
Bandits have also taken undue advantage of the deplorable state of the road to terrorize commuters as kidnapping for ransom is a regular feature on the road.