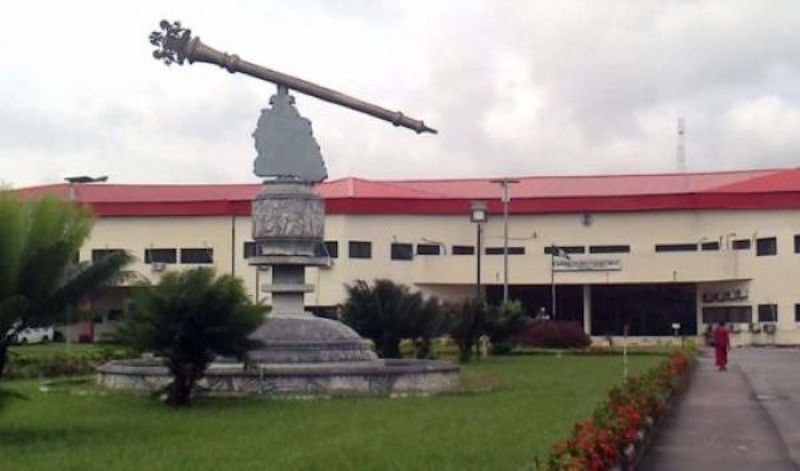 Akwa Ibom House of Assembly
By Egufe Yafugborhi & Chioma Onuegbu
UYO— PROTESTING women, yesterday, barricaded the gates of Akwa Ibom State House of Assembly, demanding the reversal of the amended Traditional Rulers Law.
The law nullifies the rotational headship of the state's Supreme Council of Traditional Rulers and reserves life headship (President-General) for the Oku Ibom Ibibio, head king of the Ibibio, the majority ethnic group in Akwa Ibom.
Women from Annang, Oro and Obolo ethnic groups besieged the state Assembly as early as 8 a.m., occupying the gates with a vow not to vacate until the Commissioner of Police, Olatoye Durosinmi, arrived the scene to douse the tension.
Some of the placards the protesting women wielded read: "Dear Governor, don't divide Akwa Ibom State. Review the Law now", "Annang, Ibiobio and Oron tribes are all equal", "Do not lie. Our Paramount Ruler all rejected the Bill," among others.
The development came as the High Court ruled against the House passing of the new law pending the determination of the contentious issues in a suit by some Annang, Ibibio and Oron people.
Dr. Margaret Udofia, one of the women leaders, said: "I'm from Esinudi, Annang tribe. We are here to protest that we are not second-class citizens. And that they (Oron ethnic group) are third-class citizens. We came to tell them that Akwa Ibom is one.
"We have equal rights in Akwa Ibom, in Nigeria. No first class, no second or third class. We are all one. We don't want war, we don't want tribalism. We want peace in Akwa Ibom. Nobody should come and divide us."
A retired school principal, Mrs. Iboetteh, another protester, said: "The obnoxious law that says only one tribe can be leaders is what we are here against.
"We are against that law the House of Assembly passed. It is dividing the state. This is a peaceful state. We can never allow that law to win. We don't want it. We want rotational."
Mrs. Nkoyo Etim from Mbo LGA of the state, said: "We are here to tell the Speaker to reverse the amended law with immediate effect. The Executive Bill sent by Governor Umo Eno to the House of Assembly, that they passed at night, that they (Ibibio) should have the Oku Ibom Ibibio be life President General of Traditional Rulers Council, should be rotational."
Addressing the demonstrators, CP Durosinmi appealed to them to return to their homes to take care of their husbands and children, assuring that their grievances would be communicated to the appropriate quarters.
As tension escalates over the new law, Governor Eno, who sent the Executive Bill that brought about the controversial law has absolved himself of any blame in the matter.
In defence of his role, Eno said: "The law that has just been passed by the House of Assembly is not my law. The Paramount Rulers of this state sat together, I was there at that meeting and I did not say anything. They agreed on what that law is."