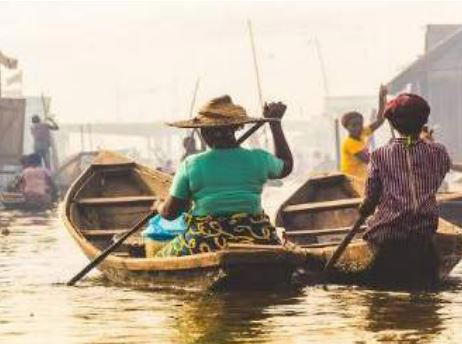 By Ebunoluwa Sessou
Nigeria's ocean economy remains one of the country's anchor sub-sectors, with maritime trade contributing 1.6 per cent and fisheries contributing 3-5 per cent to the GDP.
However, the government's failure to manage and enforce the fishing policy has been a major issue drawing the sector back despite the relevant contribution from the sector.
Nigeria's marine waters are home to over 6,000 species of high economic value, including crustaceans, sharks, rays, fish, and marine plants and mammals.
But despite being a vital source of food and nutrition security and a major source of livelihood for vulnerable coastal regions, the industry has been grappling with a myriad of challenges.
Giving her insights to the research carried out on the ocean industry in commemoration of the 2023 World Ocean Day, on the theme: Steering Gender to the Centre of Nigeria's Ocean Economy funded by Africa Centre for Energy Policy and organised by Centre for Gender Economic, CGE Africa, the founder, Uchenna Idoko, disclosed there is a gender gap in the many value chains in the sectors in Ocean Economy. For example, Women occupy only 20 per cent of the workforce in fishing and aquaculture, adding that they tend to hold lower-paid jobs in the fishing industry.
According to her, globally, in 2016, only one in the top 100 seafood companies was run by a woman, and 54 per cent had no women on their boards.
Women can play a crucial role in protecting marine ecosystems
Women can play a crucial role in protecting marine ecosystems, sustainably using marine resources, but they are denied access.
There is a smaller gender gap in ocean science than in science overall. Female scientists represent, on average, 38 per cent of the researchers in ocean science, about 10% higher than science overall.
In the marine sector, she said, little attention is paid to healthy oceans and human health. Pregnant women and children are susceptible to toxic materials contained in fish. Microplastics can cross the placental barrier and affect unborn children.
"Women are an integral part of the maritime workforce, contributing to the success of shipping lines, ports, onshore services and more in Nigeria, yet, they are not as visible as men.
"Gender equality is not mainstream in development cooperation targeting the oceans. Lack of data, especially sex-disaggregated data, lack of gender mainstreaming in policy solutions and lack of digitalization.
Speaking on the challenges, Idoko lamented that women suffer gender-based violence and lack of awareness of the gender situations in the ocean economy.
To tackle gender discrimination, there is a need to ensure that access to finance and developing skills are prioritized.
There is a need to increase women's participation in high-level decision-making roles in the ocean economy's sectors; this could help achieve more sustainability and marine conservation.
There is a need for initiatives that will help to protect coastal areas and develop small-scale, sustainable fishing that benefits local communities and help decrease the gender gap.
Need to improve evidence gathering and data
There is a need to improve evidence gathering and data collection on the differentiated impact of ocean degradation on women's and men's health, well-being, and employment opportunities, focusing on the most vulnerable and addressing intersectionalities.
Policy solutions to better conserve the oceans require a gender lens, addressing the gender-specific concerns of degrading oceans, including the impact of coastal storms, the depletion of fish stocks and  increase in marine litter.           
Also speaking, National President of Neca's Network of Entrepreneurial Women, NNEW, Funmilayo Arowoogun, said there should be awareness, orientation, adding that, policy should be put in place to encourage women to be able to come into the ocean economy. There is a need to publish success stories of women that are doing well in this economy so as to encourage others to come on board. There are vast opportunities that can be tapped into.
On her part, Principal Research Officer, Nigerian Institute for Oceanography & Marine Research, Ukaonu Stella, noted that, ocean is a very big place and it can accommodate lots of people. There are lots of opportunities that are in the ocean including fisheries, boat construction, feeding, fishmonger, sales representative, production, packaging, marketing, farming, shipping, transportation among others. All stakeholders must be proactive in harnessing all the opportunities in the ocean, she said.
Also, Human Environmental Development Agenda Resource Centre, HEDA, Arugbabu Sulaimon stated that Nigeria should be a frontline player in the ocean economy. "Nigeria is endowed with large coastal territories. We are not taking full advantage of the opportunities in the ocean economy. The first thing we must do as a country is to reduce our contribution towards ocean population.
"Our poor waste management and culture contribute to the pollution of the ocean. Most of the time, plastics are used as a means of contributing to water pollution and that is impacting on the marine ecology negatively.
"We have invested adequately in knowledge, research and technology in harnessing an ocean resource for international investors to come into it. In terms of policy, safeguarding and security we are not doing enough.
"We need to look at the ocean economy in a more robust manner so that everybody can find a place in the value chain to play. We need to invest in the right policy and programme. There are issues of agriculture in the marine economy and we are not getting the best value out of the value chain.
"Renewable energy is also part of the ocean economy and it is an opportunity that Nigeria must invest into. Our ocean export business relies on shipping and the issue is that many Nigerians are not taking advantage.
There is life outside oil and gas
"There is life outside oil and gas challenges and that is why it is important for the government to ensure good policies are put in place. "