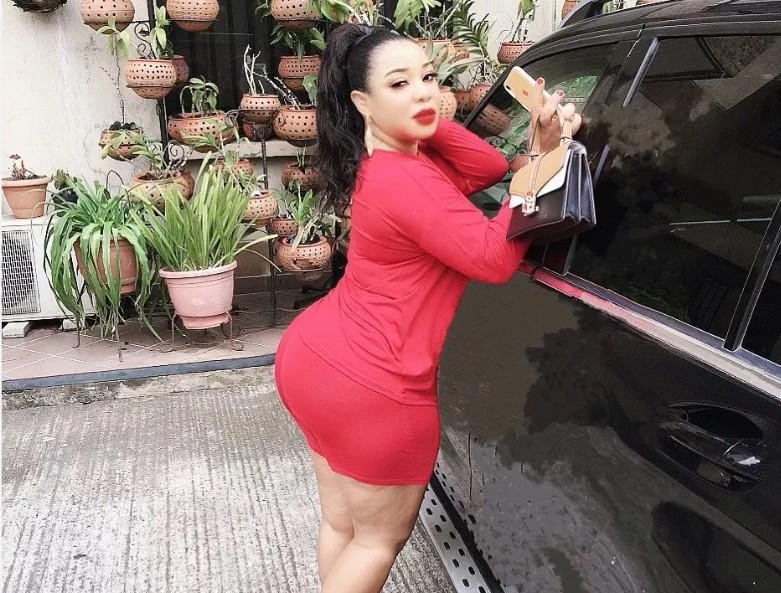 By BENJAMIN NJOKU
Beautiful actress Juliet Ekeson was a year older last Sunday. And to celebrate the birthday girl, her friends and colleagues rolled out the drums and partied with her from dusk till dawn.
The actress, who was still in a party mood, as of Tuesday morning, expressed gratitude to her maker for the new age. She's satisfied with her achievements so far, and believes that she's still a work in progress. In this engaging encounter, the geologist-turned-actress, who began her acting career in 2012, recalls how the fear of her height almost ruined her dreams.
She also talks about what she expects from any man that wants to marry her, and reveals why she cannot go under the knife.
Adding a year to my age
I thank God for the gift of life. It's an exciting thing to know that you are growing. I am not where I was last year, so I give God the glory. My wish is that God will accomplish all my heart desires. He knows my heart desires and I wish that I will accomplish all of them.
Dreams and desires I had while growing up
I have always dreamt of becoming an actress. Though I am a geologist, I have always dreamt that I would be an actress some day. My dream came true. I still want to be an entertainer who's known all over the world. I am working towards it .
Fear that has continued to haunt me from childhood
When I was growing up, I had this fear of my height because I am not as tall as my siblings. I felt that it's going to hinder me from a whole lot of things. I was wondering whether my height would affect me negatively after I became an actress. But it never did.
As I am doing my thing, I realized that what makes you is the you that's in you. As far as I am concerned, I am taller than the tallest girl in this part of the world. This is because what I have in me is taller than every other person. I see myself as the tallest person in this world following my ambition and my dreams.
My height is no longer driving me backwards. In fact, it actually makes me see myself as the best girl in town. I am appreciable and portable. After achieving my dreams, I have realized that life is all about what you have achieved and where you have been so far. Your height can never hinder you from achieving your dreams. It hasn't been hindering me.
What has kept me going
My mom's prayers have been my driving force. I always want to be that best daughter to her. And whenever I think of her, I see myself doubling my hustling. My mum and my siblings constitute my driving force.
Part of my body I admire most
My bum-bum remains the best part of my body. It's one gift God gave me that no one can take away from me. That's what many girls are storming Lagos to buy and fix in their body. But God gave it to me naturally and I cherish it a whole lot.
Going under the knife
I can't go under the knife, God forbid. I don't want that. I tried, but I can't stand the pain. I said to myself, let's try to take off some fat on my waist. But I will rather go for a waist trainer and still retain my curves than going under the knife. Those who are going under the knife are very strong women. I don't know if there are side effects or after effects.
I am not the one to judge them. But it takes a lot to go under the knife and then come out successful. Those girls going under the knife I give it to them. My advice is that if you are a young girl, you should wait until you give birth to one or two babies before going under the knife. This is because it might have side effects in the long run.
Abandoning acting
For me to dump my certificate and delve into acting is a serious sacrifice. Anyway, never say never. Except I get married to a handsome guy, who will promise to give me the whole world for me to leave acting. I think I will listen to him. But for now, I don't think so. But if it comes from a man I love so much and he wants me to genuinely leave acting because of his personal decision, he must convince me. I think I will listen to him.
Taking care of me
Any man coming to ask for my hands in marriage should know that he will take care of me even though I can take care of myself . For a man to say he wants to marry me, he also should be comfortable. I am not saying that he should be the richest man on earth. So, what matters to me is love, if I find a man that loves me sincerely, we can make the money together.
First thing for me is love and that's what we don't have again in Nigeria and the world at large. Love is very scarce these days. Men will tell you they love you but that's not true. I know that love doesn't exist any more these days.
Expectations from my man
He should love me dearly, and worship me. Take me like an egg that I am. I love it when a man pampers me a lot. Everything is not about money. It's all about checking up on your woman, and always being there for her, showing her that you love her. When you guys step out, you are there to protect and admire her the way she walks. There are so many things that make a woman feel very comfortable in marriage. Don't make your woman feel jealous of the way you treat other women out there. It's not about money sincerely, but money still helps in sustaining marriages.