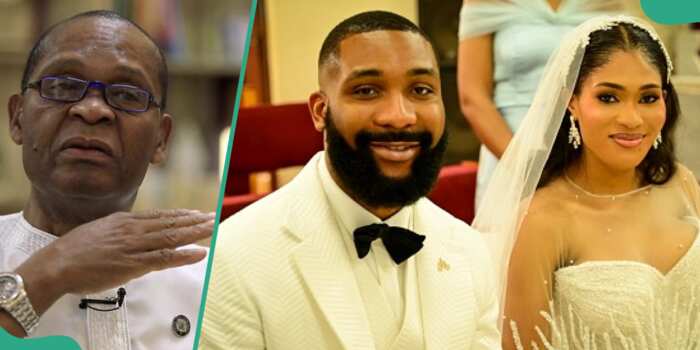 A chieftain of the All Progressives Congress, APC, Joe Igbokwe has criticised the former Deputy Senate President, Ike Ekweremadu's son, Lloyd, for having an elaborate wedding event in the absence of his parents, who are currently in prison in the United Kingdom.
Lloyd got married to Tiffany Adaobi Obinna-Uzor at the Basilica of Grace, Anglican Communion, Gudu District, Abuja, on Saturday.
In his reaction to Lloyd's wedding, Igbokwe wrote on his Facebook page, saying it was an elaborate event, adding that the former Senator's son was insensitive to the plight of his parents that are in jail.
The APC chieftain said Lloyd should have organised a very low-budget wedding and celebrated an elaborate one when his parents return from prison.
Ekweremadu and his wife, Beatrice, are serving in a UK prison after they were convicted of organ trafficking by a London court in May, in their an attempt to help their ailing daughter, Sonia.
They were sentenced alongside a middleman, Dr Obinna Obeta, who wanted to carry out the organ harvest operation on David Ukpo Nwamini, the boy trafficked from Lagos to London.
Ekweremadu was served nine years and eight months, while his wife was handed four years and six months. The doctor was sentenced to 10 years in prison.
Recalling their ordeal in relation to their son's wedding ceremony, Igbokwe said: "If I were to be Ekweremmadu's son I would not have staged this elaborate wedding ceremony with my father and mother in prison.
"I would have done a low-key marriage ceremony and waited till my parents are free. This generation scares me stiff," he added.