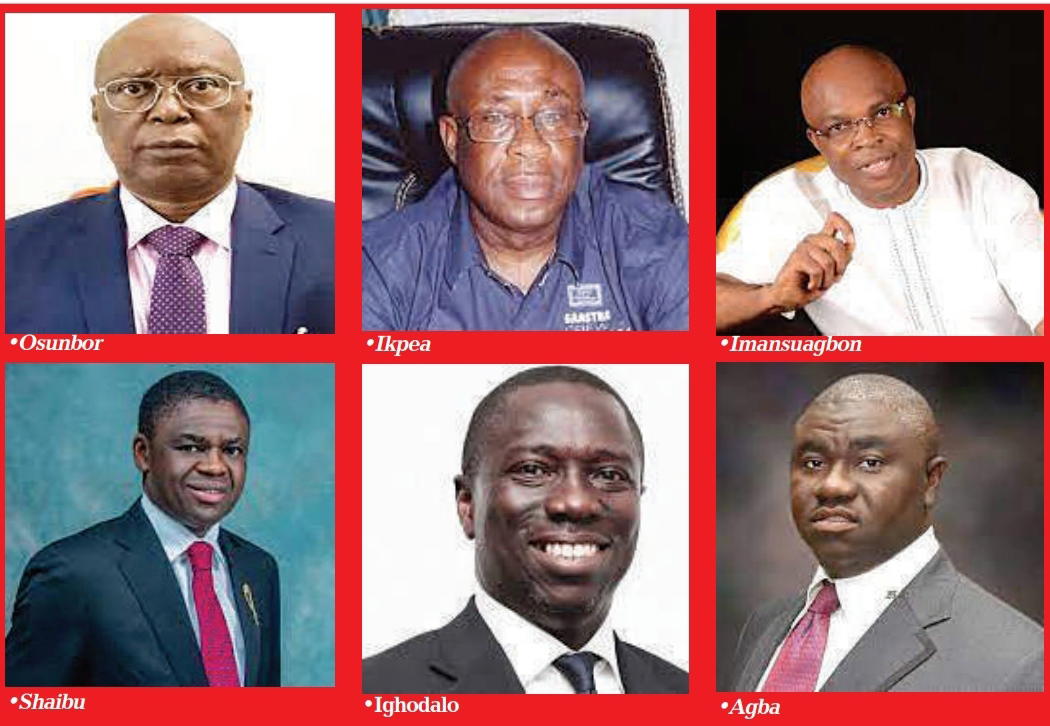 *Factors that'll produce Obaseki's successor
*LP lead quest with 15 aspirants, APC 9, PDP 6
By Clifford Ndujihe, Politics Editor
The Edo State governorship election is more than 12 months away but the Edo political firmament is already astir. The field is crowded with a host of aspirants who are seeking to succeed Governor Godwin Obaseki, whose second term will lapse on November 12, 2024.
As it is, the political atmosphere is getting tense as political gladiators, contenders and pretenders scheme to be strategically positioned for electoral victory.
Factors expected to shape the outcome of the election include the lingering power-cum-supremacy tussle between Senator Adams Oshiomhole, immediate past governor of Edo State, and his successor, Governor Obaseki.
Currently, the duo are strategising to outsmart each other in the battle for the soul of Edo State.
Recently, Governor Obaseki visited the leadership of the Nigeria Union of Journalists, the Edo State Council, and has been visiting various party and community leaders in what pundits consider as efforts to gain support for his yet to be identified successor in the forthcoming election.
Not known to have lost any political battle since inception, Obaseki is said to be ready to deploy every arsenal at his disposal to produce his successor.
Senator Oshiomhole on the other hand, is said not to be relenting in his quest to re-assert his dominance in the state political architecture which he once held with iron fist.
How these horse-trading and scheming will culminate in electoral victory for any of the two titans will depend on the right choice of governorship candidate from the motley of aspirants presently on parade.
Zoning factorWith Oshiomhole coming from Edo North and Obaseki hailing from Edo South, there is a consensus among some critical stakeholders that the next governor should come from Edo Central.
Expectedly, Edo Central Senatorial District stakeholders are lobbying and appealing to the conscience of the other zones for support in the spirit of equity, fairness, fairplay and sense of belonging for the zone to produce the next governor.
Senator Oshiomhole and Governor Obaseki are said to be favourably disposed to the Edo Central appeal and are looking in that direction to pick their choice candidates.
The aspirants
Now, three parties—ruling Peoples Democratic Party, PDP, main opposition All Progressives Congress, APC and the Labour Party, LP account for no fewer than 30 aspirants jostling to become the next governor of the state christened: The Heartbeat of the Nation.
At the last count, the APC has nine aspirants, the PDP parades six while the Labour Party has 15 aspirants that are officially recognised by the party.
Those aspiring on the platform of the APC include Mr. Joseph Ikpea; Gideon Obhakhan; Col. David Imuse, retd; Monday Okpebholo, Professor Osariemhenn Osunbor; and immediate past Minister of State for Budget and National Planning, Clem Agba.
Among those aspiring on the plank of LP are Mr. Kenneth Imansuagbon, Dr Dorry Okojie and Pastor Azemhen Azena.
The PDP has the likes of Deputy Governor Philip Shaibu, Gideon Ikhine and Asuen Ighodalo among others.
Osariemhen Osunbor
Professor Osunbor, now senator, was elected governor in April 2007 and sacked by the court on November 11, 2008, to pave the way for the emergence of Oshiomhole. Osunbor hails from Iruekpen in Edo Central and was governor for 18 months. It is to be seen if the law teacher will be second time lucky.
Gideon Obhakhan
Obhakhan, a University of Benin graduate of Electrical/Electronic Engineering, worked with MTN, and was commissioner for Education in Adams Oshiomhole's administration. He is likely to split delegates' votes because he is from the same local government with Professor Osunbor.
Monday Okpebholo
Okpebholo is currently said to be enjoying support and getting assurances from the leadership of the APC both at the national and state level.
He is said to have the financial wherewithal to pursue his ambition. It is to be seen, however, if the assurances he is getting now will land him the APC ticket and the governorship eventually.
David Imuse
Col. Imuse, retd, the current chairman of APC in Edo State is also from Edo Central. He is a medical doctor, product of University of Benin, and military personnel.
He got the backing of Oshiomhole to emerge as APC chairman.
However, he is from the same local government area with the likes of Osunbor, Obhakhan and Ikhine, which may affect his chances of picking the APC ticket.
Joseph Ikpea
Dr. Ikpea, former chairman, Esan South-East LGA and Edo State Commissioner for Solid Minerals, Oil and Gas, is an administrator at Lee Engineering and Construction Company Limited.
Trained at the Petroleum Training Institute, Warri before going to obtain Bachelor of Science degree in Management and a Master's degree in Crime Control Management from Delta State University, Abraka, Ikpea is an honorary doctorate degree holder from American University in Public Administration and leadership and a doctorate degree from Indiana Christian University, America. 
He was a public relations officer of Independent Petroleum Marketers Association of Nigeria, IPMAN, Mid- Western Zone.With the combination of multinational and international training in management and leadership, supporters of the Edo Central politician said he has the prerequisite pedigree for the onerous task of governing Edo.
Ikpea got a letter of commendation from the then Edo State Governor, Oshiomhole under whom he served as chairman of Esan South-East LGA for his council being one of the three best managed in terms of excellent service delivery.
It was based on this that he was appointed as commissioner for Solid Minerals, Oil And Gas under the Godwin Obaseki administration before going back to join Lee Engineering and Construction Company, a leading oil and gas service company.
Political observers are of the opinion that Ikpea who has been able to build bridges across the different districts through his Joseph Ikpea Humanitarian Foundation would have the needed support to realise his ambition.
Clem Agba
An economist, former Chevron Manager, former Commissioner for Environment, Edo State, and former Minister of State for Budget and National Planning, Agba is one of those seriously eyeing the governorship seat.
His not hailing from Edo Central may, however, deny him the APC ticket as Senator Oshiomhole and the leadership of the party are said to be looking towards supporting an Edo Central aspirant.
Gideon Ikhine
Engineer Ikhine, is a fellow of the Nigerian Society of Engineers (FNSE) and a member of the Council for the Regulation of Engineering in Nigeria (COREN).
The 1990 graduate of Civil Engineering from the University of Benin, was Director-General of the Obaseki/Shaibu Campaign Organisation. He was one of the aspirants who stepped down for Governor Obaseki during the 2020 PDP primaries when he was disqualified by his party, APC.
He recently left the PDP for APC over what he called irreconcilable differences between him and Obaseki who he accused of hijacking the party. It is to be seen if the APC will favour him ahead of those who had remained in the party during his flight to PDP.
Kenneth Imansuagbon
Popularly known as the "Rice man" because of his annual rice sharing gesture, Imansuagbon, a Law graduate of Obafemi Awolowo University (OAU) is Edo State veteran governorship aspirant.
He has been seeking the seat for over 20 years. He is also from Edo Central.
His inability to get a ticket of any of the leading parties has become a major hurdle. His defectios from one party to the other has also not helped.
In 2016, he was said to have annoyed some of his supporters and constituents by stepping down for Godwin Obaseki with little or no consultation.
Now, aspiring on the platform of the LP, it is to be seen if the Obidient Movement wind will blow him to victory.
Dorry Okojie
Dr Dorry Okojie, in his mid-40s, has a Bachelor of Science degree in Business Management from the Plymouth University, United Kingdom; and Master's in Public Administration from the University of Nottingham also in the United Kingdom.
He sits on the Board of one of the most thriving Mortgage Banks in Nigeria.A technocrat and business mogul, whose business empire has employed hundreds of youths, Okojie, from an independent popularity rating stands out in the crowd of aspirants contesting on the platform of the LP.
Matthew Urhoghide
Senator Urhoghide, on August 1 2023 visited the leadership of the Edo NUJ where he formally intimated Edo Journalists of his intentions to vie for the governorship.
Urhoghide, who left the PDP recently, has not officially unveiled the platform he will be running on but he is known to be hobnobbing with the LP.
Asue IghodaloIghodalo, who hails from Esan South-East LGA in Edo Central, is an economist, lawyer, Investment banker, chairman, Sterling Bank, chairman, Nigeria Brewery, and Director-General,  Alaghodaro,  a yearly celebration of Godwin Obaseki's achievements since inception as governor of Edo State.
Sources said he is enjoying the backing of Obaseki and being pressured to join the race especially with his latest portfolio as Chairman of NBL.
He is expected to run on the plank of the PDP.
Philip Shaibu
Deputy Governor Shaibu is graduate of University of Jos, two-time member of Edo House of Assembly, House majority leader, and former member of the House of Representatives, representing Etsako Federal Constituency.Shaibu is from Edo North and the same LGA as Oshiomhole, a factor that may affect his ambition.
He no longer enjoys a good relationship with Obaseki of which he is alleging of plots to impeach him and has gone to court to obtain an order to stop the plot.
Obaseki sees Shaibu's move as a "coup."The PDP recently advised Shaibu to reconcile with Obaseki.
Shaibu's alleged plan to defect to the APC was 'aborted' by Oshiomhole who retorted that APC was not a rehabilitation centre for distressed politicians. Shaibu dismissed the defection report as false saying he would swim and sink with Obaseki.
The governor, who is rooting for an Edo Central candidate, has reportedly told Shaibu to drop his governorship ambition, noting that they came on board together under the same ticket of APC in 2016 and would go out together in 2024.
Sources said that the current face-off between the governor and his deputy is as a result of Shaibu's insistence on going ahead to actualise his ambition in 2024.
Whether or not he will succeed is a question of time.