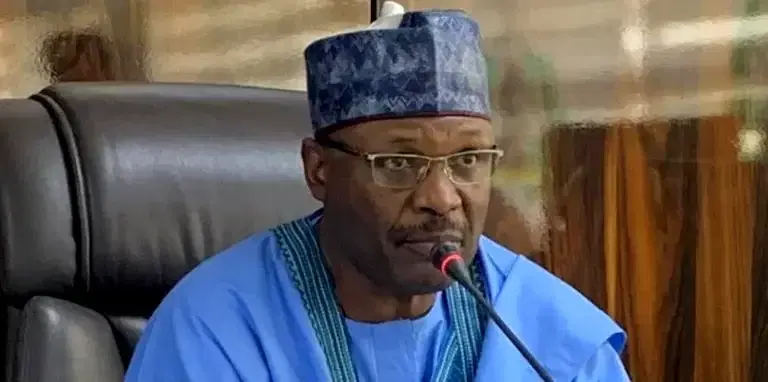 INEC Chairman, Prof Mahmood Yakubu
…Says: There'll be improvement in Kogi, Imo, Bayelsa Poll
By Olayinka Ajayi
The National Chairman of the Independent National Electoral Commission, INEC, Professor Mahmood Yakubu has said lessons have been learned from the 2023 general elections and that there would be improvement in the forthcoming off-cyclee elections in Kogi, Imo, and Bayelsa states.
He added that the commission is satisfied with the feedback it got during the 2023 post-election review organised by the commission.
Speaking during the conclusion of the three days review on the 2023 elections in Lagos, the INEC Boss, assured that most of the issues raised and recommendations made to improve the Nation's elections would be test run in the forth coming off-cycle elections in Kogi, Imo, and Bayelsa.
"We promised Nigerians that we are going to hold the election review meeting and conclude it within one month. We started on the the 4th of July and today is the 4th of August, the response have been overwhelming. Remember we started with the State level consultation with the RECs, we had an engagement with the transport unions, we then met with the State collation of the presidential election in Abuja, then we had engagement with political parties, civil organisations among others. So overall, we are encouraged by the response of stakeholders across the board and the quality of the contributions they have made.
Asked the challenges that kept popping up during the review, the INEC Boss said, " number of challenges kept coming up, technology for voter accreditation, and result management has been one of the issues raised, and recommendations made.
"The issue of electoral logistics, so that elections can start promptly, also the production and collection of permanent voters cards, PVCs among others. We are harvesting all the issues and all the recommendations and those that require administrative actions by the commission would be dealt with, but those that require amendment to the existing laws, whether the electoral act 2022 or the constitution we will harvest them and approach the National Assembly for consideration. So we are happy so far with the response we have received and the frank discussion across the board. The most important thing for the commission is that we have heard from Nigerians and it will enable us to go back to the drawing board in our quest to continuously improve the electoral process.
"After harvesting the information, there's an opportunity in the three off-cycle elections in Bayelsa, Imo and Kogi State in November to implement some of the recommendations that require only administrative actions by the commission while those that require legislation, the National Assembly has to work on the laws.
"There's also another opportunity for us because so far, four vacancies have been declared for bye elections; Surulere 1, State constituency in Lagos, Jalingo federal constituency in Taraba State, Chibok State constituency in Bornu State, and Chikun State constituency in Kaduna State. So we will keep test running some the recommendations in the forthcoming bye-elections."