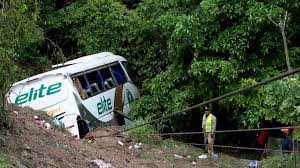 A bus transporting mostly Venezuelan migrants crashed in central Mexico on Tuesday, leaving at least 15 people dead and 36 injured, authorities said.
The vehicle collided with a trailer on a highway connecting the states of Puebla and Oaxaca, the Puebla government said on social media platform X, formerly called Twitter.
"Unfortunately 15 people lost their lives and 36 more were injured," it said.
Oaxaca Governor Salomon Jara said that he had instructed authorities in the southern state to provide support to the injured.
"We send a hug and our condolences to the families of the deceased," he wrote on social media.
Deadly road accidents are common in Mexico, usually due to high speeds, poor vehicle conditions or driver fatigue.
Such crashes are a leading cause of deaths among migrants making the dangerous journey overland to the United States.
Earlier in August, at least 18 people were killed when a bus carrying foreign migrants and Mexicans plummeted into a ravine in the northwestern state of Nayarit.
In February, migrants from Venezuela, Colombia, and Central America were involved in a bus crash between the southern state of Oaxaca and central Puebla that left at least 17 dead.
In July, at least 29 people were killed when a passenger bus careened off a mountain road and fell into a ravine in Oaxaca.
In December 2021, a trailer carrying 160 migrants crashed into a pedestrian bridge on a highway in the southern state of Chiapas, leaving 56 dead, mostly Guatemalans.
AFP