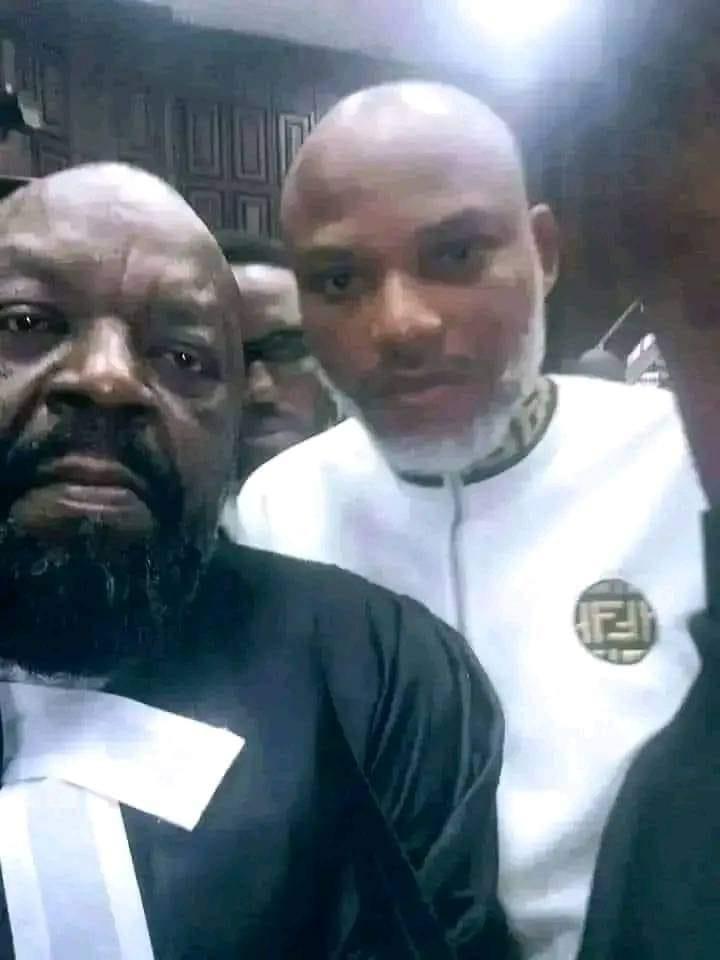 Special Counsel to Nnamdi Kanu, the leader of the Indigenous People of Biafra (IPOB), Aloy Ejimakor has berated a former Niger Delta militancy leader, Asari Dokubo over his call on President Bola Tinubu not to release the IPOB leader.
Ejimakor said Dokubo's call has withdrawn the amnesty the former President Umaru Musa Yar'Adua granted him when he was also agitating for a sovereign state of the Niger Delta, over the gory status of the oil-rich region. 
Last Friday, Dokubo, while addressing reporters after his visit to Tinubu, in Abuja said Kanu was a criminal who fuelled the nationwide EndSARS protests to degenerate into chaos in the country in 2020, hence should be made to face the wrath of law.
Reacting, Ejimakor in a press release on Monday, said Kanu's case is already before local and international courts, and Dokubo's call was irrelevant, adding that he once suffered the same fate for leading a self-determination agitation.
He said, "The attention of the undersigned Counsel to Mazi Nnamdi Kanu has been drawn to the widely published call by Alhaji Asari Ediabali Dokubo on President Ahmed Bola Tinubu not to release Mazi Nnamdi Kanu.
"In most of the publications, Dokubo was credibly quoted as saying that "His (Nnamdi Kanu's) release would fuel impunity; during EndSars, Nnamdi Kanu was walking free. What did he do? He poured petrol on the flames of EndSars. Now, he has been caught. What of the people who have died? This is a criminal. He should face the law. Releasing Nnamdi Kanu is rewarding criminality and rewarding gruesome murder of innocent people. He should face the law for the actions and instigations he has carried out".
"Our considered response to this highly inflammatory statement by Alhaji Dokubo is as follows:
"First, Dokubo's statement is defamatory of the fine character, reputation and international standing of Mazi Nnamdi Kanu; and it is also in clear contempt of the October 2022 judgment of the Federal High Court, Umuahia which had determined Nnamdi Kanu's extraordinary rendition and detention to be unconstitutional and a brazen violation of his fundamental rights.
"Second, Dokubo should be aware that the matter of Nnamdi Kanu has triggered the international legal order, as there are two subsisting international tribunal decisions in his favour. Whilst one decision issued from the United Nations, the other issued from a continental human rights tribunal to which Nigeria is subject by treaty.
"Third, the EndSARS protest Dokubo blamed solely on Nnamdi Kanu was an amorphous mass movement of Nigerian youths that had no identifiable leaders and its grave fallouts led to the constitution of many commissions of inquiry, none of which indicted Nnamdi Kanu, either as a participant or a leader.
"Fourth, Dokubo should be well-advised that the conduct that led to Nnamdi Kanu's extraordinary rendition, detention and trial is called 'self-determination' which has been held by a competent Nigerian court – in the celebrated case of Sunday Igboho – to be legal and not criminal.
"Dokubo has, himself, once agitated for self-determination by demanding the creation of the Niger Delta Republic, which led to his long incarceration in the recent past. Thus, by calling on President Tinubu not to release Nnamdi Kanu, Dokubo has unwittingly delegitimized the generous amnesty granted him by late President Yar'Adua, affirmed and honoured by former Presidents Jonathan and Buhari but yet to be affirmed and honoured by President Tinubu.
"Finally, Dokubo should be minded that the matter of Nnamdi Kanu, even though capable of being addressed politically by President Tinubu, now lies before several courts of Nigeria, Kenya, Britain and two international tribunals, before whom several Lawyers are separately leading the legal efforts to undo the crushing injustice being levied against Mazi Nnamdi Kanu and members of Indigenous People of Biafra.
"Thus, ending Nnamdi Kanu's extant extrajudicial detention is capable of springing from a sound political decision of the President, because Nnamdi Kanu committed no crime. Conversely, his detention can also end with a faithful implementation of any of the victories he has garnered in Nigerian courts and the international community."