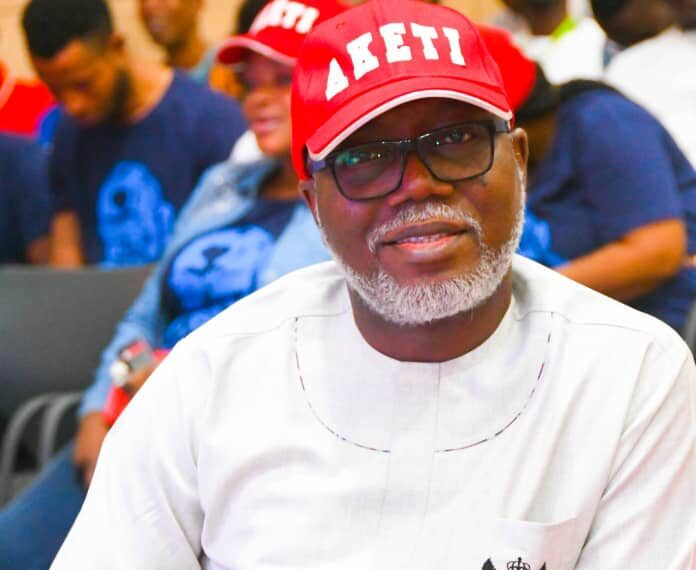 —-Family matters should be left for family– CPS
By Dayo Johnson, Akure
A group, Society for Women Empowerment (SWE) has accused the Ondo state deputy governor, Lucky Ayedatiwa of assaulting his wife, Oluwaseun twice in the last four months.
National Coordinator of the group, Mrs Damilola Charles, in a statement made available to newsmen in Akure, weekend
accused the deputy governor of repeatedly beating his wife in the presence of his staff and friends.
Charles said "wife beating is a civil rights problem of enormous magnitude, the campaign on violence against women must be applicable to elected officers in the country.
The statement reads: "We have taken our time to investigate and confirm the allegations of domestic violence between the deputy governor of Ondo State, Lucky Aiyedatiwa, and his wife, Oluwaseun Aiyedatiwa.
"Rumour mills are abuzz about the condemnable act of the deputy governor. We indeed, have it on good authority that the deputy governor has physically assaulted his wife twice in the last four months.
"It is unacceptable that a deputy governor would physically assault his wife and inflicted grievous bodily injuries on her.
"It is equally disturbing that the deputy governor would perpetrate this crime against humanity and womanhood and attempt to cover it up.
"Those who occupy public offices are expected to be above board and conduct themselves in a manner that would inspire the people and serve as role models.
"It is shocking to discover that the deputy governor assaulted his wife severally to the point that the Wife had to escape to the United Kingdom to save her life.
"The deputy governor has broken moral decorum and acted in a manner that brings his office to disrepute. We are, to say the least, disappointed with this embarrassing conduct."
The group called on the First Lady of the State, Mrs Betty Anyanwu Akeredolu, and the Commissioner for Women Affairs and Social Development to investigate the ugly incident.
"We are calling on the First Lady, Chief Betty Anyanwu Akeredolu, and the Commissioner for Women Affairs and Social Development in the State to look deeper into the situation and represent the interest of the Nigerian women.
"We are aware that the deputy governor had deliberately attempted to cover up this incident and also silenced his close aides who witnessed the scene on different occasions.
"We are also giving the deputy governor seven days ultimatum to come clean and apologise to his wife publicly. Failure to do this will attract massive action against him."
But while reacting to the allegation, the Chief Press Secretary to the deputy governor, Kenneth Odusola, told newsmen that family matters should be left for family matters.
Odusola said that "There is no reaction. Family matters should be left for family matters. That is not for your own consumption so I don't know about it.
" I don't look at family matters, so I don't know about any domestic violence.
He added that " Whoever may have talked to you or given you information should go and get his facts and not from me because I am not employed by a family and I don't get involved