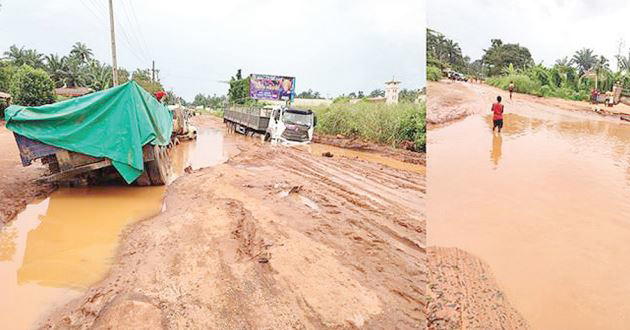 *Rescue us-Rural dwellers cry out to SE Govs
*We have no roads, other amenities, live in penury
*We don't have government presence here-Enugu community leader
*We are living in hell— Eze Ekeke
By Anayo Okoli, Vincent Ujumadu, Steve Oko, Chinedu Adonu, Chimaobi Nwaiwu, Ikechukwu Odu & Emmanuel Iheaka
The deplorable condition of rural roads in the South-East region is very pathetic. Besides the bad roads, other facilities such as health centres, where they exist at all, are in shambles.
The rural dwellers live in penury, they need improved life and they are crying out for help from the governors in the region.
We now do business in Rivers State because no road to link our Abia people—Abia community
The bad condition of the roads in their community has forced the people of Obuzor Community in Ukwa West Local Government Area of Abia State to go to the neighbouring Obigbo town in Rivers State for business transactions as the roads that will lead them to Abia markets are all in deplorable condition.
The traditional ruler of the community, Eze Onyemauwa Nwagbara, who narrated the plight of his people to SEV, said that both the Abia State Government and the Niger- Delta Development Commission, NDDC, have abandoned his people to their fate. Interestingly, Ukwa land is the oil-producing area that qualified Abia as an oil-producing state.
Eze Nwagbara lamented the condition of roads in the entire Ukwa land, saying the people are going through a lot of hardship. According to him, road infrastructure in the entire oil-rich area has completely collapsed, thus making life highly miserable for the people.
The monarch regretted that the only means of transportation to his community now is motorcycle due to bad road, adding that their alternative route going to Aba is through Rivers State, which of course costs them much more.
"Our roads have totally collapsed. There is no good road in my community any more. The state government has abandoned us and NDDC has also abandoned us. Most of the roads done by NNDC before have failed. There is no road to access our homes again let alone bringing out our farm produce.
"From Imo gate on Enugu-Port Harcourt expressway to Owaza community where crude oil is produced, about six kilometers road is impassable. The entire Owaza community is no longer motorable. Government, NNDC and oil companies have abandoned us. Help is not coming from anywhere again," the monarch lamented.
He appealed to the Alex Otti-led new government in the state to come to the rescue of the oil-producing community and rebuild the six- kilometer access road to the community.
"I appeal to Governor Otti to come and rebuild the road from Imo Gate to our community. He can also build just one lane of the Enugu-Port Harcourt expressway from Imo Gate to Aba so that our people can be going to Aba again. The road is littered with fallen tankers and is almost impassable now.
"We pay N3,000 for motorcycle to take us to Asannentu in Aba. It is cheaper for us to trek to Obigbo for our business transactions than come to Aba or even Obehie.
"We don't have any bank in Ukwa land, the only oil-producing area in Abia State due to bad roads. We want Otti to repair our roads and build a bank in our land. We either go to Aba or Obigbo for banking transactions and it is very risky.
"My people have suffered enough because of bad roads. We can't be wallowing in abject poverty and misery when we have crude oil. Governor Otti, please come to our rescue. That's why my people voted for change".
Also lamenting the plight of his own people, the traditional ruler of Obeaku Community in Ukwa East Council Area, Eze Ikeagwuchi Ekeke noted with sadness, the precarious condition of the only access road to the community.
"We don't have roads because the only access road to our community is almost impassable. It is not a tarred road. If only government can grade it and make it passable for my people, we will be happy.
"It is now difficult for us to bring our palm produce, garri and firewood to the markets. My community is in hell due to bad road. We appeal to Governor Otti to come and save us."
We don't have government presence here —Enugu community leader
A community leader in Aguibeje Community, Igbo-Eze North Local Government Area of Enugu State, Chief Emmanuel Onu lamented that the community does not have access road, healthcare facility, potable water or even electricity. Onu who is a cabinet member in the community, disclosed that government officials only remember the community during election periods. He said that the community records high rate of infant mortality as a result of lack of access roads and healthcare facility.
"We have zero infrastructural facility done by government here. We are being remembered as part of the state during elections. I don't think we are part of Enugu State because no government presence is recorded here. We are a forgotten people. Politicians use our roads to do politics. They will promise to construct them if elected into office but after electing them, you will not see them again.
"Aguibeje community is a community with no access road; health facility, either owned by government or private; no potable water or electricity. As we speak, the rate of death being recorded monthly is alarming because we don't have health care facility and no access road to rush the sick to the local government headquarters where we have a general hospital. It will take four hours to move a sick person from here to the General Hospital because of bad road," he explained.
We are just 10 minutes away from capital, yet have most deplorable roads in Imo—Okwu Uratta community
The case of Okwu Uratta community in Owerri North Local Government Area of Imo State is very pathetic. It is a case of being close to seat of power but having nothing to show for it. The immediate past President-General of Okwu Uratta community, Chief Val Okara confirmed this when he said the community which is about 10 minutes drive from the state capital, has one of the worst deplorable roads in the state.
According to Okara, accessing the local government headquarters situated in the community, now takes more than 30 minutes, owing to the dilapidated state of the road. He called on the Imo State Government to fix the road in order to make life easier for the people.
Okara also urged government to post at least one medical doctor to the health centre in the community, which he said has no doctor at the moment.
"Okwu Uratta community is about 10 minutes from the state capital, but the road to the community is one of the most deplorable in the state. A journey that shouldn't be more than 10 minutes, now takes more than 30 minutes. Government should please fix the road to make life easy for my people.
"The health centre in the community was built by indigenes before government took it over. But today, there is no doctor in the centre. Even if it is a visiting doctor, government should make one available at the centre. There is also a gigantic health centre project which was one of Senator Chris Anyanwu's constituency projects in the community. The project has been abandoned. Government should look into these projects", Okara pleaded.
Local Govt should be allowed to use funds allocated to them to maintain council roads
An Onitsha-based businessman, Mr. Patrick Nnadi said with the rainy season, he no longer drives to his village because the roads are no longer motorable.
"Our people are really suffering and I wish the local government chairman is allowed to use the allocation meant for the local government to solve the problems of the rural communities. A situation where the local governments are not given free hand to spend their allocations from the federation account, does not augur well for the rural dwellers," he said.
However, the prime minister of Anambra State Association of Town Unions, Dr. John Machie said that it is proper for communities to embark on self-help projects as government does not have the resources to do everything.
According to him, well-to-do individuals should complement the efforts of the state governor, Professor Chukwuma Soludo to achieve the dream of a livable homeland.
South-East Voice, however, observed that roads are not the only problem facing the rural dwellers, as public pipe-borne water system had since collapsed in Anambra State.
Since the creation of the state in 1991, one major challenge of the residents has been potable water supply, thereby forcing the people to resort to alternative sources that have the consequences of water- borne diseases. For instance, it is still common to see rural dwellers trekking several kilometers in search of water. A community leader, Chief Gilbert Onyeka said government has no reason not to provide the people with potable water.
He said: "Bad roads, lack of potable water and power supply are the major challenges of rural communities. Unfortunately, government is not doing much to solve these problems.
"While we commend Governor Soludo for embarking on massive road reconstruction in the state capital, we observe that little attention is paid to the rural areas. Most rural roads in the state are in deplorable condition, he needs to tackle them urgently.
"Due to lack of adequate water supply, water-borne diseases are common in the rural areas. To solve this problem, a reliable and consistent low cost water supply scheme based on the available water resources in the communities should be designed and constructed."
South-East Voice observed that from Opi Junction, down to Ohodo, Ozalla, Umuna, Ohebe-Dim, Ochima and other adjoining communities leading to 9th Mile in Enugu State, the roads are in horrible condition.
Chief Johnson Okolo, an industrialist, said: "while I agree that rural roads are very important to alleviate the sufferings of the rural dwellers, most of the roads in the towns like Onitsha and urban places like Nnewi, which can no longer be called villages, are death traps, worse than rural roads."
A trader in Onitsha, Innocent Okafor said: "While we call on the government, particularly the state government to rescue the rural dwellers, the people in the towns and urban areas like Onitsha and Nnewi should equally be rescued. Sometimes I wonder what community/traditional rulers do for their people, if not to inform the government about some of these things that affect their people and residents negatively."