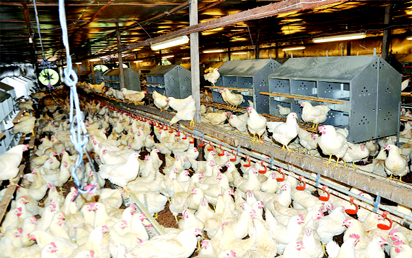 ….as CBN spends N40bn on dairy industry devt
….AFAN calls for better herder-farmer relationship
By Gabriel Ewepu
ON the heels of Nigeria joining the rest of the world to commemorate 2023 World Milk Day, stakeholders in the livestock sector, Thursday, called for more investments in the sector for greater productivity of farmers to meet demands.
Speaking during the opening ceremony of the World Milk Day with theme 'Sustainable Dairy: Good for Planet, Good for You', the Permanent Secretary, Federal Ministry of Agriculture and Rural Development, Dr Ernest Umakhihe, in an opening address, said the nation's dairy industry is huge and the potential largely untapped, but the Ministry is doing what it is expected to do.
According to Umakhihe, the Ministry had recorded some achievements in the dairy subsector; Capacity building and empowerment programmes for dairy farmers on hygienic milk production and processing; Construction and equipping of milk collection centres in areas with comparative advantage for dairy, feed-milling facilities for production of ruminant feeds, pasture collection centres, animal handling centres, cattle feedlots, climate smart poultry and goat houses, among others.
Organizers of the two-day event were the Federal Ministry of Agriculture and Rural Development, Commercial Dairy Ranchers Association of Nigeria, CODARAN, Sahel Consulting Agriculture and Nutrition Limited, Abuja Chamber of Commerce and Industries, ACCI, Agriculture Correspondents Association of Nigeria, ACAN, and Centre for Journalism and Innovation Development, CJID.
He said: "Amidst other efforts to boost the dairy production in the country, the Federal Executive Council has approved the National Dairy Policy to guide the operation of the Dairy sub-sector. The Policy is to scale up milk production, collection and processing in the country and create enabling environment for increased activities along the dairy value chain.
"In furtherance of the above and other achievements, the Federal Ministry of Agriculture and Rural Development will continue to collaborate with relevant MDAs organizations, institutions and associations in addressing the nutritional needs of Nigerians through milk and dairy development.
"We will continue to provide an enabling environment for increased milk production, processing, distribution and consumption to improve the nutritional status of Nigerians, create jobs along the dairy value chain and reduce national expenditure on the importation of milk and milk products."
Meanwhile, in a goodwill message, the Central Bank of Nigeria, CBN, disclosed that Nigeria's supply gap of milk is 1.1 million metric tonnes, and it is making efforts with international and local partners to reduce the gap.
Speaking on this was the Director, Development Finance Department, Philip Yila Yusuf, represented by Hassan Abdulrahman, said the Apex Bank had supported the dairy industry to the tune of N40 billion in order to ensure Nigeria attains self-sufficiency in dairy products.
"We would like to acknowledge the key role of CODARAN in the Banks efforts towards facilitating Dairy Value Chain Development.
"We also, recognize the potential of this well-orchestrated collaboration to drive our common goal of breed improvement and sustainable increase in milk production to reduce the milk supply gap of 1.1 million metric tonnes, as the country currently produces 600,000 metric tonnes, while total demand is 1.7 million metric tonnes.
"We at the CBN are committed to the development of the livestock sub-sector as evidenced by our interventions in facilitating funding for numerous projects under our Commercial Agriculture Credit Scheme (CACS), Agribusiness Small and Medium Enterprises Investment Scheme (AGSMElS), Real Sector Support Facility-Differentiated Cash Reserve Requirement (RSSF-DCRR) etc, to the tune of over N40 billion.
"The World Milk Day Conference is indeed an avenue to strengthen and foster alliances and expand our opportunities to the global field. This will no doubt offer new opportunities towards more viable and sustainable financing strategies for the dairy businesses in Nigeria, towards self-sufficiency", Yusuf said.
Also, the National President, All Farmers Association of Nigeria, AFAN, Dr Ibrahim Kabir, assured investors that there will be foreign exchange at an affordable rate directly from the CBN, which the Tinubu-led administration will soon unveil, which Bureau De Change, BDC will no longer exist.
Kabir also said the private sector effort to galvanize the dairy industry is enormous and will need to be supported by government, hence government at all levels need to synergize with the private sector to strengthen the National Livestock Development Plan, NLTP, in order to reduce farmer-herder conflicts.
He also called on crop farmers and herders to work together on a symbiotic relationship that would enhance their businesses instead of being at loggerheads.
The National President, Myetti Allah Cattle Breeders Association, MACBAN, Baba Usman-Ngelzarma, said with the recent approval of N5 billion loan facility for livestock farmers by the Federal Government through the Bank of Agriculture, there is hope for his members, and that more of such financing are needed for modernization of the value chain in order to ameliorate plight of pastoralists.
Meanwhile, the Managing Director, Bank of Agriculture, BoA, Alwan Hassan, in a keynote address titled 'The Role of Government and other Stakeholders in Sustainable Agricultural Financing in Nigeria', pointed out in his recommendations that government should ensure implementation of all policies towards agric financing, BoA should be properly recapitalized, private should collaborate with research institutions, and among others.