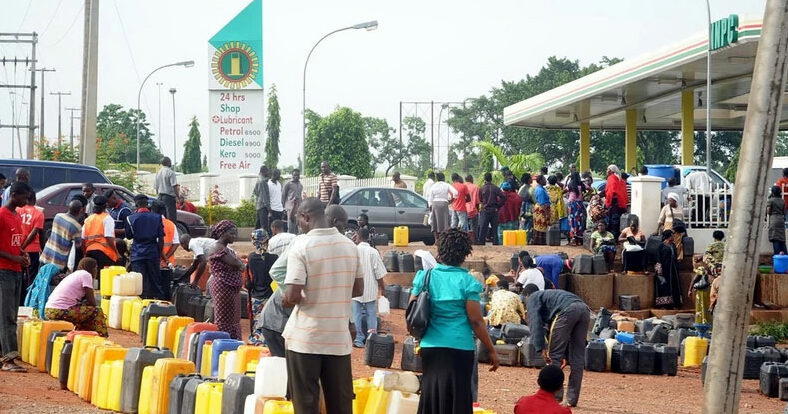 File image of queues at a Lagos filling station.
Nigerians continue to lament the announcement of the fuel subsidy removal made by President Bola Tinubu as filling stations across the country persist for motorists and commuters.
Recall that Tinubu, in his inaugural speech on Monday said that the fuel subsidy can no longer be sustained, hence, it will be removed.
The announcement received mixed reactions and this sparked hike fuel prices, and consequently jerking up transport fare across the country.
The Nigerian National Petroleum Corporation Limited (NNPPL) made an official announcement that a litre of Premium Motor Spirit (PMS) popularly called petrol will be officially sold between N448 to N557.
Meanwhile, there are vagaries of prices across the country as the North-East region feels the pangs most with Borno and Yobe states selling at N575.
Gombe, Bauchi, Taraba and Adamawa are selling at N550 per litre.
Vanguard checks revealed that motorists spend hours before getting petrol while some people had to go through sleepless nights since Tuesday to get fuel despite warning from NNPCL Managing Director, Mele Kyari that there should not be panic buying and hoarding.
The North-West came second as the region experiencing highest prices as Kebbi tops with N545, while others such as Kano, Katsina, Zamfara sell as N540.
The South-West region has the fuel stations selling at the lowest prices with Oyo, Osun, Ondo, Ogun and Ekiti selling at N500, while Lagos sells at N488.
In reality, these official prices are difficult to see as citizens in Lagos said they buy at more than N500 per litre.