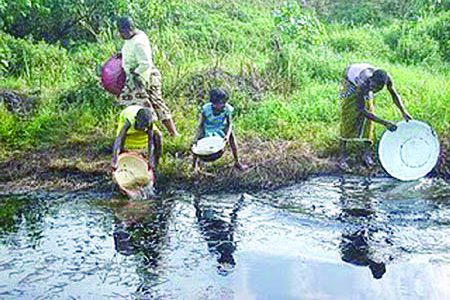 *Oil spillage
.… Guarantees about 80% cleaned up sites in Ogoniland
By Favour Ulebor, Abuja
The Chairman, Governing Board of National Oil Spill Detection and Response Agency, NOSDRA and Emir of Keffi, Shehu Chindo Yamusa, Thursday, has said, industry operators must take measures to ensure they prevent oil spill incidents through compliance with extant laws, regulations and guidelines on environmental management in the petroleum industry.
He said this while speaking at the stakeholders meeting with oil companies in Nigeria in Abuja.
Yamusa who was represented by the Director General NOSDRA, Idris Musa also stressed on the need to invest in technologies and equipment for prompt detection and response to oil spills.
" Today's event is expected to discuss action plans for management of oil spills in 2023 with emphasis on reviewing regulatory procedures regarding oil spill reporting, the conduct of Joint Investigation Visits, JIV, Clean-up and remediation of oil spill impacted sites; as well as the conduct of Post Spill Impact Assessment, PSIA, Damage Assessment and Ecosystem Restoration. The transparent conduct of these processes is very important not just for the integrity and credibility of the regulatory agency, NOSDRA, but also for sustainable environment management, fair, just and amicable resolution of disputes that may arise therefrom.
"Industry operators should also develop and enforce robust safety standards, ensure adherence to best practices and promote commitment to environmental stewardship and self-regulation in their operations.
"The need for oil industry operators to invest in technologies and equipment for the prompt detection and response to oil spills cannot be over emphasised. These include, robust surveillance systems, the use of unmanned aerial surveillance equipment, advanced oil spill modelling and prediction tools, and well equipped response teams that can mobilize swiftly when the need arises" he said.
Also speaking, the Director General NOSDRA, Idris Musa, who was represented by the Director, Oil Field Assessment, OFA, Yusuf Rigasa said that about 40 clean up impacted sites have been certified, adding that in a few months from now, 80% of sites in Ogoniland will be cleaned up.
"Cleaning oil spills in the oil producing areas is in process. The one that is outstanding with a subject of litigation and several international engagements is the cleanup of Ogoniland; there are other areas that are equally contacted, especially this era of natural refining and oil theft, we have much more areas contacted by oil spillage than ever before. So to cleanup these areas requires a lot of funding. Along the line there are measures being put in place now by the government to ensure that the position of fund to cover those gaps is in process.
"We have a lot of achievement when it comes to the Ogoniland cleanup, as of today i can tell you that NOSDRA as an agency, has certified about 40 cleaned up impacted sites in Ogoniland and there are almost about the same number in process, at different levels of operations, none is less than 50%; in another few months, we will be recording about 70 to 80% cleaned up sites in Ogoniland." he added.