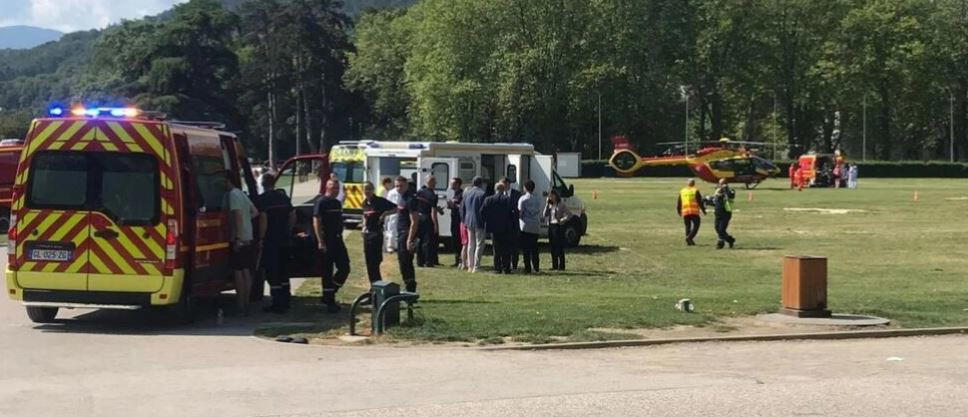 At least one adult and four young children have been stabbed in a knife attack in a playground in the French Alpine resort town of Annecy in southeastern France.
A Syrian national has been identified at the attacker who wounded four young children and an adult in a knife attack in a park in the southeastern French town of Annecy.
Some of the victims remain in a critical condition.
A police spokesman said the attacker was a 31-year old Syrian asylum seeker who carried Swedish identity documents and a Swedish driving licence.
He reportedly entered France legally and was not known to security agencies.
His motives remain unclear and anti-terrorism authorities have not been asked to lead the investigation at this stage.
The wounded children are aged between 22 months and 3 years, one of the whom is a British national, according to UK Foreign Secretary James Cleverly.
Reports from the French police indicate that five people have been injured in the attack, including four children – two of whom are in a critical condition in hospital.
The motive of the assailant, who has been arrested, is not yet known.
A previous toll had put the number of injured at nine, including eight children and one adult.
According to Interior Minister Gérald Darmanin, "Several people, including children, were injured by an individual armed with a knife in a square in Annecy. The individual was was apprehended thanks to the very rapid intervention of the forces of forces of law and order."
The assailant reportedly attacked pushchairs and prams in a playground.
According to one eyewitness interviewed by on BFMTV, the attacker "jumped [into the playground], started shouting and went straight to the pushchairs and stabbed the children repeatedly."
'Nation in shock'
Meanwhile, President Emmanuel Macron denounced the incident as an "attack of absolute cowardice."
"Children and an adult are between life and death. The nation is in shock. Our thoughts are with them, their families and the emergency services that have been mobilised."
France's National Assembly, which is discussing the proposal to repeal the extension of the statutory retirement age to 64, observed a minute's silence upon the news of the attack.
Prime Minister Elisabeth Borne, is reportedly travelling to Annecy in the wake of the stabbings.