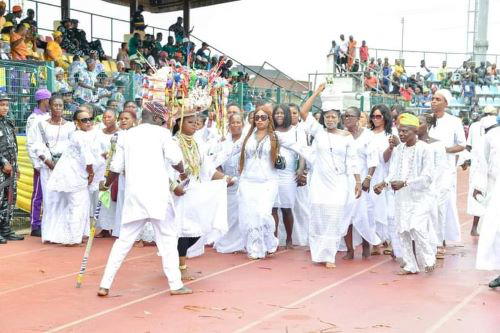 By Onyeka Ezike, edited by Osa Amadi
It was a beautiful display of culture, costumes, and vibrant colours, as the Lagos State Government held an inaugural cultural display to appreciate Lagosians for re-electing Governor Babajide Sanwo-Olu. The event was held at the Agege Stadium last Saturday, June 3, 2023.
The carnival witnessed a display of various cultural activities from the five divisions of Lagos; Ikeja, Badagry, Ikorodu, Epe, and Lagos Island. Participants and guests were entertained with the rich Yoruba culture that thrives within and beyond the borders Nigeria.
Among the participants were the Brazilian Descendants Cultural Troupe, the Footprint of David Arts Academy and the Badagry group. The Kori Masquerade, a female, predominantly seen in the riverine area of Lagos using a calabash decorated with toys and items representing childbearing, put up a spectacular performance.
Another group that thrilled the audience was the SATO drummers synonymous with the Ogu people of Badagry. Interestingly, two drums were used, one was regarded as the Male while the other, a Female. The male was larger in width, which implied the union of marriage.
The SATO drum was brought to Badagry in 1543 and was played for the king on special occasions. It has both spiritual and physical significance as it is believed to bring prosperity and make barren wombs fertile.
The guest artist for the event was Aralola Olamuyiwa, popularly known by her stage name "Queen Ara". She entertained guests with her melodious voice and talking drum expertise prompting the Governor's wife to put on her dancing shoes.
Some dignitaries at the occasion were; Dr. (Mrs) Ibijoke Sanwo-Olu, wife of the Governor of Lagos; Mrs. Oluremi Hamzat, wife of the Lagos State Deputy Governor, Dr. Kadri Obafemi Hamza, and some traditional rulers.
Speaking at the event, the Chairman, Media and Publicity Sub-Committee of Governor Babajide Sanwo-Olu and Dr. Obafemi Hamzat's second term inauguration ceremonies, Mr. Gbenga Omotoso, said, "This initiative was put together to thank Lagosians for the role they played in bringing on board Mr. Babajide Sanwo-Olu as governor and Dr. Obafemi Hamzat as deputy governor.
"It is part of the event that was put together by a committee headed by the Chief of Staff, Mr. Tayo Ayinde. The governor sees it as a kind of forum for us to show the unity in diversity of Lagos and also to show the diverse culture that we have in Lagos."
Speaking about the arts and culture space for the next four years, Mr. Omotoso said Mr. Sanwo-Olu intends to do more to show Lagosians his commitment in the area of arts, culture and tourism.
"We have the Free City coming up in Epe, which will be a place for all our young people to exhibit their skills. Also, various groups are being paid to be able to hold their grounds in various areas like filmmaking and script writing," Omotoso added.