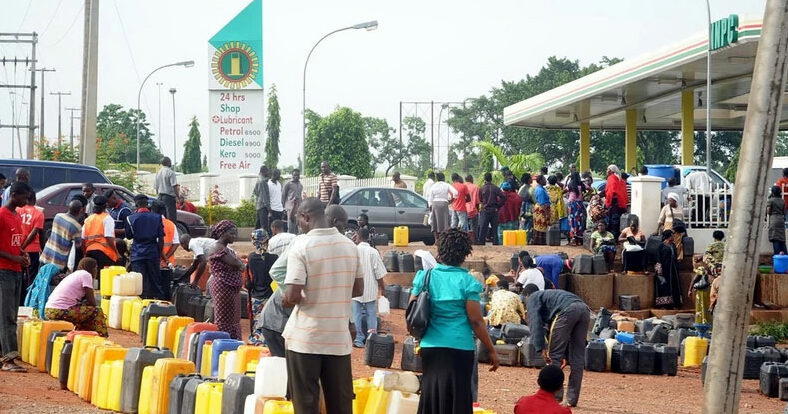 File image of queues at a Lagos filling station.
A former presidential candidate and business man, Mr Gbenga Olawepo-Hashim has appealed to the Labour Movement and other social groups to accept the removal of the subsidy on  petroleum product as a painful surgical procedure instituted to excruciate a  dangerous cancerous cell in the life of a patient in order to save the critically ill.
Olawepo-Hashim in a statement, yesterday, said: "Even if the subsidy is reversed, prices of goods and services will not be reviewed to their previous levels and it would be a loss to the Economy.
"There cannot be any sensible talk about undoing what has been done but managing the pains of the adjustment on vulnerable groups such as labour, who do not have the price mechanism for their services to absorb the pain.
"As an enterpreneur, what I have done in my business is to pay immediately, a transport subsidy across board, same amount to all my workers without prejudice to their salary scale. I believe the government and all employers of labour will do the same.
"There are far more benefits of removal of the subsidy to the economy, chief among which include massive investment in the mid and downstream sectors of the economy that hitherto have been locked out due to the subsidy regime."
These sectors, he argued, typically create millions of jobs and remain a critical section that add value to the economy.
"In the past I have been a strident campaigner against removal of petrol subsidies because I had no trust in the ability of most of the previous governments to manage the gains of the exercise for the benefit of all Nigerians.
"The times are different now. Nigeria has a new political-economic manager in President Bola Tinubu, we can trust his ability to manage the exercise in the interest of all.
"We have marched together in the past three and a half decades saying no to subsidy removal, but it is time to shift grounds; let us only insist on welfare and protection for the working class in the midst of this adjustment," he said.