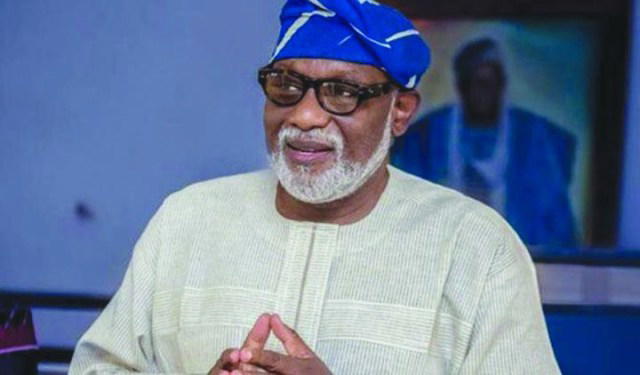 Rotimi Akeredolu
By Dayo Johnson, Akure
Opposition parties in Ondo state have insisted that the whereabouts of the indisposed state governor, Rotimi Akeredolu, shouldn't be a secret.
Akeredolu has been indisposed for some time and he shuttles between Nigeria and abroad for medical treatment.
Reacting to his non-appearance in public for weeks, the state chairman of the Social Democratic Party, Stephen Adewale, raised concern over his medical condition.
Adewale said that " his medical records needed not to be shrouded in secrecy.
Adewale said in the statement that "In the past 24 hours, the rumour of Governor Oluwarotimi Akeredolu's poor health has dominated the media and spread like wildfire in Ondo State.
"While it is no longer news that Governor Akeredolu is dealing with health issues as this was made clear in the viral voice note that was released by Ondo State First Lady, Mrs. Betty Anyanwu Akeredolu, in recent weeks, the governor's rumoured battle with blood cancer, his bedridden condition, and his inability to sign documents have taken centre stage.
"While the Social Democratic Party (SDP) in Ondo State had enthusiastically and eagerly anticipated that the Governor would refute such rumours by presenting himself to the public, the silence from the Governor's camp and the All Progressives Congress (APC) in Ondo State is concerning and alarming.
"To us at Ondo SDP, therefore, their silence and failure to deny or confirm the information implies consent.
"There are now serious doubts about Governor Akeredolu's capacity to continue to govern the Sunshine State as his medical conditions remain shrouded in secrecy.
"It is quite disturbing that the state of the governor's health has become a topic of state curiosity and concern.
" This situation continues to undermine the ability of the State government to fulfil its obligations and commitments, including those requiring the government to provide economic pathways to millions of people facing absolute poverty and uncertainty in the Sunshine State due to the reckless and insensitive removal of subsidy by the APC-led federal government.
"Ondo SDP call on Arakunrin to respect the good people of Ondo State who have voted for him twice by presenting his medical records to the general public.
"We strongly believe that the good people of Ondo State have the right to know about the medical conditions of Arakunrin Akeredolu.
"In contrast to ordinary residents who have the right to keep their health state to themselves, high level elected officials like Arakunrin, whose treatment is being paid for by the public, cannot hide behind personal rules.
"Similarly, because Governor Akeredolu's position is that of a trustee, he is required, as the governor of Ondo State, to inform the residents of Ondo State accurately about his present medical conditions.
"Ensuring full access to his medical data would also assist and prevent instances and situations where the governor's health is the daily subject of speculative interpretations, embarrassing commentary, incomplete, vague, and erroneous reports.
" Ironically, Ondo SDP recalled that Arakunrin Akeredolu was one of the primary figures who actively and vocally criticised and called for late President Umar Musa Yar'Adua's resignation when the latter suffered poor health condition in 2009.
" Now, Arakunrin Akeredolu has done the exact opposite by clinging to power and hide the true state of his health from people as he battles with ill-health.
Adewale added that "While we pray for the speedy recovery of Mr. Governor, it is high time he did the needful.
On it's part, the PDP's Publicity Secretary, Kennedy Peretei, in a statement, said that " those hiding the governor should tell the people where he is to save the state from speculation.
"As mortals, any human being can fall sick. Whether in public office or private life. Rotimi Akeredolu is employed by the people of Ondo State, maintained with taxpayers' money. So, it is criminal and a great disservice to keep mum over his health status and his whereabouts.
" In 2010, when then President Umar Yar'Adua was incapacitated due to ill-health, Akeredolu was one of the most vociferous voices, calling for his resignation and allowing the then Vice-President to take over.
" If for whatever reason, Akeredolu can no longer discharge his official responsibilities, the most reasonable thing to do is to hand over to the Deputy Governor as required by the 1999 Constitution of the Federal Republic of Nigeria (as amended).
"Our party joins millions of Ondo State people to pray for Akeredolu's quick recovery, but nobody should play politics with his ill health.
Peretei added that "Nobody should ground the state beyond its present state. Let Akeredolu resign, if he is no longer fit to be governor.