The British–Australian actress, Naomi Watts and Billy Crudup, both 54, set off speculation that they might have gotten married when she was seen with him on Friday in a white floral dress with a gold band next to her rumored engagement ring.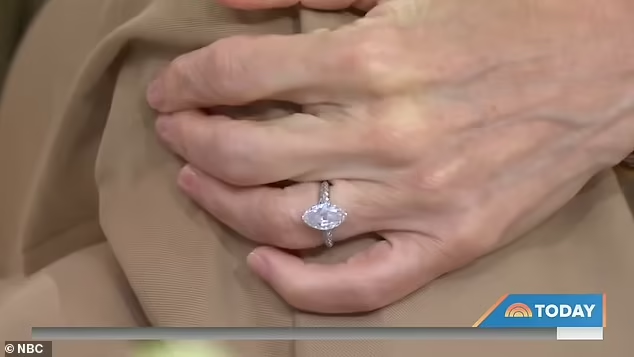 The Mulholland Drive star and the Almost Famous actor, both 54, were seen arriving at an apartment in New York City in pictures obtained by Page Six, but Naomi looked particular resplendent in a white Oscar de la Renta dress with gorgeous lacy floral designs, which could have been used as a wedding dress.
But it was the gold wedding band on her ring finger — which appeared to have been newly added alongside her rumored engagement ring — that made fans wonder if she and Billy might have tied the knot.
Naomi and her new love have stayed mum about rumors that they had gotten engaged, which began flying after she appeared on the Today Show wearing a massive diamond ring on her left hand.
The couple looked particularly sweet as they returned from their outing on Friday, and Naomi even ramped up the secret wedding rumors by carrying a lovely yet reserved bouquet of white roses and other matching flowers.
Naomi's gorgeous white look was an Oscar de la Renta Sweetheart Water Lilly Guipure Dress, which sells for around $5,000.
It featured thick lacy floral-design straps, and its sleeveless design exposed her toned arms.
The 5ft5in beauty elevated her stature, wearing a set of gold open-toe heels underneath her ankle-length skirt.
She completed the semi-casual summery look with chunky cream-colored cat-eye sunglasses, and she wore her lovely blond hair in a playful, wavy bob.
Billy was dressed somewhat more casually, but he still looked fairly elegant.
The Watchmen actor had on a navy blue suit, and he looked dashing with his clean-shaven visage and his shaggy salt-and-pepper hair swept back dramatically.
Billy brightened up the ensemble with a simple white dress shirt sans tie, and he wore classic black dress shoes.
Interestingly, he had his arms full as he carried what appeared to be two overnight bags, one black and another an attractive red leather bag.
The addition of the overnight bags didn't do anything to dispel rumors that the couple might have quickly gotten hitched.
The British–Australian actress appears to have sparked rumors that she and Billy had gotten engaged earlier this year, when she debuted an enormous diamond with a tasteful marquise cut, along with a diamond-encrusted band.
So far, Naomi doesn't appear to have commented on her ring, even after Today co-anchor Hoda Kotb directly referenced it during a late April appearance on the iconic morning talk show.
Toward the end of Naomi's segment, Hoda joked that he 'eye was hurting' from the 'big glint coming from some ring over here.'
'It just struck me, but it's beautiful,' she added.
Lest there be any doubt about her implied question, Hoda's co-host Savannah Guthrie added: 'Hoda is asking if you're engaged.'
But Naomi simply replied, 'So, the brain fog…'
Savannah went on to compliment the ring's design, but Naomi avoided saying more about her ring, while also not outright denying that she had gotten engaged to Billy.
So far, the Morning Show star has also avoided discussing the potential engagement.
Daily Mail reports Naomi appears to have worn the ring at least as early as March, and she was spotted displaying the sparkler on the red carpet at the 2023 Vanity Fair Oscar Party in Beverly Hills.
He subsequently began a relationship with Claire Danes that ended in 2006.
Crudup seems to have kept any subsequent romances prior to his relationship with Watts under the radar.
Since they began dating, Naomi and Billy have kept their public appearances to a minimum and have largely avoided commenting on their relationship, though she has occasionally shared sweet photos of herself with her actor boyfriend on social media.
They waited several years to finally make their red carpet debut at the 2022 Screen Actors Guild Awards, at which Billy was nominated for his role on Apple TV+'s drama The Morning Show.