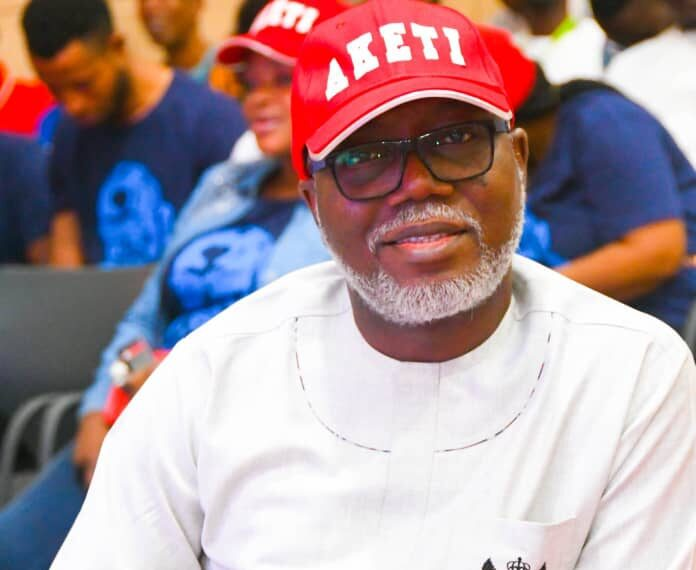 —- Gives 24-hour ultimatum, failure which they'll protest
By Dayo Johnson, Akure
A civil society group, the Society for Women Empowerment (SWE), has dated the embattled deputy governor of Ondo State, Lucky Aiyedatiwa, to ask his wife to do a video to debunk the allegation of assault.
Recall that the group had accused Aiyedatiwa of repeatedly assaulting his wife, even in the presence of his staff and friends.
The women's group, in a statement weekend in Akure by its Coordinator, Damilola Charles, said "We are in possession of a reaction signed by the wife of the Deputy Governor. The reaction and account of her are too detailed to ignore.
"We have checked the facts as raised in the reaction and verified information based on the dates and time as mentioned in the statement.
"We are convinced that the deputy governor of someone very close to her must have issued the said statement.
"In light of this, we are constrained to dare the deputy governor to ask his wife to address the Nigerian women in a video.
"It should not be difficult for a woman whose husband occupies an exhaled office and debunk lies against her husband.
"We are issuing a 24-hour ultimatum to the deputy Governor to ask his wife to do a video. After the expiration of this ultimatum, we shall mobilize women's groups and bodies to stage a protest against the Deputy Governor.
"We are also calling on the First Lady of Ondo State, Chief Betty Anyanwu-Akeredolu to speak out and give her own account of the situation.
"In the statement released by the deputy's wife, she did mention that the First Lady was aware of the incident.
"We are also calling on women in the House of Assembly, the Commissioner for Women Affairs and Social Development and all women in the State Executive Council to raise up to the matter.
"Ours is not to tarnish the image of anyone. We are also not out to destroy or harm the reputation of anyone. The question we are asking is that why is it difficult for the deputy Governor to convince his wife to do a video and debunk these allegations.
"We are deeply worried that following the statement signed by the deputy Governor's wife, she might be facing threats. We will always stand up for women across the country and do what is necessary to protect them."
But while reacting, the deputy governor, insisted that the allegation was fabricated to create needless tension in the state.
According to him the allegation " is a figment of the imagination of those behind it and their ungodly intentions to cause crisis in the State had been known for weeks and therefore such falsehood did not come as a surprise.
Ayedatiwa declared that there has never been any domestic violence between him and his wife, Mrs Oluwaseun, who at the moment is outside the shores of the country.