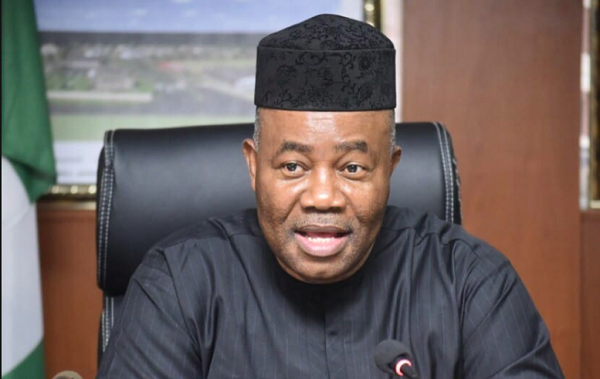 Akpabio
-Call for support for Tinubu
By Johnbosco Agbakwuru, Abuja
A coalition of Niger Delta Ethnic Groups in the 19 Northern States and the Federal Capital Territory, FCT, Abuja, has thrown its support for the All Progressives Congress, APC, preferred candidate for the position of President of the 10th senate, Godswill Akpabio.
The group has also called on Nigerians to support President Bola Tinubu for the greater unity and prosperity for all
The coalition, which is a pressure group of all registered ethnic nationalities from the Niger Delta residing in FCT and the entire northern Nigeria, said its common interest is to unite Nigerians from the grassroots via cultural exchange.

Among its aims is to attract peace and infrastructural development to Niger Delta region.
In a statement in Abuja, weekend, the group commended former Rivers State governor, Nyesom Wike and other governors and Senators for their support to Senator Akpabio for the position of Senate President of the 10th senate.


In a communique issued at the end of its meeting, the Niger Delta group recalled the shining developmental strides of Senator Akpabio as a governor and his efforts in uniting and supporting various ethnic nationalities within Akwa Ibom State as well as his achievements as a minister.

The communique stated that the meeting was organised and presided over by the Chairman Of Ijaw Community Abuja/Northern Nigeria Hon Alagba Ebifemowei, Chief Charles Emoghene, Isoko Residents Forum in Abuja and Ohochukwu Chinda, secretary of the coalition.

According to the communique, "His (Akpabio) policies and footprints have endeared him to the hearts of Nigerians.

"Senator Akpabio deserves to be supported by his colleagues as a desirable Nigerian and a team player for the common interest of one and indivisible Nigeria. He acts by example as a Leader connected to Nigerians regardless of ethnic and religious background."

The coalition appealed to the respective state governors across the parties and their Senators to work as a team and in unity to elect a performing Senator that will improve on the peaceful relationships between the various arms of government.
The group congratulated various elected senators from the Niger Delta region and expressed it preparedness to host the them in FCT to sustain the healthy relationship between the respective senators and their ethnic nationality associations in the Federal Capital