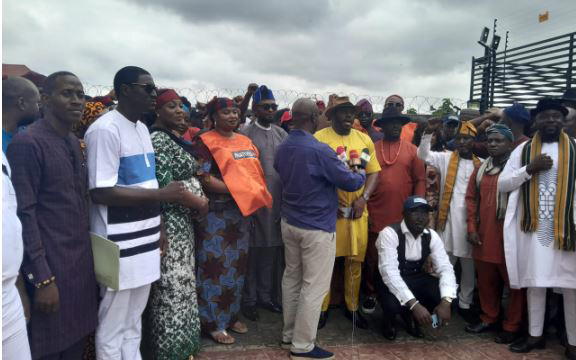 …Rally support for Akpabio
Omeiza Ajayi, Abuja
A pro-democracy and anti-sabotage group, known as The Natives, has asked a former Governor of Zamfara state, Abdulaziz Yari to immediately withdraw his Senate Presidency ambition in the interest of peace and religious harmony.
The Natives, which is platform for leaders of various ethnic nationalities said Nigeria is a secular state and therefore cannot have a Muslim President, Vice President and Senate President and Speaker at the same time.
Addressing a news conference Thursday in Abuja, Supreme Leader of the group, Hon. Smart Edwards, said for equity and fairness, a Christian like Senator Godswill Akpabio should be allowed to lead the 10th Senate.
He urged stakeholders to respect the choice of President Bola Tinubu and the ruling party on the need to have a balanced religious representation in government.
Edwards asked all new and returning Senators to support the emergence of the former governor of Akwa Ibom state as Senate President.
He said; "Nigeria is a secular state and the Senator Godswill Akpabio/Barau ticket represents the consideration of the mood of the country, an evidence of healing rather than the braggadocio and display of strength or the coronation of religious dominance by some.
"We cannot toy with the expensive portrayal of acts that can widen the divide of the people after the elections.
"While it is politically permissible, we persuade the 10th Assembly to dissociate themselves from any political, financial and insensitive approach or act that will promote a Muslim for the office of the Senate President for this is a display of national sabotage.
"While the ruling party may have presented its candidates, we appreciate its efforts to assuage other regions and make sacrifices to see a pan Nigerian, nationalistic, equitable and fair balance of the spirit and letters of our constitution
"The plethora of disruptions and carryover of pre-election bitterness, resistance and echoes from the people is a clear indication that no group whatsoever should be seen fanning the embers of discord just because they have the financial war chest.
"We say 'No' to Sen. Yari's ambition and appeal to him in the name of our dear country to, please, shelve this ambition for all and become the hero."
Edwards said the 10th National Assembly must translate to jobs, infrastructure, economic prosperity, investments in educational, rural development, rule of law and the upliftment of the people.
"Akpabio is a successful case of lengendary service. He is an evidence of infrastructural legacies. He is a former governor of Akwa Ibom, former senate minority leader and one time Minister of Niger Delta Affairs, a man with the tested ability to galvanize the executive and the legislature for the betterment of the country.
The Natives also vowed to ensure a total socio-economic rejuvenation of the Nigerian state by holding all elected leaders accountable to the people.