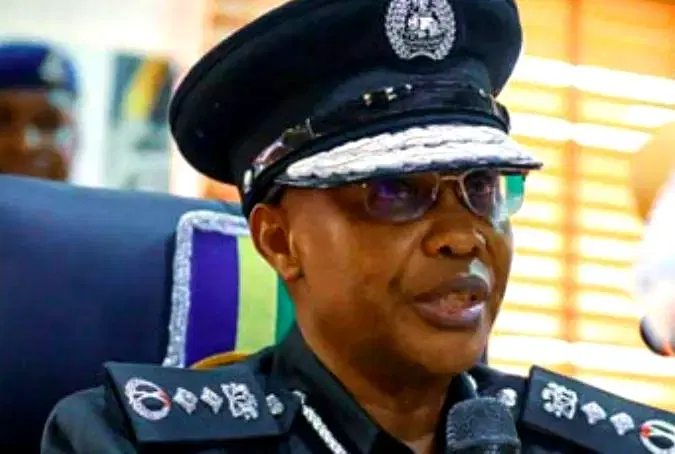 By: Kingsley Omonobi – Abuja
Inspector General of Police, Usman Alkali Baba has said that the demolition of the MD Abubakar Housing Quarters accommodation for the management team of the Nigerian Police Force comprising seven Deputy Inspectors General of Police and the Force Secretary at Maitama, Abuja was a result of dilapidation, non-functional infrastructure while the houses were sinking.
He said this even as he disclosed that many of the houses found in Police barracks across the country "are not where human beings should live in, let alone for police officers or law enforcement agencies. They are dangerous to live in".
The IGP made this known at the groundbreaking of the redevelopment of new DIG Quarters under Public Private Partnership (PPP) between Nigeria Police and Cosgrove Limited.
He said, "For two years, I was privileged to live here in one of the houses as Force Secretary. I had to battle with the issue of leakages due to dilapidation.
"During the rainy season, I will be looking for bowls and dishes to place where leakages are taking place because everything about that building has become old, archaic, non-functional and the building has even become a bungalow.''
"The houses no longer deserved living in as members of the Police Force Management Team and the most senior police officers.
Pledging that he will deliver befitting world-class accommodation for officers and men of the Nigeria Police Force to enhance service delivery, the IGP said, "We were able to move around Abuja and see because when we said we are going to do a partnership, many people came.
He said the redevelopment was to redeem the houses from total dilapidation and sustain their usage to accommodate top police officers.
"The real and the unreal, the imaginary and the imagined, those that will start and cannot complete by assumption and those that are just ready.
He said the building, which is the highest police quarters in terms of luxury, serenity and nearness to the Force Headquarters, was the oldest of all police quarters in Abuja.
"That is why we are trying to remodel our police stations, divisions, headquarters and also our places of abode.
"Cosgrove is one of the best around here in providing accommodation and we believe we deserve good working environment and also a place to retire after working.
"We have done it successfully in one or two places. We are going to do it in many other places and that is why we are not also going to be bringing partnerships always.
"We have a construction company, so we know our capacity and there are things we can do with our own construction company with the small guidance and partnership with other developers.
"My intention is not to stop here. I've already started in Lagos. We are going to do it in that place directly with our company and the state government.
"When I was shown the number of barracks and police buildings that have been earmarked as dilapidated, it is a dangerous place to live.
"Whatever name you can give in Lagos, it is not a place where human beings are supposed to live in, let alone for police officers, law enforcement officers".
Baba said the police under his command would live a legacy of service worthy of emulation.
In his remarks, Chief Executive Officer, Cosgrove, Mr Umar Abdullahi, said the company participated diligently in the rigorous PPP process, adding that it was an opportunity for them to contribute to the growth and development of the nation.
He promised to deliver the project in compliance with the PPP agreement.
"This project will be delivered using the best cutting-edge solutions that we are known for.
"The chosen PPP arrangement is a design, finance, build, lease and transfer and the project will consist of a minimum of 39 units of six-bedroom gated villas with state-of-the-art facilities and amenities," he added.