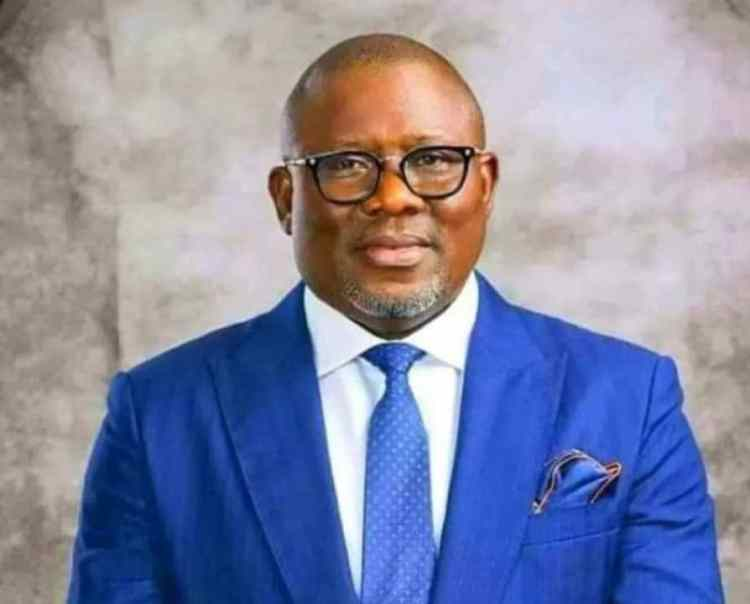 Oborevwori
By Jackson Ekwugum
Rt. Hon. Sheriff Oborevwori isa study in contrasts. His tough exterior belies his easy-going, mild-mannerednature. He walks with a bounce and withthe assurance of a man with a keen sense of history and mission and, at the same time,exudes the meekness of the man in cassock. Unlike most politicians he is not overly ambitious but somehow destiny keeps thrusting him into the limelight.
A man of austere speech, he prefers to let his actions do the talking.Truth be told, his personality is as much intriguing as it is enigmatic. The more you think you know him, the more you want to know him.

In the build up to the PDP gubernatorial primaries in 2022, not a few dismissed him as a non-factor, a pretender with an exaggerated view of his political worth and relevance. To his traducers, the governorship was way above his pay grade and that he should be grateful if he made the cut for a seat in the federal house of representatives. But Oborevwori may be simple and easy going but he is certainly not naïveor a pushover when it comes to politics and elections.
He quietly and doggedly took his case to the grassroots – the youth, the women, and the party leaders – and strenuously canvassed their support for his candidacy.It was not long before the other aspirants came to the grimrealisation that they were up against a movement.By then, tried as they could, the momentum could not be stopped. The lesson: underestimate Oborevwori to your own peril.

As he mounts the saddle of leadership in Delta State, the mood in the state is a mixture of excitement and caution. Excitement because of his street credibility and the promise of his MORE agenda – more empowerment programmes, more opportunities for workers, more infrastructural projects, more schools; in short, more everything! But then that enthusiasm is promptly tempered with the argument for the need to moderate the expectations of the fawning crowd; that it is often better to under-promise and over-deliver. While there is ample logic in the latter proposition – for there are always those with unrealistic expectations – but there really should be no apprehension, whatsoever, with the MORE agenda. As conceived, it is specific, measurable, attainable, relevant, and consistent with Oborevwori's philosophy of growth and continuous improvement.
In essence, that is what Oborevwori represents – consistency, capacity, character, and fidelity to a cause.   In his six years as Speaker of the House, the Governor-Elect built a stellar reputation as a consensus builder and unselfish leader. In the House, as a first among equals, Oborevwori commanded the respect – and admiration – of his peers with his transparency, accountability, and trustworthiness. It is in this context that we must not take for granted his longevity as Speaker. It is not often that a person holds sway in the state legislature for that long or transits from one Assembly to the other in the same position as Speaker. It speaks volumes of his leadership credentials and the uncommon ability to rally people behind a cause.Those who think this is a mean feat would do well to carry out due diligence of the various Houses of Assembly in the country. It is often the case that speakers are angrily thrown out by their colleagues because of their opaque governance style and superstar syndrome.
It is to be expected that somewould wonder if Oborevwori could replicate his deft handling of the House in the governance of the state. Whilst I concur that being a Governor is a much weightier responsibility, I hasten to add that it is not rocket science. One does not have to be a genius or corporate titan to succeed in that office; it just takes doing the simple things to write your name in gold. Things like sincerity of purpose, clear sense of direction, putting round pegs in round holes, shunning nepotism,the courage to take tough decisions, being a good listener (but not to gossip), respect for differing views, and, of course,the wisdom to allocate limited resources to meet competing needs and interests. Oborevwori showed during his tenure as Speaker that he can sift through the challenges of resource allocation in an equitable and judicious manner.
Oborevwori'sunique attribute as a leader is his authenticity. Being an authentic leader is to be unassuming, forthright, reliable, and trustworthy; it also means to be relatable but not naive,firm but flexible, and vulnerable but resilient. Authentic leaders run an open-door policy and create a work environment devoid of mutual suspicion, distrust, and exclusion; a workplace where people are free to express themselves without fear of being sanctioned or victimized. In short, an authentic leader builds an environment where people have a sense of belonging and maintain a healthy self-esteem. I sensethis will be the hallmark of his administration given his simplicity, humility, and straightforward approach to life and issues.
A bridge builder, and a man with a voracious appetite for learning, I posit that Oborevwori is poised to surprise many with his performance as Governor. My first impression of him is that of a man who understands that it is going to take a team, a good team, to actualize his agenda and is humble and flexible enough to submit to superior counsel. Inclusiveness is in his DNA.And as we saw in the House, he is a game changer; not just because of his longevity as Speaker but that he also became Speaker as a first-term legislator in 2017.It is that which destiny has bestowed upon him,and I see himcontinuing the game changing narrative as Governor.
.•
 Ekwugum is Manager, Communications, Government House, Asaba.