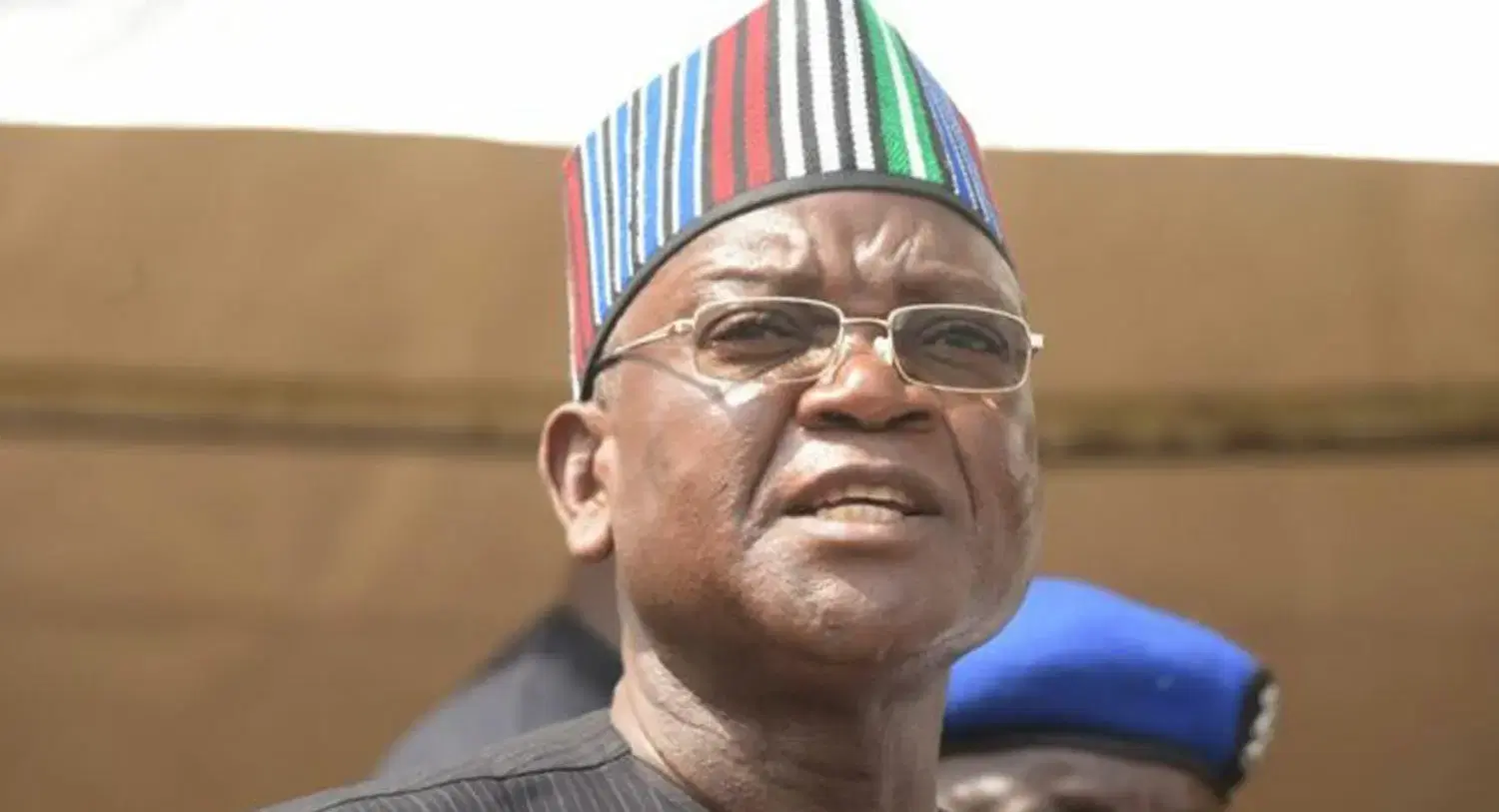 •'How Buhari denied me of funds'
•Says only cowards will run away from EFCC, ICPC after May 29
By John Alechenu
In this interview, outgoing Governor Samuel Ortom of Benue State speaks about his trials and triumphs as he bows out tomorrow after eight years in the saddle.
You're leaving office in a couple of days can you share with us what gave you joy and what saddened you in the last eight years as governor­
First of all, I want to appreciate God Almighty for helping me thus far. I've been here on a divine mandate because I saw that I would be governor in 1992 when I was local government chairman. I proclaimed it and told everyone that cared to listen to me and it came to pass and although it came through a very turbulent situation of time. Even in 2015 it was not easy but by the grace of God, I made it. To further confirm that it is a divine mandate, in 2017, I chose that I would not contest for a second term, that I would finish my first term and by the grace of God leave for another person but God's divine arrangement was not what I thought. God told me he was not done with me that I would contest and win. And I proclaimed it to the people, I told them it was more turbulent than 2015. All the might that you know, the federal might, the state might, the local might, whatever might came against me but I still made it. So, I give glory to God for making it possible.
Throughout my tenure for about eight years, it has not been easy. I have passed through challenges just like the Psalmist said, -Though I walk through the valley of the shadow of death, I will fear no evil because God is with me, His rod and his staff will comfort me and he will prepare a table before me in the presence of my enemies and anoint my head, my cup will run over and surely his mercies and goodness shall follow me all the days of my life, that is what I have seen. I've gone through very turbulent times. Many people around here and the federal level even attempted to even remove me as governor through illegal means but they were unable to do it.
The terrorist Fulani's attempted to assassinate me seven good times but God preserved my life, they were not able to get me. All I have to say is that I'm grateful to Almighty God for helping me.
What are your regrets?
No regrets. Given another opportunity I will still stand strong to defend my people to ensure equity justice and fairness, I won't do anything different. Some people think that my people betrayed me because I lost my Senatorial election. My people did not betray me; this is an opportunity for them to see the kind of leadership I gave them. I can boldly say that I've not committed any crime against humanity, I have not killed, I have not spilled blood, I have not defiled anybody's child, I have not defiled anybody's wife, I have not stolen money from government, people can say what they want but I have not stolen any money from government.
Do you have any fears about the EFCC or the ICPC demanding for clarifications with regards to financial decisions you took while in office as you exit on Monday, May 29?
My budgets are there and I'm ready to face the EFCC and the ICPC. I was told that the EFCC said some Governors are planning to run away, those who are planning to run away are cowards, they are not men. If they are men, they should stand back and justify whether four years or eight years of their administration. For me, everything I did I'm ready to clarify, as far as I am concerned, I have not committed any crime that will warrant me facing persecution at least for now, nobody has brought anything to my attention. I have no reason to regret.
Your stance against some actions and inactions of the Federal Government gives the impression that your administration is at loggerheads with the Federal Government. What are the issues?
I am sad about one development because as a federating unit where I preside over, here in Benue State as Governor, I expected cooperation from Local Governments which they gave me but the cooperation I needed from the Federal Government to help turn things around and add value to the development of this state and provide security of lives and property which is the primary responsibility of any responsible government and then make things work for our people and make our people happy, I have not seen that complimentary effort from the Federal Government rather, it has been hostility, rather it has been a kind of politicking instead of governance.
You can play politics to get into positions of government but when you get there, you do governance, you don't do politics again. As governor of Benue State, I am the governor of PDP, I am the governor of APC, I am the governor of APGA, I am the governor of the Labour Party, and I am the governor of everybody.
I am governor of non-partisan people but here was a different case because of the agenda of certain people it would be a logical fallacy to say that all Fulanis but some Fulanis were corroborating with foreign Fulani mercenaries and terrorists to take over Nigeria as their country that is the only problem that I have. The sad thing is that the killings have gone on, raping of our children, wives and women has gone on for a long time there has not been any form of condemnation or stoppage.
We have done everything under the sun here in Benue State to stop the carnage we discovered that there is gross inadequacy of security personnel to surmount this challenge because the federal government allowed all Fulani terrorists from Senegal, Mali, Futa Jallon, Chad, all over the place to come in with AK 47s and kill our people and they've not hidden it. Hear what the Fulani Nationality Movement, FULAM; hear what the MIYETTI Allah Kautal Haure, and MACABAN all are saying.
Macaban is not that violent, they are merchants but Katal Haure, they are saying that their agenda is to take over Nigeria and make it theirs. How can anyone come here in the 21st Century and make me a slave? It's unfortunate that gullible Nigerians who through complacency is their second name even those in high places who have been given responsibility and powers to ensure the protection of lives and property decided to do otherwise. The reality is here. But for me, I have chosen to stand by the truth no matter what it will cost me.
What has it cost you?
It has cost me a whole deal. I have been denied funding by the Federal Government to augment what we are doing here. For instance, everybody knows that I inherited huge amounts of money as outstanding workers' salaries, pensions and gratuities other states did too.
We started well, part of this money was given in order to liquidate these debts. I was denied because I refused to accept the evil agenda of fulanisation over our land, I've been denied and I give a typical example. When I came, the total arrears of salaries and pensions were over N70 billion, N28 billion was given, we liquidated them for both states and local government areas but going forward the balance of N42 billion was outstanding, other states have been given, I have been denied because of my stance and position over our land.
Every process that was required I went through, the State Executive Council, the House of Assembly, the Federal Ministry of Finance, DMO and the Central Bank, as I talk to you today, the papers are with the Central Bank, they have refused to act on it.
Another instance is the Infrastructure Fund which was created by the Central Bank to give loans to state governments, most of my colleagues got it, some got as much as N50 billion, some N40 billion some N30 billion, we applied for N20 billion, every process was followed.
I was denied. The papers are still with the Central Bank. It is part of the pains I am talking about apart from the killing of my people.
I didn't contest to be governor to preside over dead people. From 2015 to this day over 5,000 of my people have been killed. If I take you back the people that have been killed are more than 6,000 even today, my people are being killed by these herdsmen. I stand for the truth.
Several great men paid the supreme price for their stance although I have not paid the supreme price, attempts were made on my life seven times.
How did you know about the attempts on your life?
It was the Fulanis themselves that came and sat where we are now and told me, look, the one that happened to you on Gboko Road which you know is just one case, we have attempted seven times and they came to know the secret that I have that they've not been able to kill me.
There is this general perception that you did next to nothing for the people of the state in terms of projects as governor. Why do you think this is so?
It may be my fault, everything in this country today revolves around money. Maybe I wasn't able to pay enough to get publicity. I've been to states where people commissioned projects and in some cases, half a kilometer, two kilometers or three. Here, I've commissioned 30 kilometers of road, 40, 46, 30, 5, 10 and all that. We've done electricity projects in rural areas because I have a passion for giving people light because it brings a lot of development especially in rural areas. In urban renewal, we have a work outline despite all the challenges that I am talking to you about here including paucity of funds and security challenges, we've been able to do a lot with very little.
In the area of security, we have been able to do things in collaboration with conventional security outfits. We provided massive support; we do it because without security you can't have meaningful development. There are instances where contractors are out there were killed by bandits, their equipment were burnt, in spite of this we always knew that history will demand what we did when we were in government and that has persuaded us, we have been able to reach out to all the zones in terms of road infrastructure, electricity, schools and all of that.
When we came in 2015 we identified that we had to build a solid base for our primary schools because the foundation of any child is important. We did not abandon secondary and tertiary institutions where there were bad cases, we intervened. We sank over N20 billion in primary schools alone since we came to not just upgrade buildings but provided desks, chairs and other infrastructural materials.