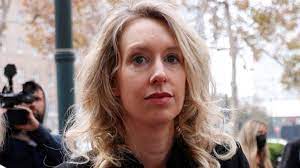 Agency Report
Disgraced Theranos founder Elizabeth Holmes has reported to the federal prison where she will serve an 11-year sentence.
Holmes, 39, was convicted early last year on four counts of fraud linked to her failed blood testing start-up.
In mid-May, a court rejected her request to remain free on bail while a challenge to the original conviction was considered.
She will serve her term in a minimum-security prison in Texas.
Holmes reported to the federal facility in Bryan, Texas, which holds between 500 and 700 inmates at any given time, on Tuesday.
It is about 100 miles (160km) north of Houston, her hometown.
There, the woman once billed as the world's youngest self-made billionaire will work alongside other inmates for between 12 cents (10p) and $1.15 (93p) an hour – much of which will go towards her court-mandated restitution payments to her victims.
Earlier this month a US judge ordered Holmes and her former romantic and business partner, ex-Theranos boss Ramesh "Sunny" Balwani to pay $452m (£364m) to victims.
Balwani is already serving a 13-year prison sentence in California for his role in the scheme.
BBC