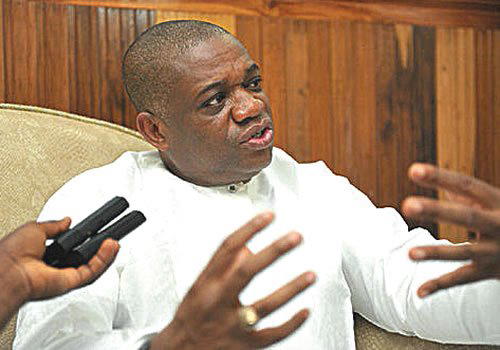 Says he won't step down for anybody for Senate Presidency Race
***Says no one Zone can produce the President of Nigeria. 
By Henry Umoru, ABUJA
SENATE Chief Whip, Senator Orji Uzor Kalu, APC, Abia North has asked President Bola Tinubu to as a matter of urgency, scrap the Ministry of Niger Delta Affairs.
Meanwhile, ahead of the inauguration of the 10th National Assembly, the former Abia State Governor has said that he will not step down for anyone, just as he said that "no one Zone can produce the President of Nigeria.
Recall that the ruling party had anointed Senator Godswill Akpabio, South-South and Senator Jibril Barau, North-West as Senate President and Deputy for the incoming 10th Senate, respectively. 
Answering questions from Journalists on Tuesday, Kalu who urged the President to strengthen the Niger Delta Development Commission, NDDC, said that there is nowhere in the act where the Commission reports to the Ministry.
According to him, with no Ministry of Niger Delta Affairs, the NDDC would then perform excellently well, adding, "It was a beautiful transition. I'm very excited that Nigeria is transiting from one civilian to another without rancour and I'm expecting Tinubu to look into all the abandoned projects like the Ajaokuta Steel mill, and Jos rolling mills these are the source of our debts. Abandoned projects are what is taking out debt servicing.
"Secondly, I will like Tinubu to step on security and some of the ministries and parastatals that are no longer viable like the ministry of Nigeria Delta some of those ministries are not viable, We have the NDDC like we have the North East Development Commission, so the ministry of Niger Delta should be scrapped off, reposition the NDDC to report directly to the president which is what is in the Act. In the Act, there is nowhere they say NDDC will report to the Ministry of Nigeria Delta.
"They should allow the commission as a commission to be able to function purely as a commission.
"I'm excited to see Tinubu and all people of goodwill in Nigeria to be happy for Nigeria, to be happy for him,  those days of stealing public funds are gone we are planning and ready to return this country to the Nigeria people because the country must be returned to the people and people must see their work because people are coming in thinking to steal money, those days are over. Our focus should be what Nigerian people get out of us."
On the 10th Senate Presidency and his alignment with Senator-elect Abdulaziz Yari, Orji Kalu said, 
"Well, I cannot step down for anybody. Yes, you are right. We are talking with Yari, our group and his people are talking, we are in intimate partnership and talking to make sure that no one zone can produce a senate president.
"Like I use to tell you, no one zone can produce a president for Nigeria. It's the same thing. What we are trying to play with Sen. Yari is a united partnership that works for Nigeria.
"So in the coming days and weeks, that partnership will be unveiled. You will see what the partnership looks like.
"We are in serious talks. Yes, I cannot deny it… Yari is a friend of mine and I'm his friend and we decided to talk together, we have been talking for the past four weeks and the talks will be unveiled by our sponsors.
"He has his sponsors and I have my sponsors. So the sponsors will come together to decide what direction this partnership will be.
"I will be very happy to follow what the sponsors will say and Yari also will be happy to follow what the sponsors want us to do.
"We are two gentlemen, two of us not hitting the nail, we are only thinking of the integrity of the Senate and supporting President Tinubu and Vice President Shettima who are our colleagues. 
"If you press people are thinking that what happened during Saraki, will never happen again in Nigerian political life, remember we cited a section of the law that there must be two thirds of the senators before you are sworn in.
"With one section few people going to sit somewhere and make a senate president is no longer functional. What is functional is all of us will sit together, we will vote for those people. It's a game, it's a contest, we will be able to congratulate whoever wins if we win, let people be able to congratulate us, if other people win we will be able to congratulate them, they are our colleagues, we will be stocked in together in the next four years in the chamber. We are not enemies, it's a contest.
"We have very strong sponsors and we will unveil it on June 13. We are not going to disappoint Nigerians, we are capable of representing ourselves, Yari-Kalu, Kalu-Yari, we will not disappoint Nigerians, we will give Nigerians what they want. And we will support the Federal Government and Nigerian people will not be disappointed."
On who is going to be the Senate President and the Deputy Senate President, the Senate Whip said, "It's what we don't know now this is why it is coming out in the coming days.
"We are not greedy about it. We are going to face reality, we are going to get a support base. It is not going to be a problem. The most important thing is to have an independent legislature that will represent the interest of Nigerians, and represent also, the interest of our colleagues"